Kitty Hawk 1/32 OV-10A Bronco
By Eric Galliers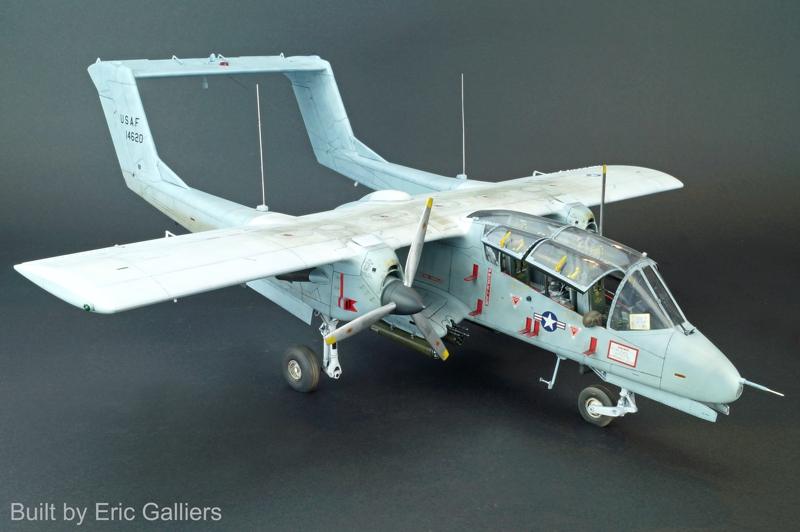 Here is my 1/32 Kittyhawk OV-10A that I completed late in 2019.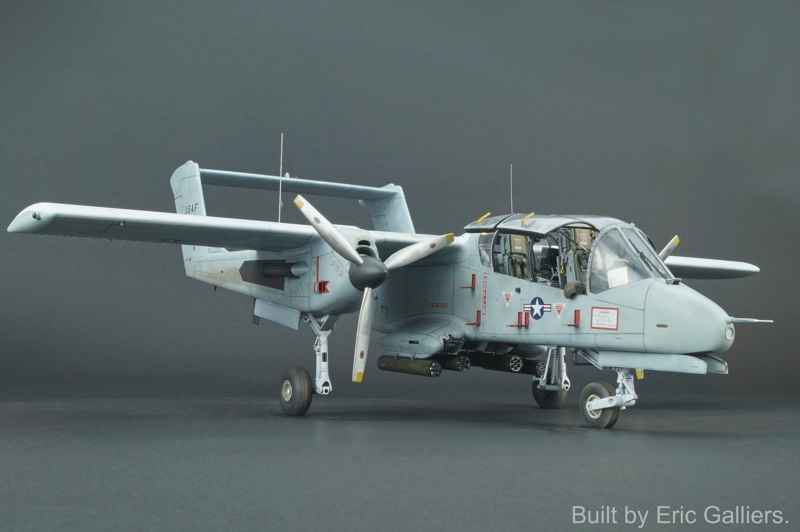 This model was built to represent the aircraft that Squadron Leader Graham Neil and Flight Lieutenant Ken Semmler flew during the Vietnam war on the 6 JUNE 1970. Both of these men were pilots in the Royal Australian Air Force and were part of the group of 36 that served as FACs under the USAF during the conflict. Graham was awarded a Distinguished Flying Cross for his conduct as a Forward Air Controller during this mission.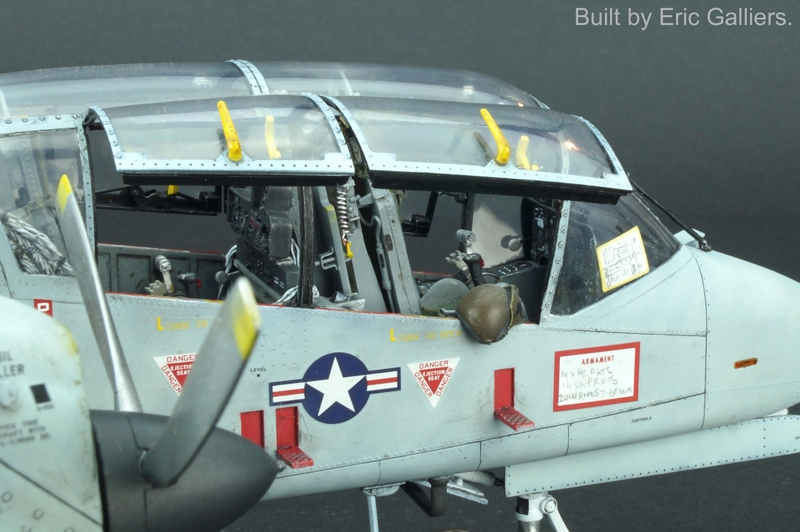 Aftermarket additions to the model:
Airscale instrument decals.
Master Pitot tube.
AoA decals.
Reskit wheels.
AMS ejection seats.
Eduard exterior photo etch.
Aerobonus Helmet with hand painted Roo.
Archer raised rivet detail added to forward fuselage.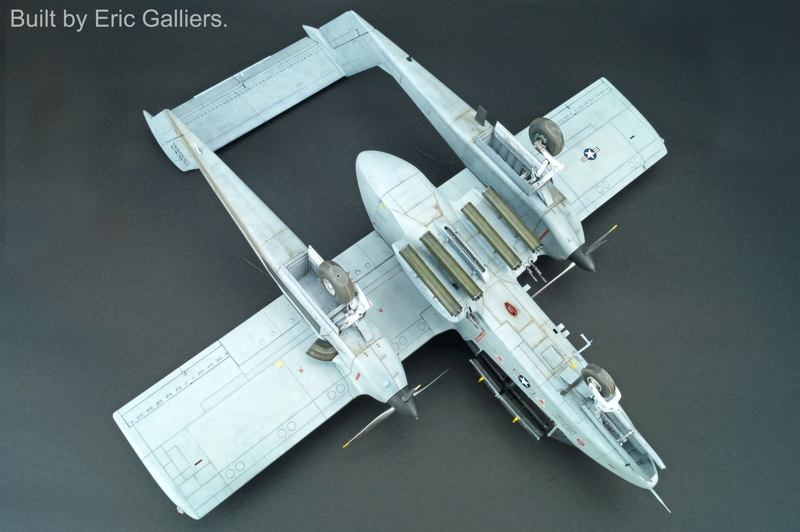 Modifications/Scratch built items:
Raised cowl fasteners replaced with engraved ones.
5 x fuel caps scratch built.
Scribed the missing fuel panel on the centre of the top wing.
Scratch built the missing lower left access step.
Scratch built bomb beam inside centre pylon.
Added small bolts to front of spinners.
Scratch built cockpit access ladder.
Scratch built forward air vent in front of the windscreen.
Scratch built the air vent under observers canopy and tops of both crew canopies.
Added lots of wiring inside the cockpit.
Scratch built the throttle and pitch levers.
Scratch built canopy actuator and stay mechanisms.
Scratch built the canopy window locking mechanisms x 4.
Scratch built bulkhead and armour plate behind pilots seat.
Added brake lines.
Faired in pitot tube to the nose cone.
Various antenna and aerial wire.
Scratch built stall warning tab outer right wing.
A few other things I have forgotten.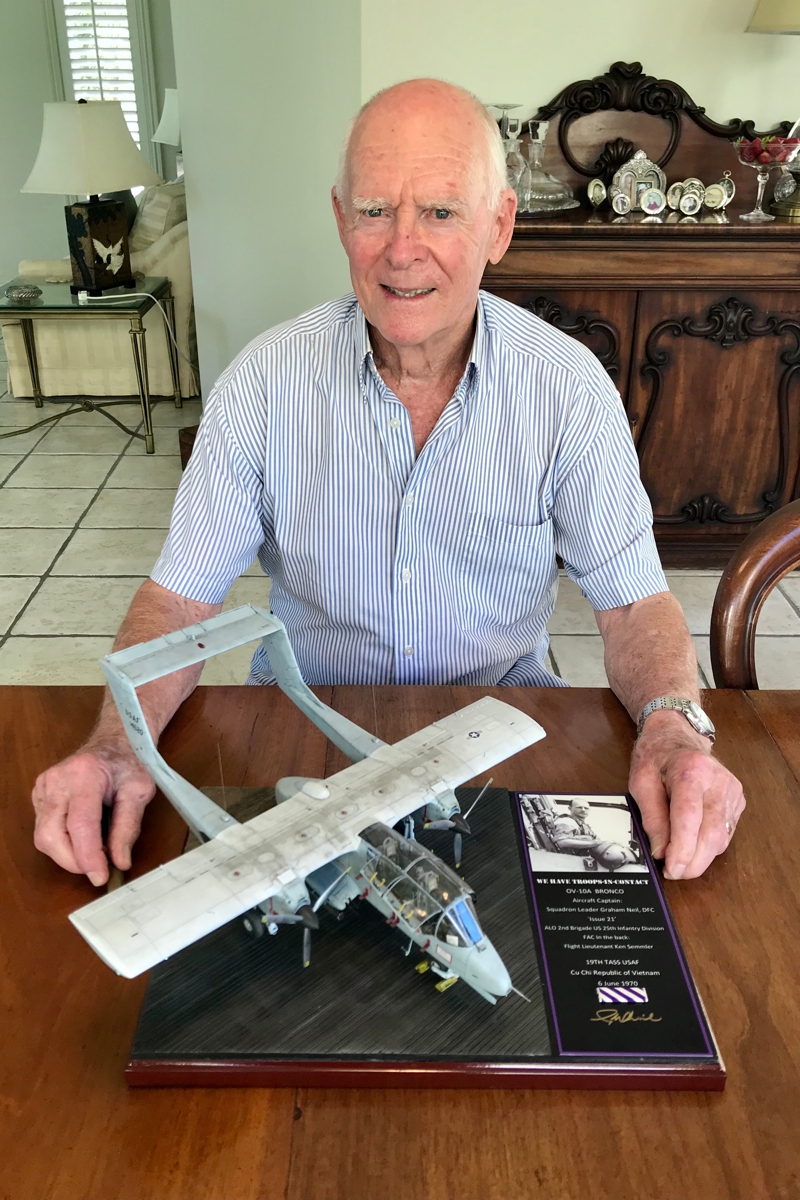 Recently I was finally able to present the completed model to the man that flew the real one, Graham Neil. I had lunch with him and his wife Ronni at their house in Noosa, Queensland, just up the road from me. Below are some pics of the special moment.
You can also see more about building this model in my thread in the Multi-Engine Group Build.
---
© Eric Galliers 2020
This article was published on Monday, December 07 2020; Last modified on Friday, December 11 2020