Tamiya 1/32 F-15C
By Nick Scheltema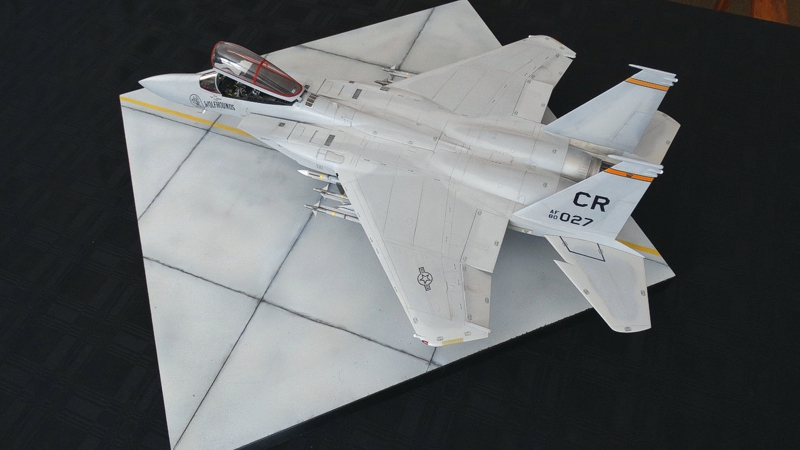 During the Cold War the USAFE kept units in Europe for air superiority and interception of Eastern Block intruders. When the MiG 25 Foxbat was introduced by the Eastern Block, the F-4 units were promptly replaced by the F-15A and later by the F-15C. These were stationed at Bitburg and Spangdahlem in Germany and Soesterberg in the Netherlands. The 32nd TFS was the unit stationed at Soesterberg and at the time the only F-15 unit to carry a bit of nose art in the form of a Wolfhound on the left side of the cockpit. It was also the only USAF unit to be under the control of another air force, in this case the Netherlands Air Force.
If you look carefully you will see the Royal Crest. It is in low-vis colors. I was very fortunate to get a good photo of the subject as there are some differences from the standard USAF aircraft such as very few standard stencils. The F-15 seems to have been in a bit of a transition in 1986 as far as markings go. On the subject there is a mix of high-vis, reduced-vis and low-vis markings.
The Tamiya model was built pretty much out of the box. A few small details were added in the cockpit and the fuel tank was modified from an Academy Sufa tank to give a better representation of the belly tank. The afterburner nozzles were also shortened. This kit is relatively old but is still a pleasure to build and because of its size has a great presence. It is a pity Tamiya has not updated this kit like the F-14. One sprue with modern weapons, a tank and new nozzles would fix most of the inaccuracies and make it easy to recreate a more modern Eagle.
This model was part of the Cold War Jets group build, for more see my build thread.
---
© Nick Scheltema 2020
This article was published on Friday, December 25 2020; Last modified on Sunday, December 27 2020