Tamiya 1/32 F-16
By Mike Tipping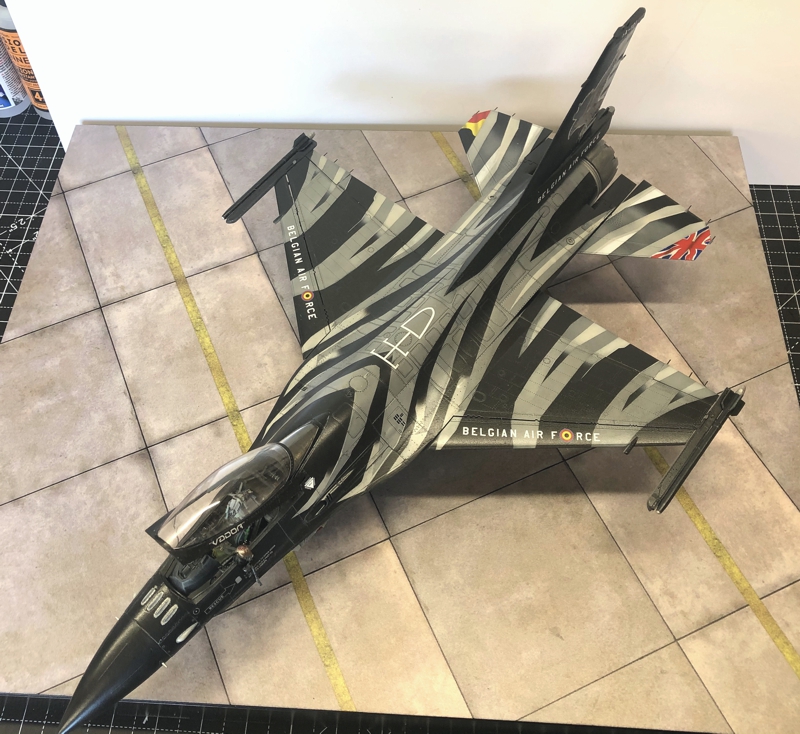 1/32 Tamiya F-16 "DARK FALCON"
From the Belgian Air Force description:
"It's a longstanding tradition within the Belgian Air Force to have an F-16 Solo Display Team perform during the airshow season. A legacy worth preserving. Once every two or three years, an experienced F-16 pilot is selected to represent the Belgian Air Force internationally. From 2018 onwards, for the next three seasons, Senior Captain (Sr.Cpt.) Stefan Darte will perform at airshows all over Europe with a freshly painted F-16AM.
'Vador'
Very early in his career, his fellow student pilots gave him his nickname. It was obvious that his surname had to be extended with the addendum 'Vador', referring to the main character in the popular Star Wars movies.
Stefan Darte
Sr. Cpt. Stefan Darte was born in 1977. He is a highly experienced pilot which has been flying the F-16 'Fighting Falcon' for some years. He spent most of his career flying with the 1st 'Scottish Thistle' Squadron, 2nd Tactical Wing, based at Florennes Air Base. He is currently a fighter weapons instructor. With nearly 3.000 flying hours on the F-16, 'Vador' will be able to demonstrate the maneuverability of the Fighting Falcon convincingly.
The F-16 Demo Team is more than a pilot and an F-16. Vador is supported by a vast team of professionals, each with their own specialty. During the airshow season, the groundcrew of the F-16 Demo Team will ensure that the pilot can perform in the best possible conditions with a perfectly prepared aircraft.
The team itself consists of one display pilot, fourteen technicians and a webmaster. All team members belong to ordinary air force personnel which means they have to fulfil their duties as the members of the team as well as they are available for any mission to preserve peace and security worldwide."
So, this is my take on this aircraft in 1/32 scale, before you mention it there are some things, I could not do to replicate the aircraft properly, the engine isn't correct and the smoke winders are home-made, there are a few other things, but I have used what I could.
There are no decals in 1/32 so this is all airbrushed, and I made my own decals where necessary.
I used MRP paints as they dry quick and helped me in the masking department, this isn't finished as I am waiting on Reed Oak to send me the figures I need, but the aircraft itself is finished.
I hope you enjoy it!
---
© Mike Tipping 2020
This article was published on Friday, January 01 2021; Last modified on Saturday, January 02 2021