Special Hobby 1/32 Tempest Mk V
By Chuck Sawyer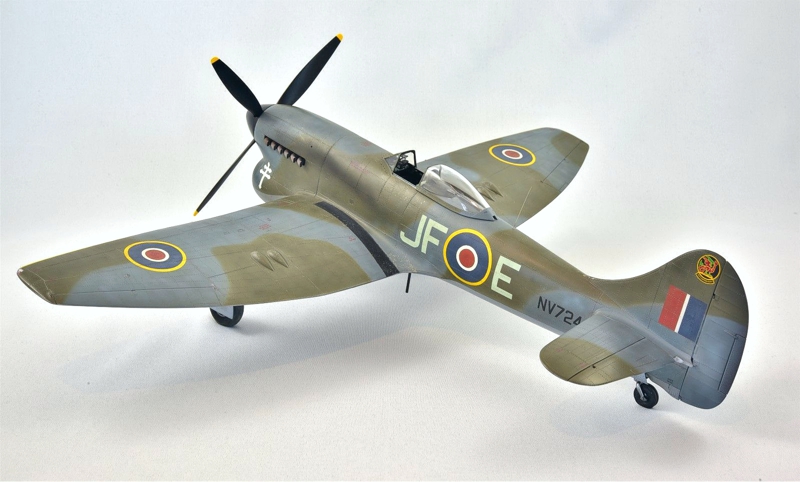 After 7 months I have finally finished the 1/32 Special Hobby "High Tech" Tempest Mk V, kit number 32052. This kit has some really nice additions in the box already, like several resin parts, photo-etch parts and even some fabric seat belts, so you don't need too much for aftermarket accessories if you want to "Kick It Up A Notch", like I always try to do.
Still, I did add the following:
#32234 Barracuda Nose Correction Set with Props
#32141 Barracuda Intake Ring
#32239 CMK Exhaust Set
#32122 Maketar Paint Masks for all insignias and other markings
#232016 HGW Wet Transfer Decals, which appear to be currently out of production
The subject for my Tempest is one that French Fighter ace Pierre Clostermann flew, and there is a good article on him at the Hawker Tempest Page website here, where I derived most of my references for this build.
Pierre Clostermann's JF-E Aircraft
In this article is a pic of Clostermann standing on the wing of NV724, which has the Cross of Lorraine on the chin and the 3 Squadron "Cockatrice" at the top of the tail which were applied after the war, along with a kill scoresheet next to him. To weather this model, I tried to show that while most of the aircraft had been heavily used in battle, these items were left relatively clean.
And here is my attempt at more or less the same, which went by kit instructions rather than try to match this one side exactly.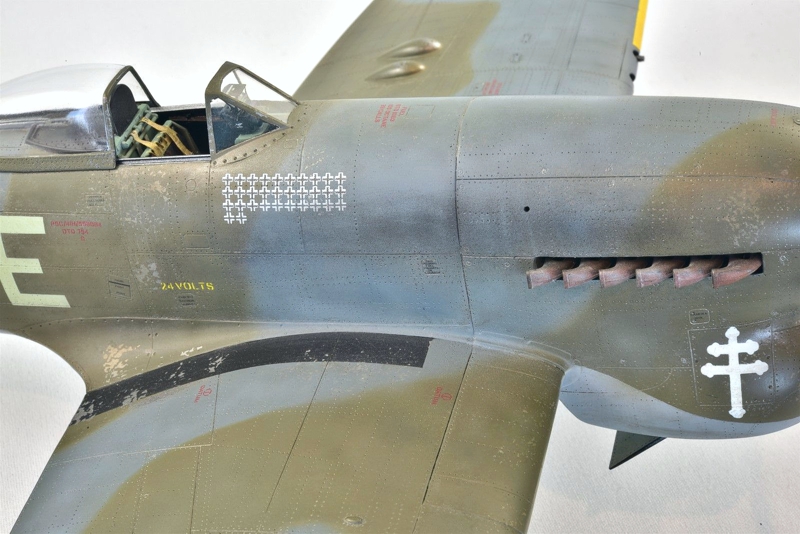 I tried many things in this build that were new to me, like liquid mask on a sponge to create paint chipping, MRP acrylic lacquer paints and Metal Liner metallic accent wash to enhance the rivet and panel lines with a metallic color, rather than the traditional dark washes that usually look really good, but often don't look realistic.
Note: Tempest landing gear and wheels toe outwards a few degrees.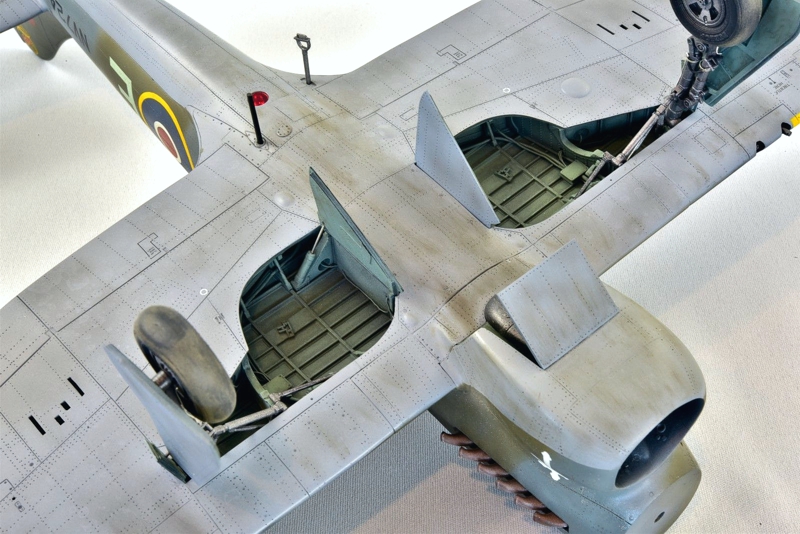 While the kit can create an impressive Tempest, there are many challenges that I tried to document in a long build article that goes through every step of the model, including detailed instructions here:
Work in Progress thread: SH Hawker Tempest Mk V, "Kicked Up A Notch"
Also, I am pleased to say KLP Publishing has produced an eBook of this build, which is a great way to have a ready reference for those who would like to build a Tempest and "Take it up a Notch."
Enjoy!
---
© Chuck Sawyer 2021
This article was published on Friday, March 05 2021; Last modified on Sunday, March 07 2021