Wingnut Wings 1/32 Felixstowe F.2A
By Przemyslaw Litewka

History of Felixstowe Flying Boats
The flying boat Felixstowe F.2A was the most successful example of the entire series of flying boats which were constructed in the cooperation between the British Navy officer John Porte and American engineer and manufacturer Glenn Curtiss.
This design was a combination of Porte's hull with two bottom steps depicted as Porte II with the flying and control surfaces from Curtiss H.12. Powered by two 12-cylinder Rolls Royce Eagle VIII engines of 375 KM each. Such a boat named Felixstowe F.2A proved to be very efficient and the emerging avalanche of orders were sent to numerous manufacturers: Aircraft Manufacturing Company; Saunders; May, Harden & May and to...Curtiss!
The first examples from Saunders reached RNAS bases in November 1917. In total about 200 F2.As were built before the end of 1918. They served with distinction over North Sea from RNAS bases in Felixstowe, Killingholme, Calshot, Great Yarmouth, Dundee and Scapa Flow. The crews were very satisifed with their performance, especially the flight durability reaching 6 hours.
N4297
The flying boat Felixstowe F.2A serial N4297 was built in the early configuration at Saunders and delivered to Felixstowe in May 1918. During Summer 1918 it was rmodified to the late open-cockpit configuration and had its hull painted in striking blue-white strips. In November 1918 it was after subsequent repairs indicating new linen covering on the upper wing, incomplete roundel and repainted ailerons and right upper wing tip segment. It is reported it was still in service in 1919.
The Model
Produced at the end of 2014 by Wingnut Wings is definitely their largest kit and arguable the most sophisticated and most demanding one. Yet, the exquisite engineering makes its construction relatively easy, provided the sequence of assembly proposed by the manufacturer is strictly followed.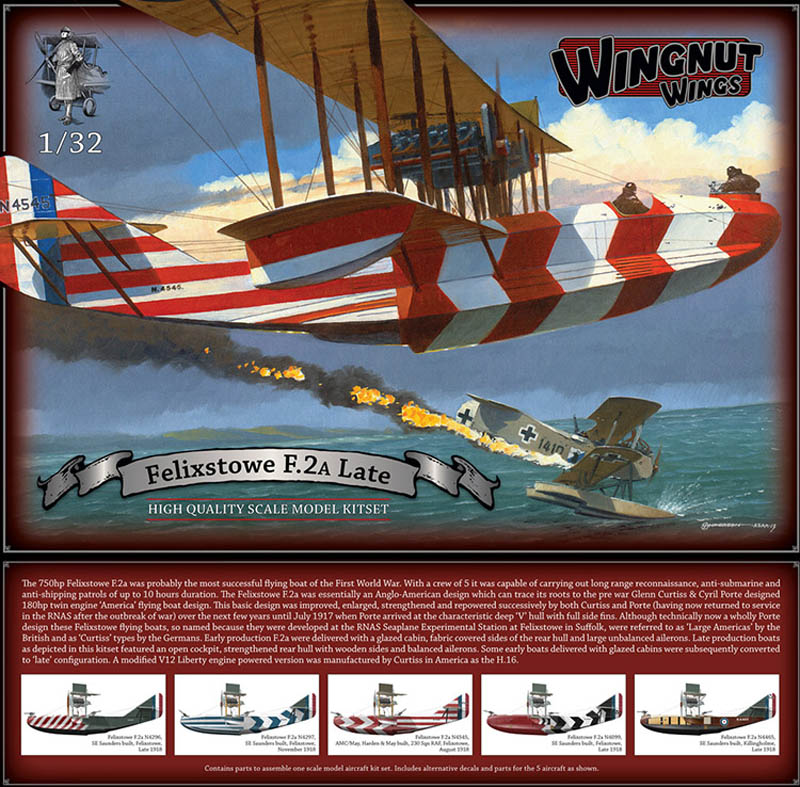 ---
The kit contains almost 400 elements of utmost quality, with perfect fit. The engineering, breaking into elements and clever assembly sequence facilitate very much the assembly – the final model is enormous with almost 92 cm span.
The contents allow for building the complete hull interior. Unfortunately there are not too many photos of F.2As interiors and their inspection does not indicate any need to enhance what is included in the kit, except for the rigging, control lines and engine steering cables. The existing photos of later variant F.3, more numerous, show some more details of intricate fuel installation but I decided not to add anything in this aspect to the kit, after all my plan was not too add any extra openings beside the cockpit and gun stations.
---
The second area which should have important details visible are two Rolls Royce Eagle VIII engines. Here several omissions in the installations are evident, as is usually the case with Wingnut Wing engines. Since the engines are fully exposed I decided to add all the missing installations.
---
Modifications
Hull Interior
Internal structure rigging – monofilament fishing line
16 sections with turnbuckles from brass tube sections: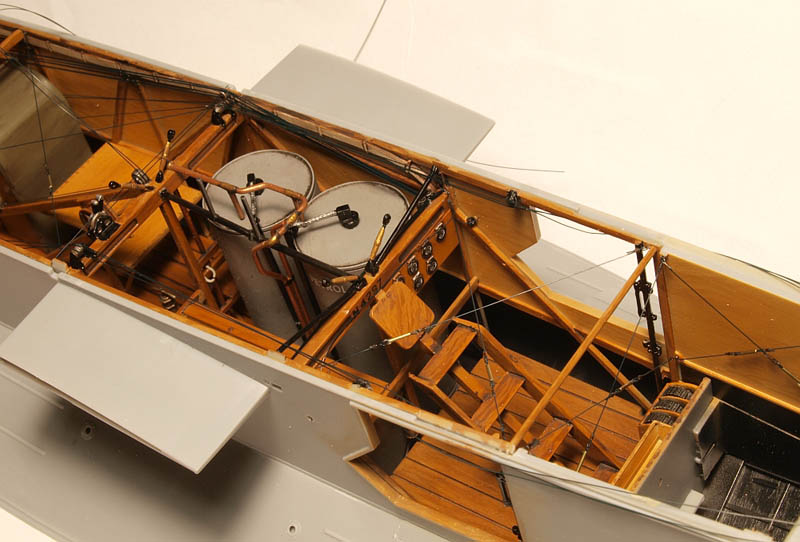 Control cables for throttles, carburettors and radiator blinds: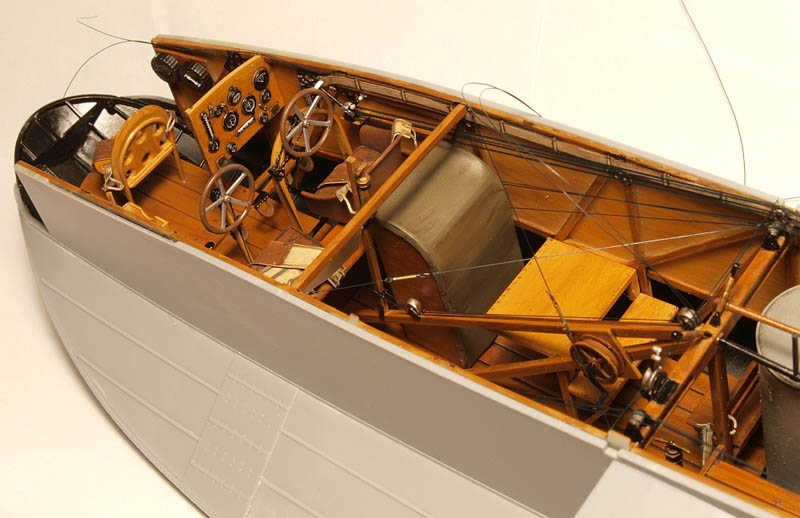 Lever and cables for bomb release mechanism: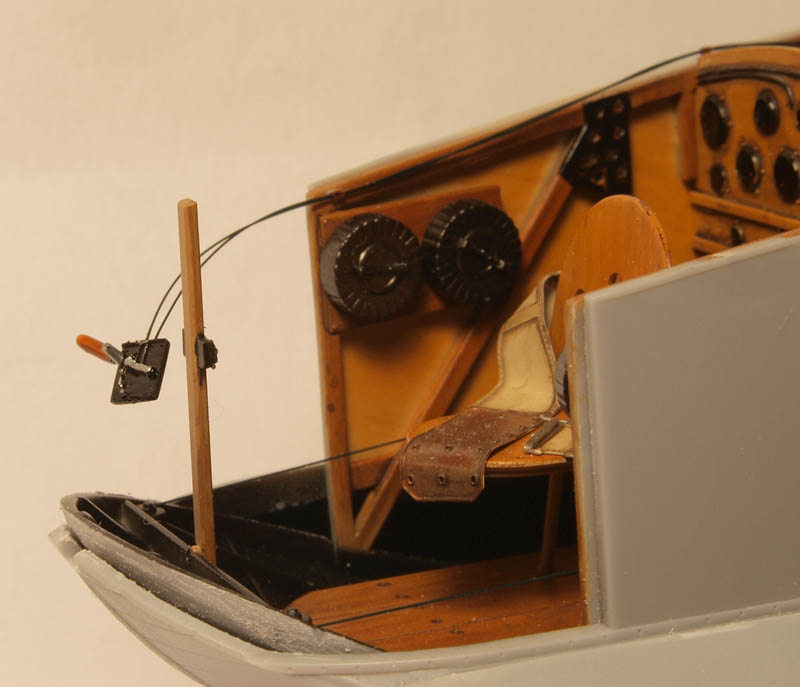 Rolls Royce Eagle VIII Engines
---
Electric cables from fishing line painted in beige:
---
Cooling pipes for intake manifolds – soldering wire 0.5mm
Fuel installation at carburettors – soldering wire 0.25mm
Carburettor steering mechanism – copper wire 0.3mm
Compressed air pipes – soldering 0.25mm
---
Magneto control mechanisms – wire and monofilament sections: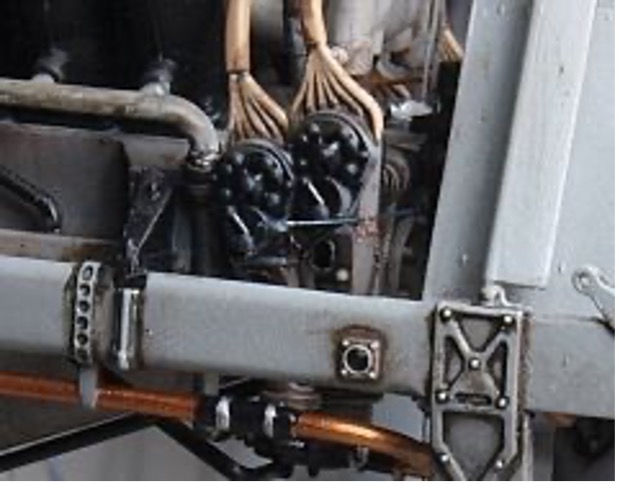 Carburettor steering cables – monofilament line and elastic thread:
---
Fuel installation with fuel filters – soldering wire 0,25mm and scratch:
---
Control lines for radiators blinds – elastic thread: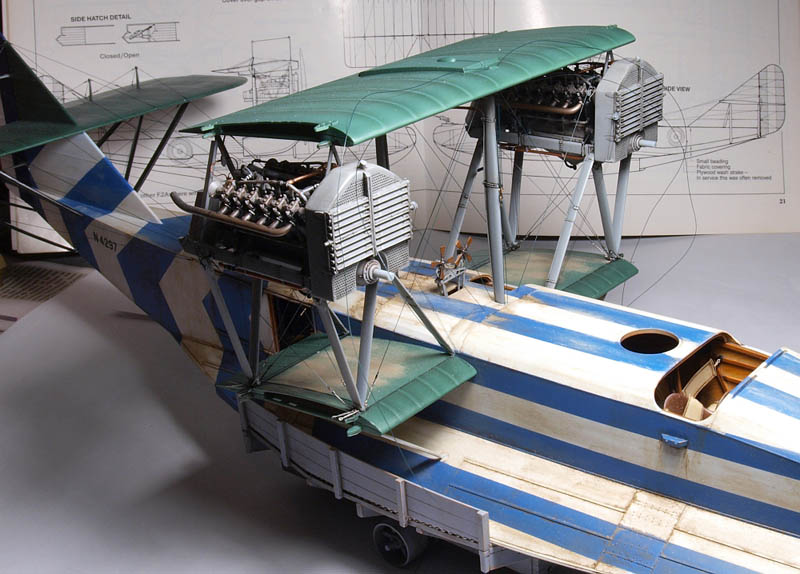 Rigging and Control Lines – Monofilament
111 rigging cables with Gaspatch 32nd scale turnbuckles combined with self-made copper wire eyelets to achieve the proper hinged connections allowing for proper alignment of cables after tightening.
---
About 60 control cable sections with smalle 48th scale Gaspatch turnbuckles.
---
Paintwork and Weathering
White-blue pattern of stripes and chevrons consumed a lot of masking tape and time.
---
Hard weathering – wash with several colours and dry pigments Tamiya Weathering.
---
Replaced right upper wing tip and ailerons – lack of cockade and darker (less faded?) green shade.
---
Postshading of flying and control surfaces.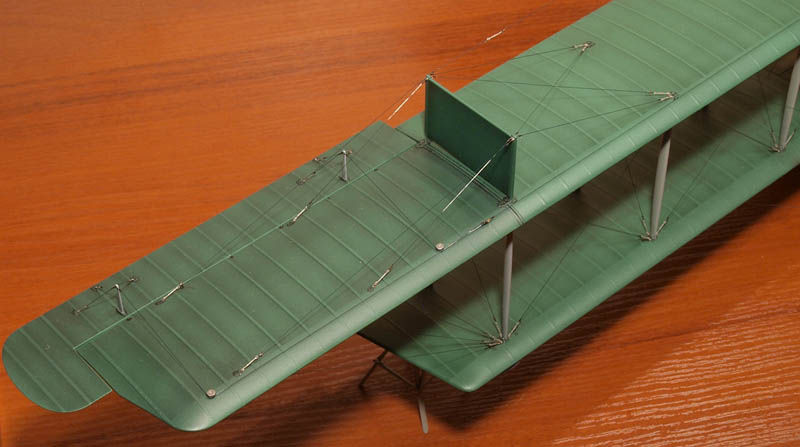 ---
Completed Model
Exhibited in a special cabinet with wooden base and plexi cover. I have decided to follow the proposal from Wingnut Wings to support the wings with trestles. Still, my feeling is that with the structural rigging and very solid wing cellule structure it would stand its weight without those extra supports.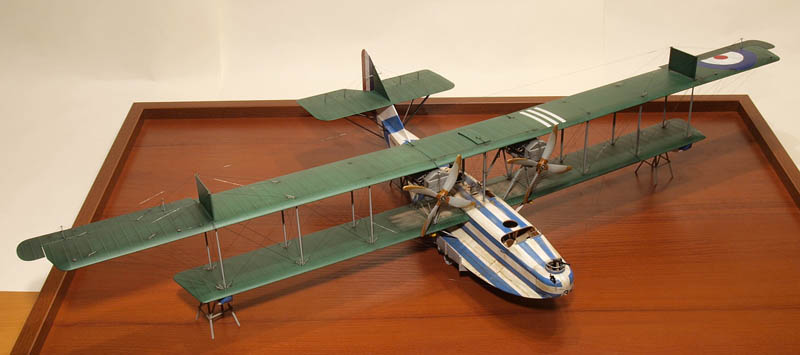 ---
Bibliography
J.M. Bruce, Felixstowe F.2A, Windsock Datafile 82, Albatros Productions, Berkhamstead, 2000
Felixstowe F.2A (late), kit instructions, Wingnut Wings, Miramar, 2014
Wingnut Wings, web site, www.wingnutwings.com
Seawings, web site, www.seawings.co.uk
© Przemyslaw Litewka 2021
This article was published on Saturday, May 01 2021; Last modified on Saturday, May 01 2021