Airfix 1/24 Bf 109E-4
By Jan Loubser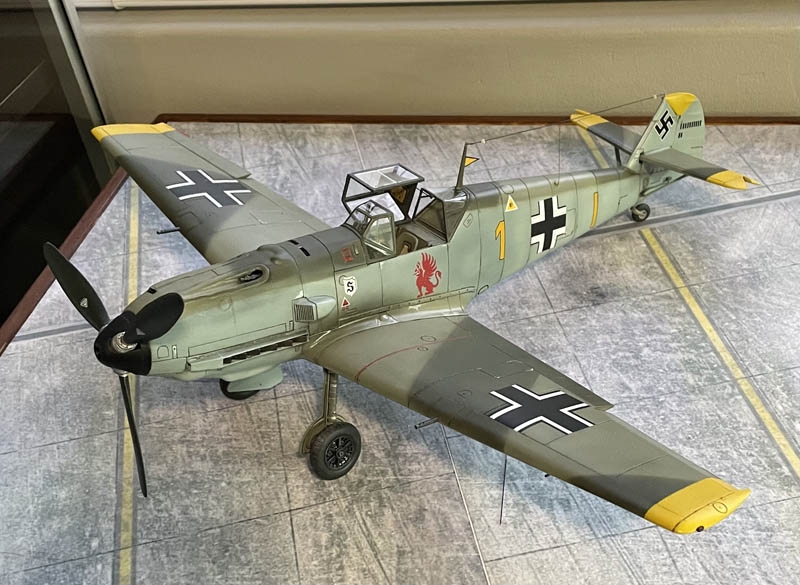 Here are notes of my 1/24th scale build of the Airfix vintage kit.
Gerhard Schopfel, 9/JG26, Chaffiers, France August 1940
The Airfix kit is old with the associated fit issues. It also does not have much in terms of interior detail and no wheel well detail. But the outline against plans are excellent and the rest was scratch built - and therein lies the pleasure of these old kits. They really provide a great canvass for some old-school detailing. Some parts need thinning out to make them look less crude and the cowlings take a lot of work to fair them into the prop boss and make them fit nicely. Fortunately I prefer to build my models as they would stand waiting to be flown – so I did not bother with open engine details.
---
Painting was done with airbrush and Mr. Color which was excellent but not too good for brush painting. Subtle pre and post shading was done and washes to bring out the detail and demarcate panel lines. Care was taken to ensure a feathered edge to the camouflage as these were applied free hand on the real thing without masking. Weathering was kept to a minimum as photographs show the aircraft to be in a very good condition. So a few paint chips and some smoke from the exhausts was done. The underside was weathered a bit more with oil stains and airfield dust and dirt.
Aftermarket I used the Airscale instrument panel which was a pleasure to work with. For decals I used the Techmod set and it turned out the most frustrating exercise of the build. The decals are very thin and fragile and once on the model is almost impossible to move without tearing them. Despite being thin they also resisted Micro Sol. Next time I will try to add some dishwashing liquid to the wet surface to break the tension and maybe allow some movement of the decal to the correct position before bedding down.
---
I really enjoy the satisfaction of making an acceptable kit from these old moulds – it really gives me more pleasure than the modern "shake and bake" variety. The outlines of all the old Airfix kits are excellent – so not a lot of extra effort is required to get them up to scratch. But if you prefer to buy everything aftermarket and expect the perfect fit of a modern kit – it is best to stay away!
© Jan Loubser 2021
This article was published on Saturday, December 18 2021; Last modified on Saturday, December 18 2021