Hasegawa 1/32 F-5E Tiger II
By Luc Van den Ende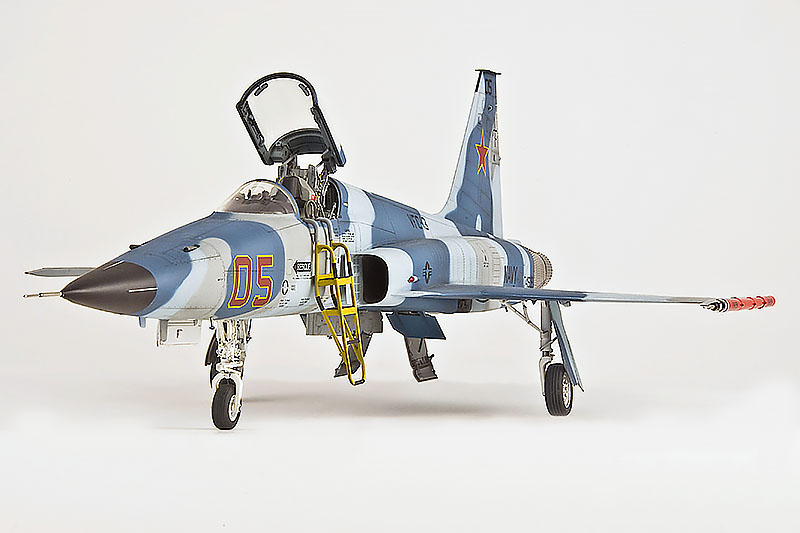 Several years ago, I built Hasegawa's 1/32nd scale Northrop F-5E Tiger II kit. At the time, it was the only available kit and I had to build a few items from scratch.
List of scratch-built items:
Pitot: made from stainless steel tubes.
Ejection seat together with the complete mechanism that operates the canopy. Seatbelts made from lead foil with aftermarket buckles, copper wire for oxygen hose and some wiring. I bought the Black Box cockpit set, but in the end I used the heavy cockpit tub only as the other parts of the set couldn't really convince me.
Canopy frame.
Angle of Attack vane and temperature probe, made from brass.
Intakes: I vacuformed two halves for each intake over a carved mould from beech wood. The first stage of the turbines for both engines.
Nose landing gear, complete with wells and doors: constructed from styrene rod and strip, I used polished stainless steel for the oleo.
Main landing gears, complete with wells and doors: constructed from styrene rod and strip, oleos polished stainless steel. Copper wire of various thicknesses for hydraulic lines etc.
Two speed brakes, arrestor hook, centerline pylon.
Both wingtip missile rails.
The large hinges under the wings that operate the flaps.
Both exhaust nozzles, constructed from styrene tube.
Boarding ladder, constructed from brass rod and brass plate. I connected the parts with a soldering iron for a much stronger connection.
List of additional items:
Air Combat Maneuvering Instrumentation (ACMI) Pod: constructed from styrene rod and stainless steel tubes simulating the Air Data Sensor Antenna.
Safety container, with collect dripping fuel. Constructed from styrene rod.
NWC-4 polyurethane wheel chocks.
Note: The rasters in front of each intake were created by my good friend Danny Coreman's (DACO Productions) on his computer and printed on clear decal.
---
I engraved the complete model using an X-acto blade #11. To simulate the rivets, I fabricated a couple of templates from spare brass strip. Tape fixated these templates on the model while I ticked off the many rivets using a .3 mm. drill between thumb and index finger. Time-consuming business, but it was worth the effort!
For painting my model, I used Model Master enamels, following the instructions of the Two Bobs 32-006 decal sheet, 'Aggressors F-5E Tiger II'. I chose the #05 Blue/Grey Saints served at NAS Fallon, VFC-13 'Fighting Saints'. I used masks for the wrap-around camouflage pattern. After enlarging the drawings of the Two Bobs instructions to 1/32nd scale, I glued each pattern on stiff aluminium sheet. These patterns could easily be attached to the model, millimeters from the surface to create a realistic faded line between the different tones. A coat of Model Master gloss varnish to prepare for decaling.
Panel lines were accentuated with a very diluted medium grey mixture of oils, I used different shades of pastels as finishing touch.
Needless to say, building this antique Hasegawa kit proved to be a real test of my patience and perseverance.
---
References:
DACO Publications: Uncovering the Northrop T-38A / AT-38 / T-38C Talon, photographed by Willy Peeters.
Lock on # 26: Northrop F-5E/F Tiger II, Willy Peeters - Christophe Donnet.
The web, but most of all, http://www.primeportal.net.
Enjoy the photographs and I hope you like it!
Do not hesitate to send me your questions or comments to: luc.vandenende@kuleuven.be.
© Luc Van den Ende 2022
This article was published on Sunday, August 14 2022; Last modified on Sunday, August 14 2022