Trumpeter 1/32 P-47D Razorback "Normandy Retreat, June 1944"
By Suresh Nathan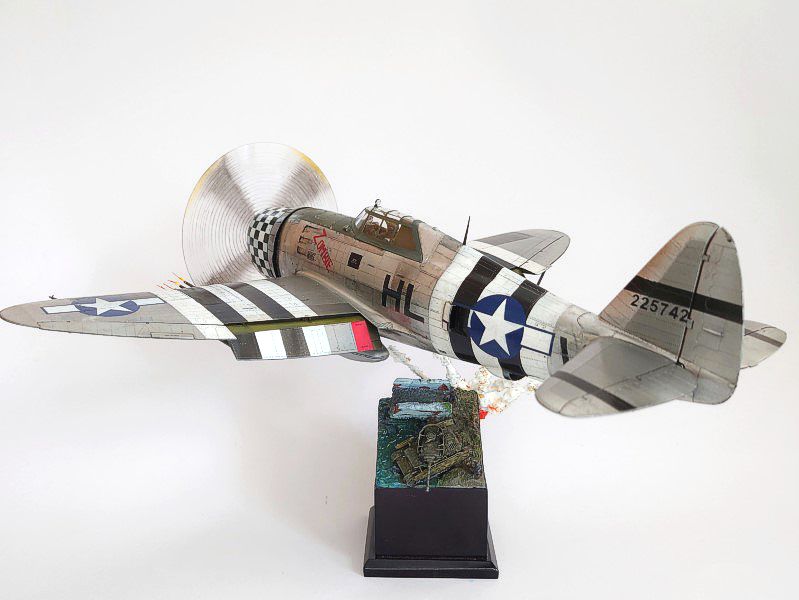 Introduction
The Republic P-47 Thunderbolt, also known as the Jug, was the largest single-engined fighter of its day, and a vast improvement over the Curtiss P-40 Warhawk, its predecessor. It was one of the main United States Army Air Force (USAAF) fighters of World War II and served with other Allied air forces. The P-47 was effective in air combat but proved especially adept at ground attack. It had eight 0.50-caliber machine guns, four per wing. When fully loaded the P-47 could weigh up to eight tons. A modern-day counterpart in that role, the A-10 Thunderbolt II, takes its name from the P-47. A common complaint from P-47 pilots was that the razorback cockpit limited rearward visibility.
---
Planning
This diorama sort of just came together. I had just completed a kitbash of the Hasegawa bubbletop with the interior of the Trumpeter. This project would be the reverse with all the leftover parts. It would be shown in flight strafing a Panzer IV in Normandy colours.
---
Trumpeter P47D in flight
Building the Trumpeter kit with the Hasegawa engine and cockpit was a lot easier than the other way around. Minor fit and fill was of course necessary but by and large not a big deal. Otherwise, the kit went together very easily. Ordnance was plentiful in the kit and there were even leftovers for the spares box. The gun sight is strange, but I left it in anyway. I will say that decaled instrument panels are far inferior to see through glass ones and I think I'm just going to stop making them like that. Always disappointing and so easy to fix.
The engine is decent but not really designed to be seen with the cowling off. I did add ignition wires out of fine solder wire. The propeller in the kit is not well made with an oversized spinner. I used the propeller from the Hasegawa kit to model a spinning propeller turned in brass on a lathe. The propeller wash is a disc of clear styrene scribed with concentric lines and sprayed with oils and blended with a brush. I've done this many times now and I think I like this one the best.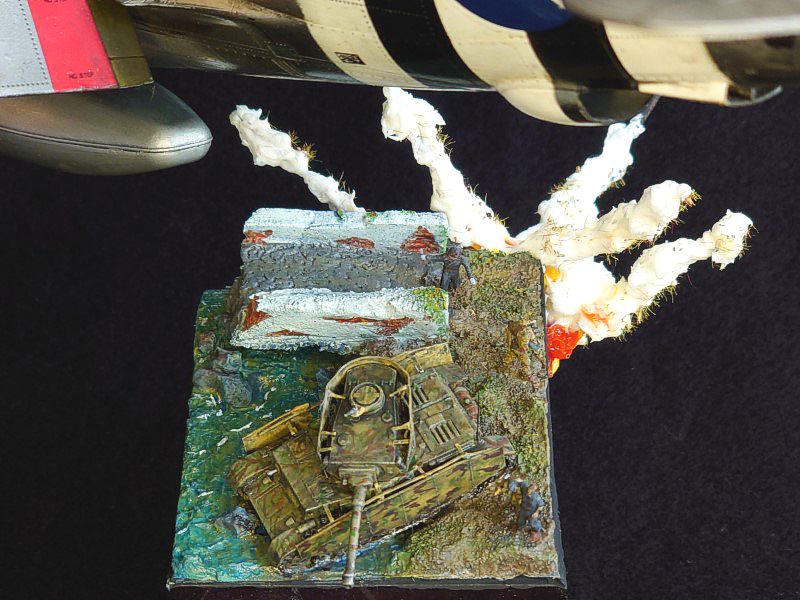 ---
Base
The base is a solid pre-fabricated base from High Planes Models. The bridge and base are carved from Styrofoam with sand for texture. I used clothes hangar wire in the base that goes through the explosion and out at its peak in a way that centers the plane on the base with the wire in the starboard wing. At many angles it looks impossibly suspended. It's quite stable like this. The 1/144 German figures and Panzer IV all came from an eBay-based company Kamiya that appears to 3D print them upon order. Comparing prices this was the cheapest option on the web but still quite costly. The model is a Panzer IV Ausf G that was modified with styrene and lead sheet to a G or H.
---
Painting and markings
The markings were for Zombie, a D-Day striped P-47D from the 83rd Fighter Squadron, 78th Fighter Group at Duxford in June 1944. The model was base painted in various shades of Alclad II over their primer, varnished with Alclad aqueous varnish and weathered with turpenoids and chipped sparingly. I used oil washes for weathering and drop filters for colour variation. The worn silver was a combination of sponge dabbing, silver pencil and undercoat with black and brush painting silver. I used AK true metal for touch-ups afterwards and I think it solves a major gap in metal paints as you can patch over mistakes without having to airbrush larges panels. The checkered cowl, invasion stripes and lettering were all hand painted in enamels.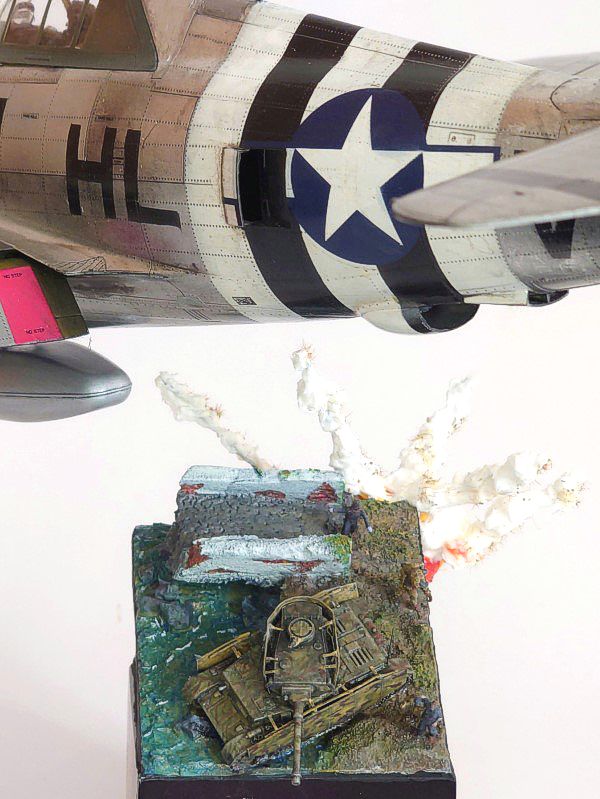 The base, figures and tank were all painted in acrylics.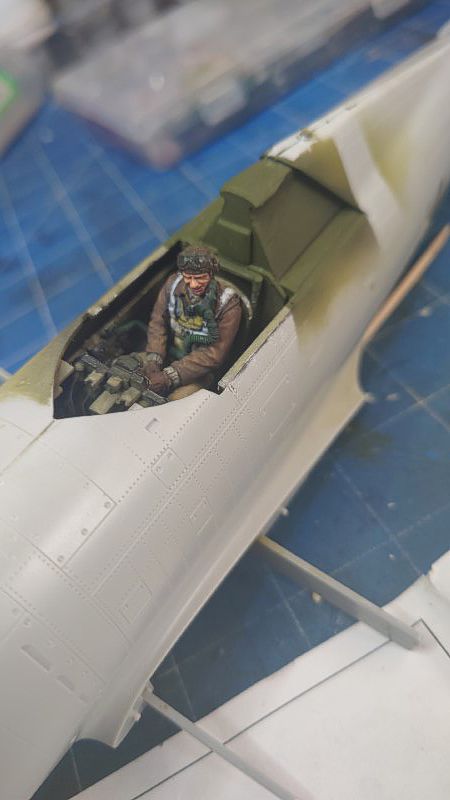 Figures
The pilot figure is from the Hasegawa model. It was painted in acrylics.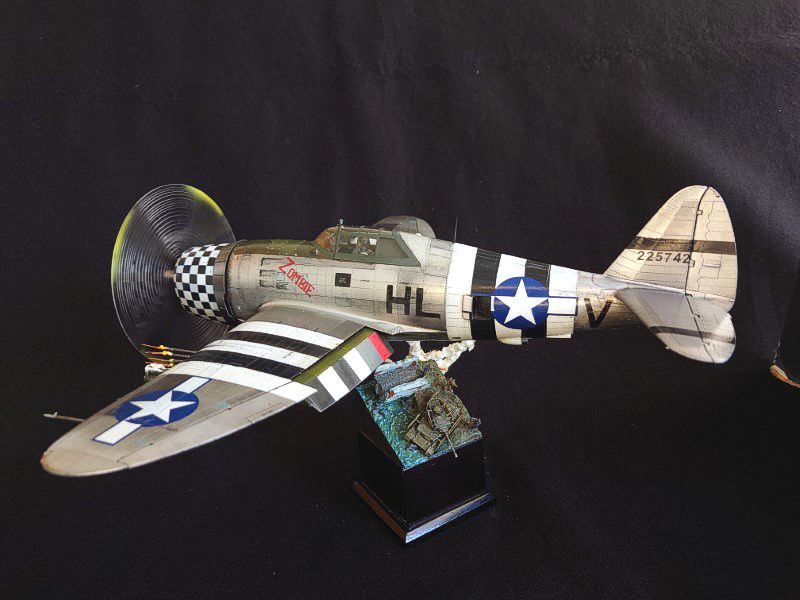 Conclusion
The P47D razorback seems like it should be a fat ugly warthog but in flight it really looks spectacular. This will be the last of my box art dioramas that feature forced perspective and different scales of models for a while. The whole series of them has been really fun to build.
---
© Suresh Nathan 2022
This article was published on Saturday, September 03 2022; Last modified on Sunday, September 04 2022