Revell/Special Hobby 1/32 Tempest V & V-1
By Suresh Nathan
Tempest Crossbow, Operation Diver, June 1944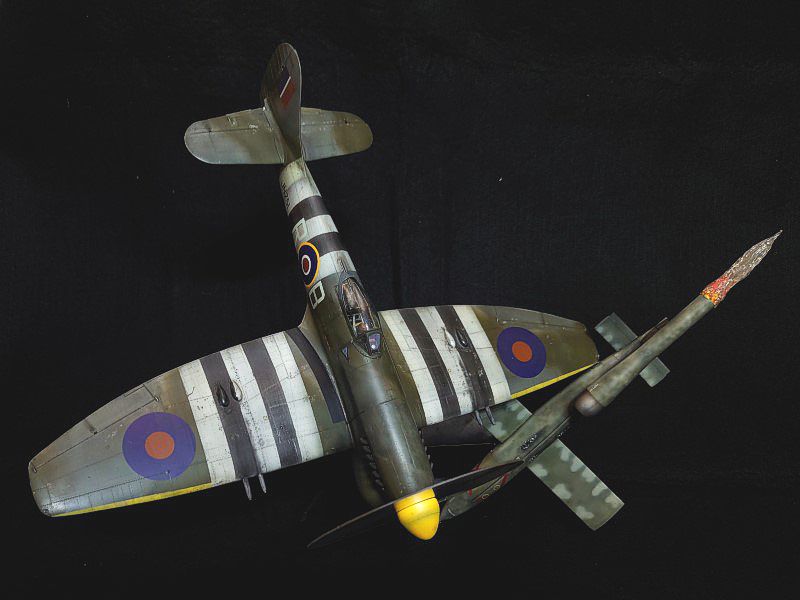 Introduction
The British defence against German long-range weapons was known by the codename Crossbow with Operation Diver covering countermeasures to the V-1. Anti-aircraft guns of the Royal Artillery and RAF Regiment redeployed in several movements: first in mid-June 1944 from positions on the North Downs to the south coast of England, then a cordon closing the Thames Estuary to attacks from the east. In September 1944, a new linear defence line was formed on the coast of East Anglia, and finally in December there was a further layout along the Lincolnshire–Yorkshire coast. The deployments were prompted by changes to the approach tracks of the V-1 as launch sites were overrun by the Allies' advance.
Eventually about 2,000 barrage balloons were deployed, in the hope that V-1s would be destroyed when they struck the balloons' tethering cables. However, the leading edges of the V-1's wings were fitted with Kuto cable cutters, and fewer than 300 V-1s are known to have been brought down by barrage balloons.
The average speed of V-1s was 550 km/h (340 mph) and their average altitude was 1,000 m (3,300 ft) to 1,200 m (3,900 ft). Fighter aircraft required excellent low altitude performance to intercept them and enough firepower to ensure that they were destroyed in the air (ideally, also from a sufficient distance, to avoid being damaged by the strong blast) rather than the V-1 crashing to earth and detonating. Most aircraft were too slow to catch a V-1 unless they had a height advantage, allowing them to gain speed by diving on their target. When V-1 attacks began in mid-June 1944, the only aircraft with the low-altitude speed to be effective against it was the Hawker Tempest. Fewer than 30 Tempests were available. They were assigned to No. 150 Wing RAF. Early attempts to intercept and destroy V-1s often failed, but improved techniques soon emerged. These included using the airflow over an interceptor's wing to raise one wing of the V-1, by sliding the wingtip to within 6 in (15 cm) of the lower surface of the V-1's wing. If properly executed, this manoeuvre would tip the V-1's wing up, over-riding the gyro and sending the V-1 into an out-of-control dive. At least sixteen V-1s were destroyed this way (the first by a P-51 piloted by Major R. E. Turner of 356th Fighter Squadron on 18 June).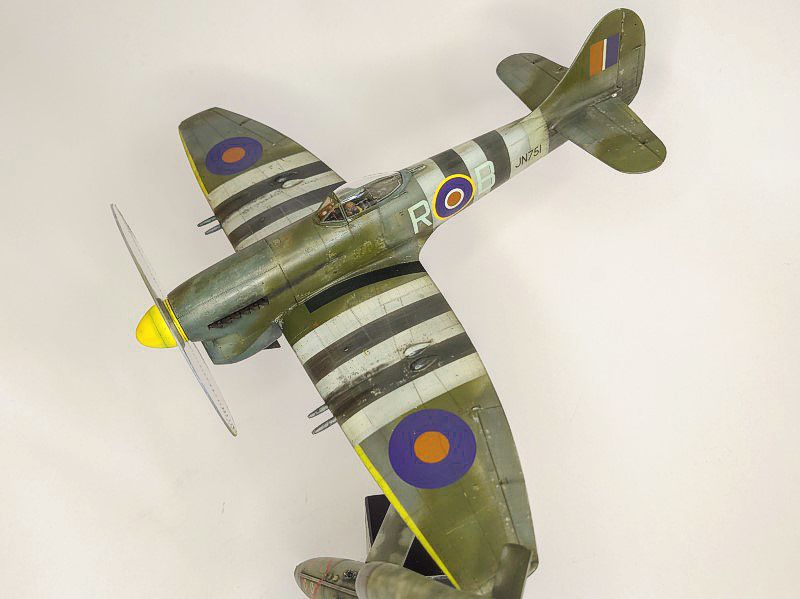 The Tempest fleet was built up to over 100 aircraft by September, and during the short summer nights the Tempests shared defensive duty with twin-engined de Havilland Mosquitos. Specially modified Republic P-47M Thunderbolts were also pressed into service against the V-1s; they had boosted engines (2,100 kW or 2,800 hp) and had half their 13-millimetre (0.5 in) machine guns and half their fuel tanks, all external fittings and all their armour plate removed to reduce weight. In addition, North American P-51 Mustangs and Griffon-engined Supermarine Spitfire Mk XIVs were tuned to make them fast enough. At night airborne radar was not needed, as the V-1 engine could be heard from 10 mi (16 km) away or more and the exhaust plume was visible from a long distance.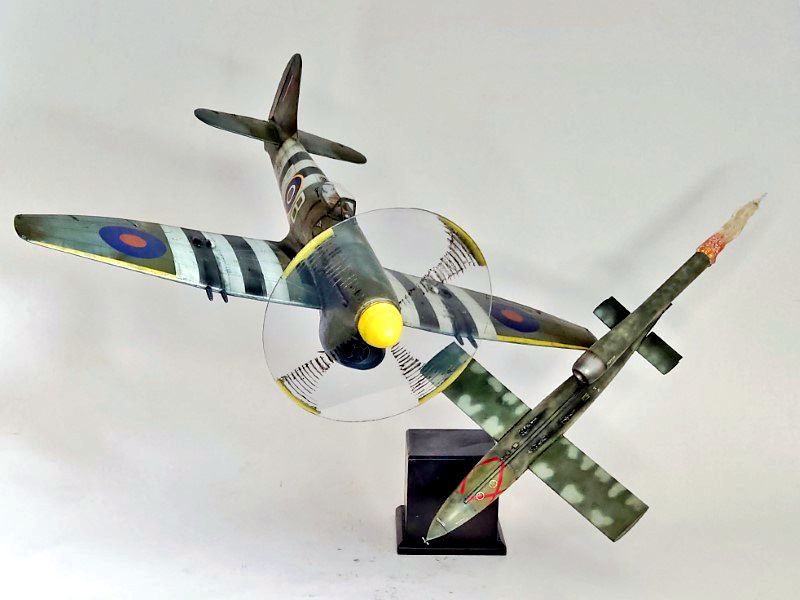 Wing Commander Roland Beamont had the 20 mm cannon on his Tempest adjusted to converge at 300 yd (270 m) ahead. This was so successful that all other aircraft in 150 Wing were thus modified. By the end of the V-1 campaign, 150 Wing had shot down 638, with Beamont accounting for 32.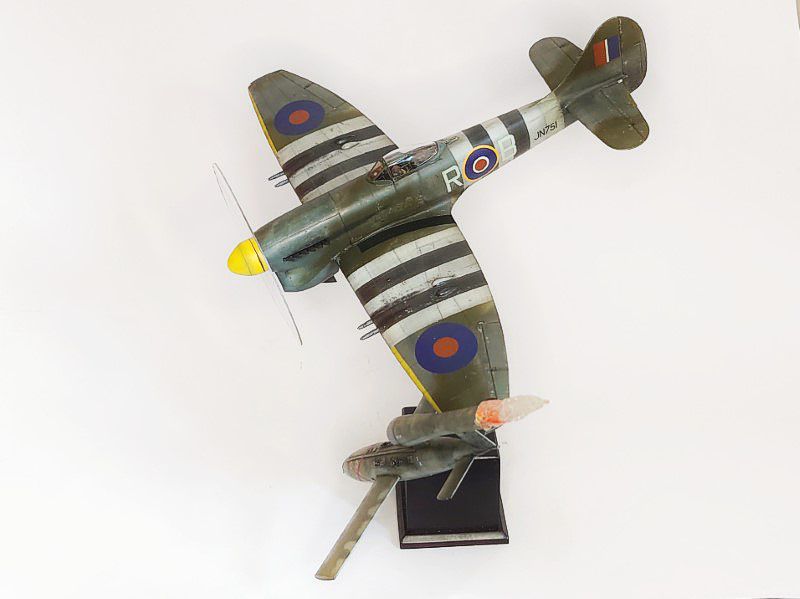 ---
Planning
I wanted to do an in-action diorama with the Tempest tipping the Doodle bug into a spiral. This was successfully achieved in at least 16 V-1 intercepts. Many times, despite taking fire, V-1s could continue flying and when tipped could even fly upside down. Showing some battle damage would therefore illustrate this point of interest nicely. V-1's were often patched together from spares and so my depiction shows parts from at least 2 V1's. I would need to somehow suspend the Tempest and V1 on a plinth and keep it from tipping over. This was done by running a coat hanger wire through the body of the V-1 and into the wing tip of the Tempest keeping the whole thing centered on the plinth.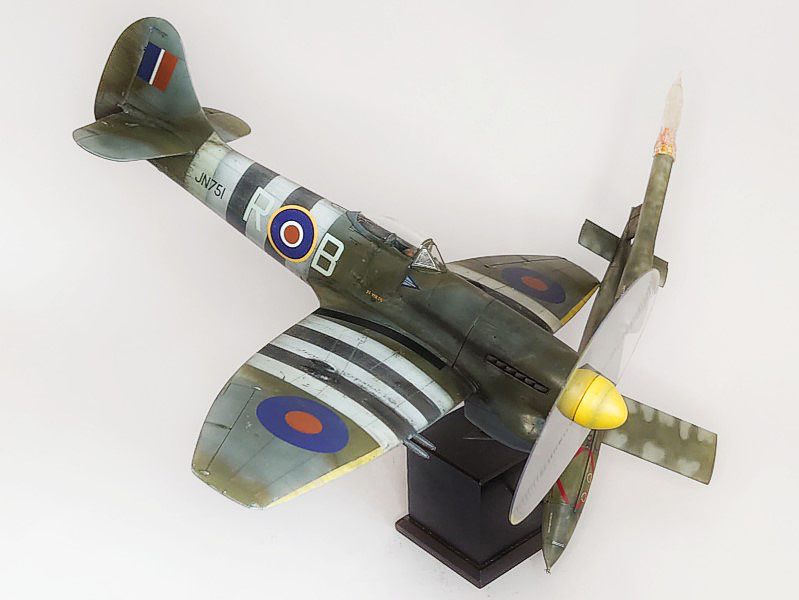 ---
Revell Hawker Tempest Mk V
Revell's rebox of the Special Hobby Tempest adds a nice instruction sheet but otherwise there's nothing special here. The kit is typical of low run models. Poorly fitting, thick plastic, butt joints, parts don't line up, etc. Still, the main parts are all there and it builds into an impressive kit. I felt it was going to be a pity to use all the wonderful cockpit detail in this model as it would mostly be hidden so I elected instead to save the cockpit for a future Revell Typhoon superdetail project. I therefor heavily converted the Revell Typhoon cockpit and superdetailed it within reason to fit this cockpit. The figure is from PJ productions. The spinner is a piece of turned acrylic which was a poor choice because it melts easily.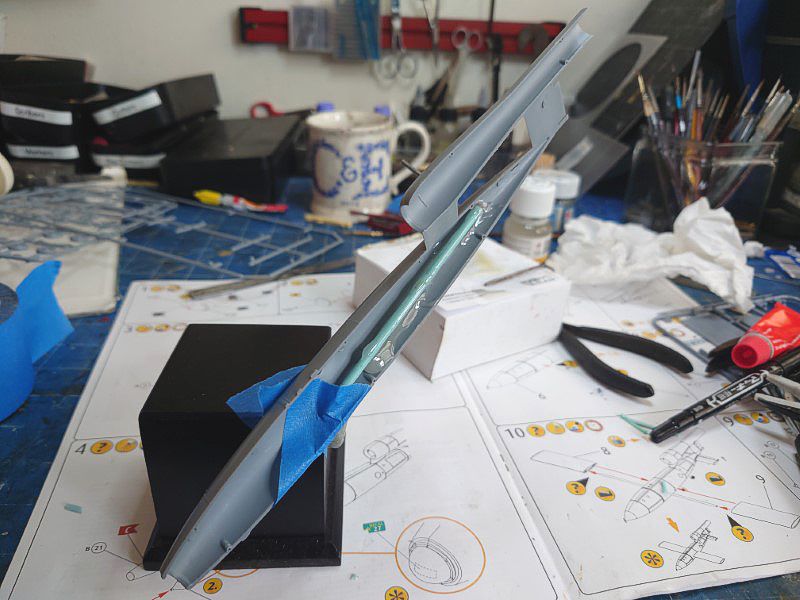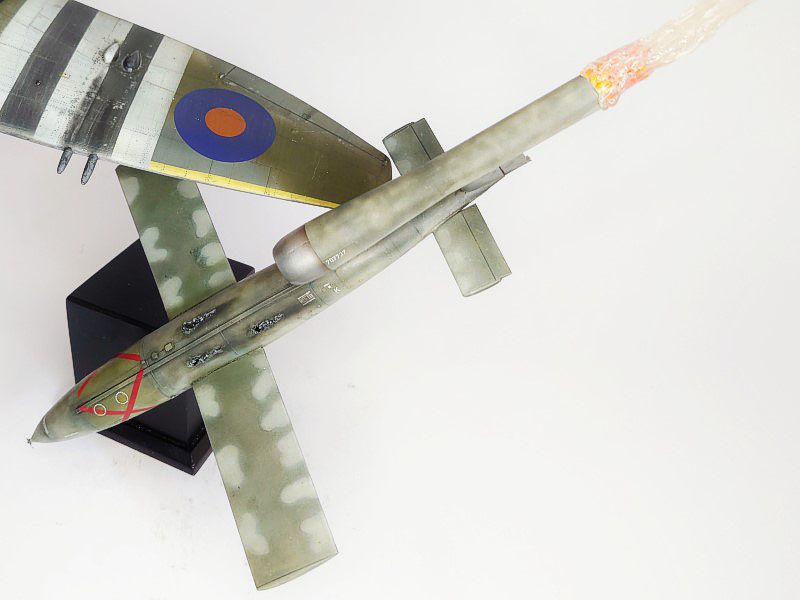 Revell V1 Flying Bomb
This was a really easy build with the hardest bit being the conversion to a stand for the Tempest. This was done by cementing a coat hangar wire into the core of the V1. The rocket plume is a core of acrylic rod with hot glue modelled over it.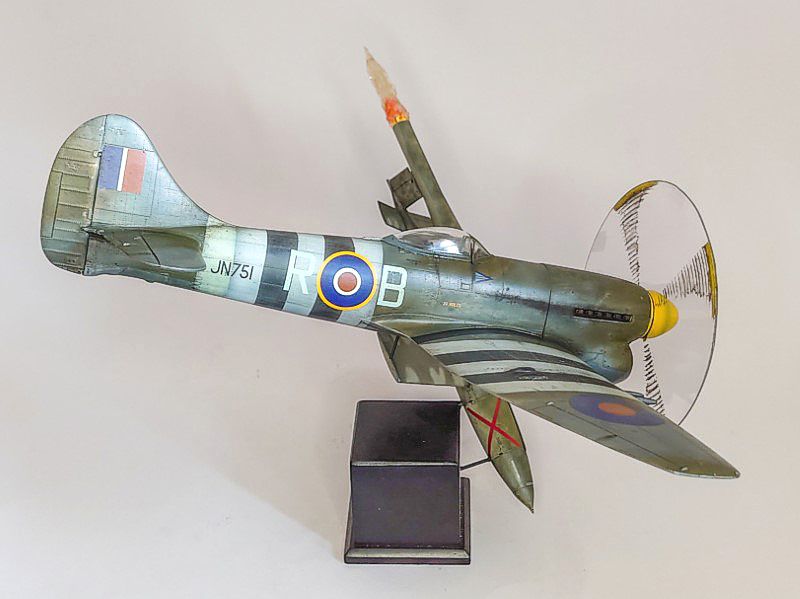 Base
The base is a solid pre-fabricated base from High Planes Models. Apart from the wire in the core suspending the Tempest, another wire in the nose of the V1 prevents the assembly form tipping over.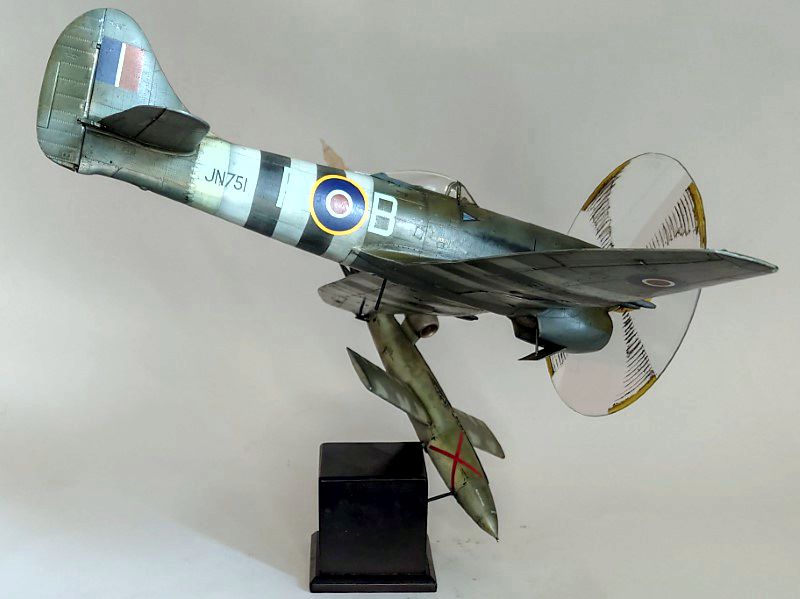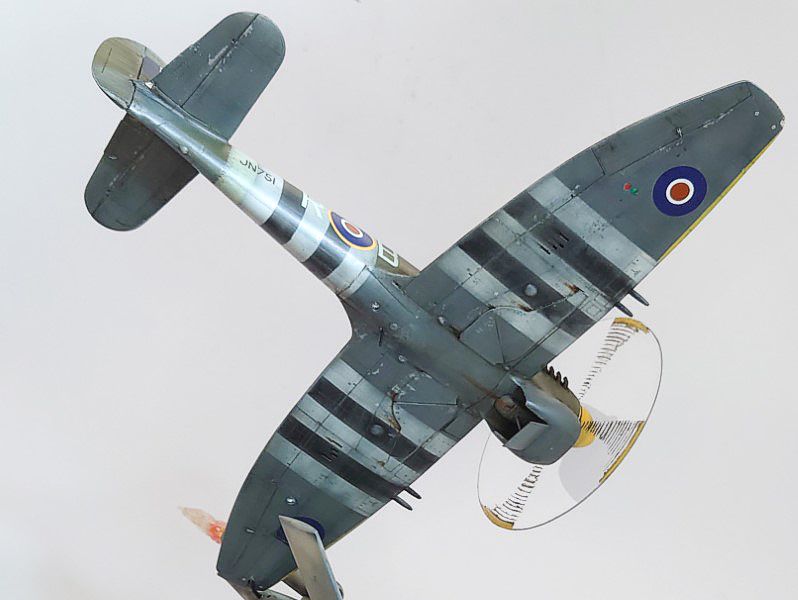 Painting and Markings
Wing Commander Roland Prosper "Bee" Beamont, CBE, DSO & Bar, DFC & Bar (10 August 1920 – 19 November 2001) was a British fighter pilot for the Royal Air Force and an experimental test pilot during and after the Second World War. He was the first British pilot to exceed Mach 1 in a British aircraft in level flight and the first to fly a British aircraft at Mach 2.
During the Second World War, he flew more than five hundred operational sorties. He also spent several months as a Hawker experimental test pilot developing the Hawker Typhoon and Tempest and was responsible for introducing these types into operational squadron service. He pioneered the ground attack capabilities of the Typhoon and led the air-to-air campaign against the V-1 flying bomb.
In 1945 he commanded the Air Fighting Development Squadron at RAF Central Fighter Establishment, before leaving the service in 1947. During his subsequent career as English Electric Aviation chief test pilot (and later for BAC), he directed the flight test programmes of the Canberra, the Lightning, and TSR-2, making the maiden flight of each type. When he retired from test flying in 1968, he had flown 167 different types during a total of 5,100hr and 8,000 flights—of which more than 1,100 were supersonic. He set three Atlantic records in the Canberra, including the Britannia Trophy for the first double Atlantic flight in one day. In 1971, he became Panavia's flight operations director, responsible for the testing of the Tornado, retiring in August, 1979 following the maiden flight of the first production Tornado. After retirement he contributed to aviation journals and wrote a number of books about his experiences.
Beamont was a careful pilot who understood the capabilities of the aircraft he flew. He was proud that he had never broken an aircraft, nor had to bail out or eject. Even when his Tempest was shot down, he had made the best landing possible in the circumstances and got out, free of injury. The models were painted with Humbrol Enamel, with specific RLM colours for the V1 bomb. I used oil washes for weathering and drop filters for colour variation. The worn silver was a combination of undercoating with silvers and masked with sand. I find this the best way to achieve realistic chipped paint with enamels (salt rusts the pigment and hairspray can't be used). I used AK true metal for touch-ups afterwards and I think it solves a major gap in metal paints as you can patch over mistakes without having to airbrush large panels. The invasion stripes were all hand painted in enamels. D-Day stripes were painted above and below in June 1944. By the end of June the top surfaces were painted over and by September they were removed. I wanted to show this early Tempest with the stubby Hispano guns and so chose the appropriate colors for a V1 that was launched out of France a week after D-Day from France. I'm not sure if this exact engagement actually took place.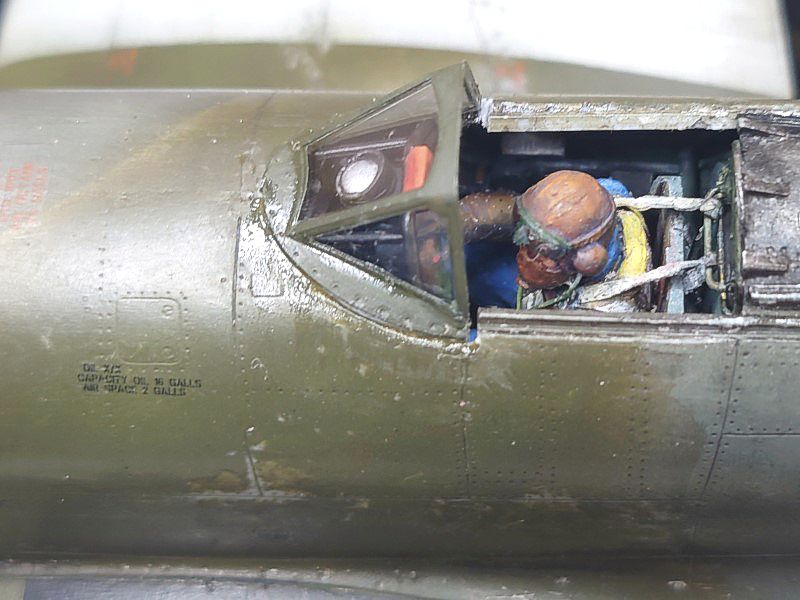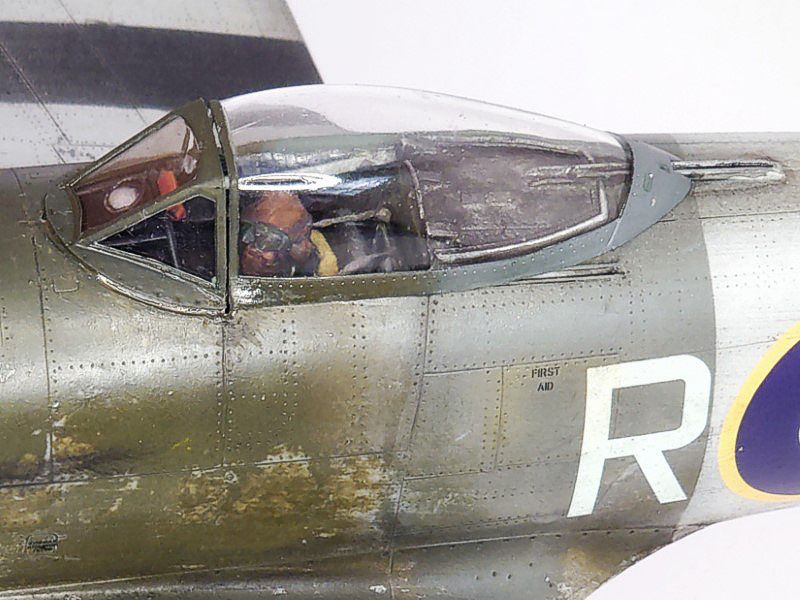 Figures
The pilot figure is from PJ Productions. It was painted in acrylics.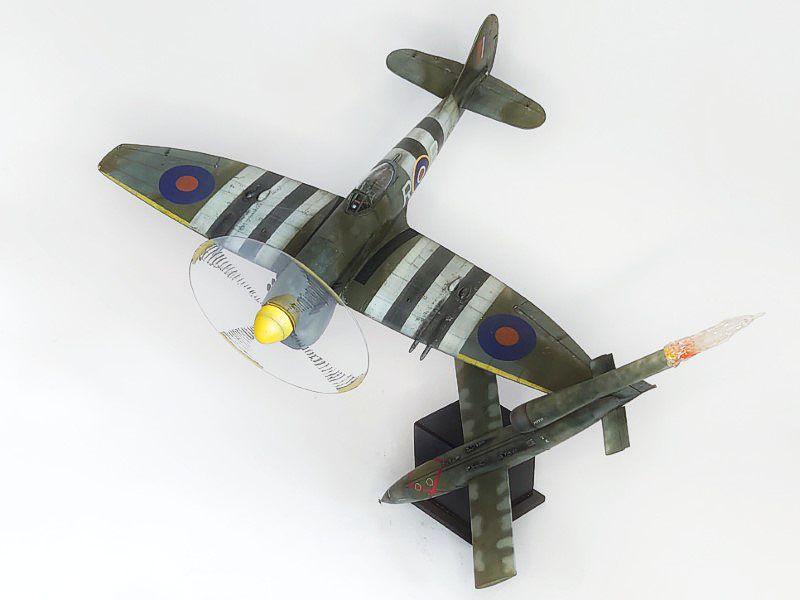 Conclusion
By September 1944, the V-1 threat to England was temporarily halted when the launch sites on the French coast were overrun by the advancing Allied armies. In total, 10,492 V-1s were launched against Britain, with a nominal aiming point of Tower Bridge. 4,261 V-1s were destroyed by fighters, anti-aircraft fire and barrage balloons. Approximately 2,400 V-1s landed within Greater London, inflicting 6,000 fatalities and 18,000 serious injuries. The last enemy action of any kind on British soil occurred on 29 March 1945, when a V-1 struck Datchworth in Hertfordshire.
© Suresh Nathan 2022
This article was published on Thursday, September 29 2022; Last modified on Sunday, October 02 2022