Trumpeter 1/32 F-100F Converted to a Drone
By Luc Janssen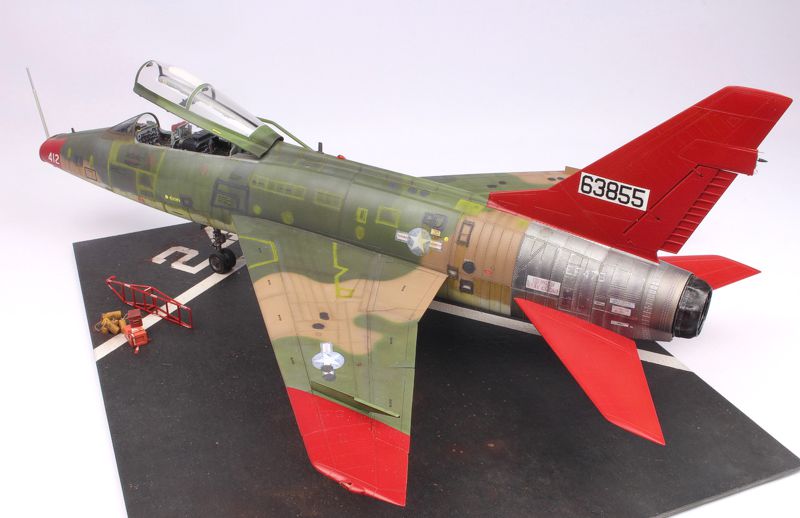 TRUMPETER 1/32 F-100F Super Sabre Drone
Introduction
I bought this kit with the intention to make a Misty FAC operational in Vietnam, but when doing my research, I stumbled over some photos of Super Sabre drones and I was hooked on this version. These planes were in storage for many years in the Arizona desert (AMARG) after been mothballed, resulting in interesting weathering and bleaching. I decided to make a F-100F drone with open canopy and with the back seat removed.
This kit is of standard Trumpeter quality and shows some big mistakes and short comings:
The canopy can only be installed in the closed position.
No interior detail is foreseen for the canopy.
The ejection seats are too basic whereby the front seat is completely wrong.
The exhaust is for the early version of the F-100 only and the later exhaust (F-102 style afterburner) is not included.
Details in the cockpit are partly wrong and the gas throttles are missing.
The windshield is too narrow.
The panel lining for the small panels on the tail section are missing on the starboard side.
The intake is a bit too flat on the underside (easily corrected with an aftermarket set).
---
I built the front seat from scratch and added some plumbing and wiring in the cockpit. The safety belts were made from lead and the buckles came from my spares. The instrument and side panels in the cockpit came from Eduard and fit perfectly. The wells for the landing gear and the airbrake were detailed and a new exhaust from Master Details was installed. A replacement intake with FOD cover from Zactomodels was installed as well. After checking photographs, some supplementary antennas were added.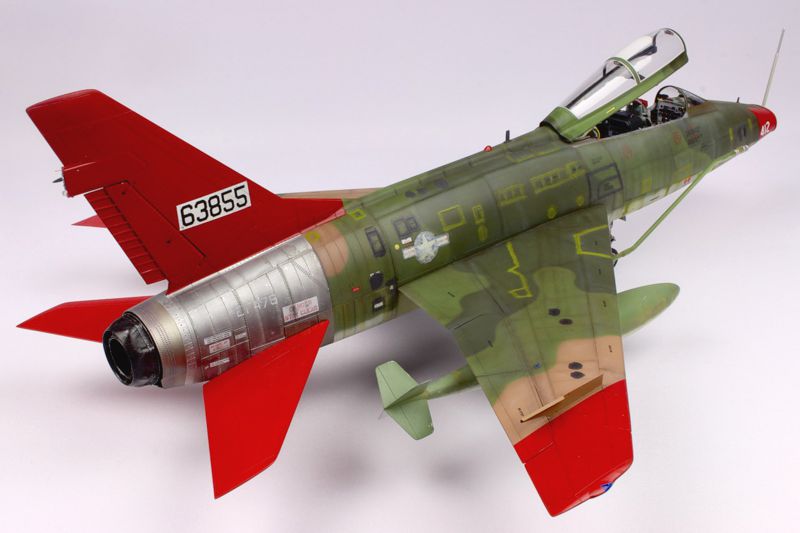 Unfortunately, Trumpeter included a cracked canopy in the box. I asked them very politely to send me a replacement canopy, but I never received an answer . . .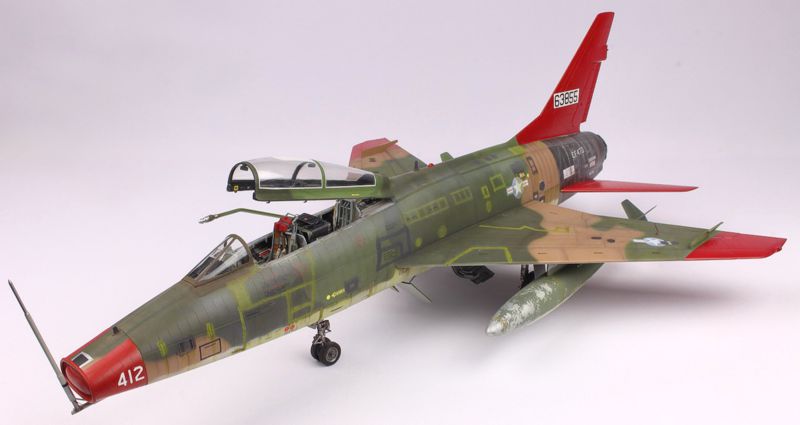 After Market Sets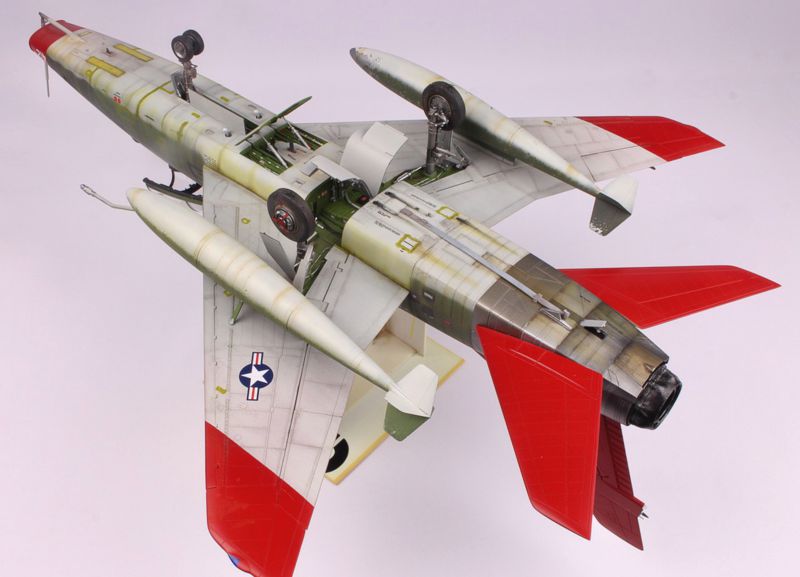 Decals
The decals came from the kit and from my spare decals.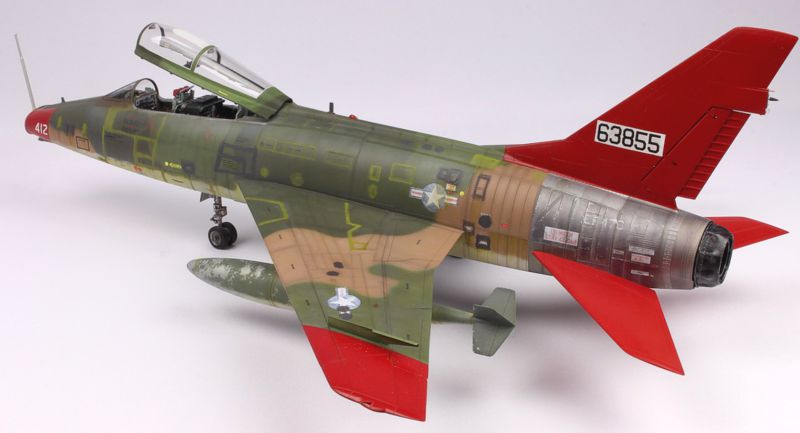 Paints
I used paints from Alclad, AK, MRP, ModelMaster, Vallejo and Humbrol.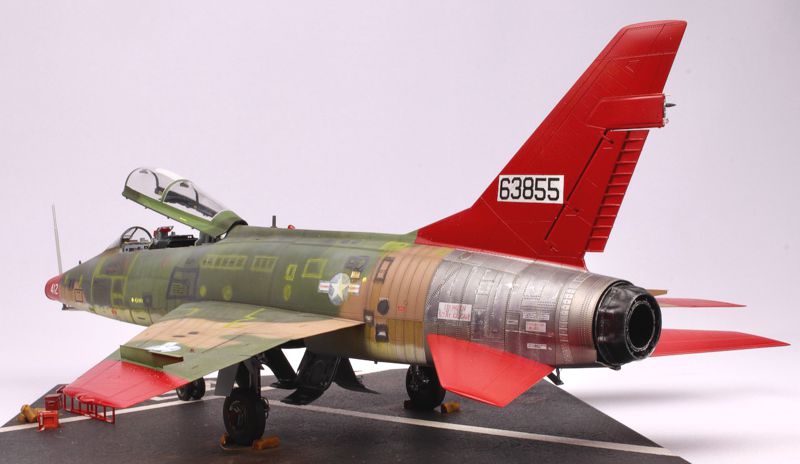 Weathering
No washes were applied, but I weathered with oil paints, pastels and pencils.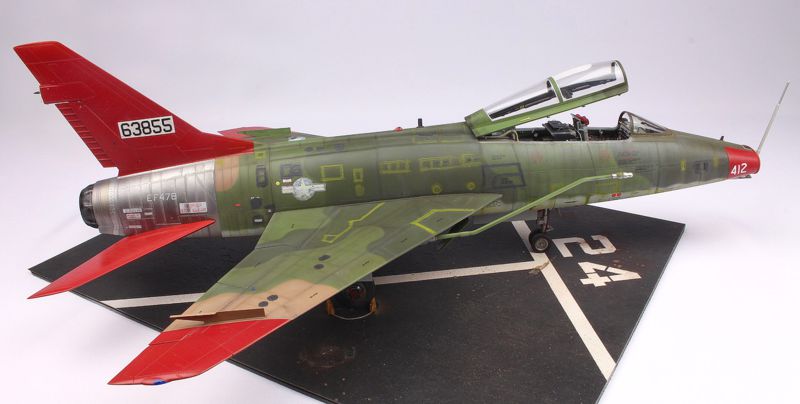 References
AIR modeller Nos 31 + 103.
Replic No190 + 200.
Squadron/Signal Publications No 9 - F-100 Super Sabre in Action.
The internet.
---
For questions or remarks, go to: https://lucjanssen32nd.com.
© Luc Janssen 2022
This article was published on Friday, December 16 2022; Last modified on Friday, December 16 2022