Trumpeter 1/32 F-105D Thunderchief
By Romain Flechon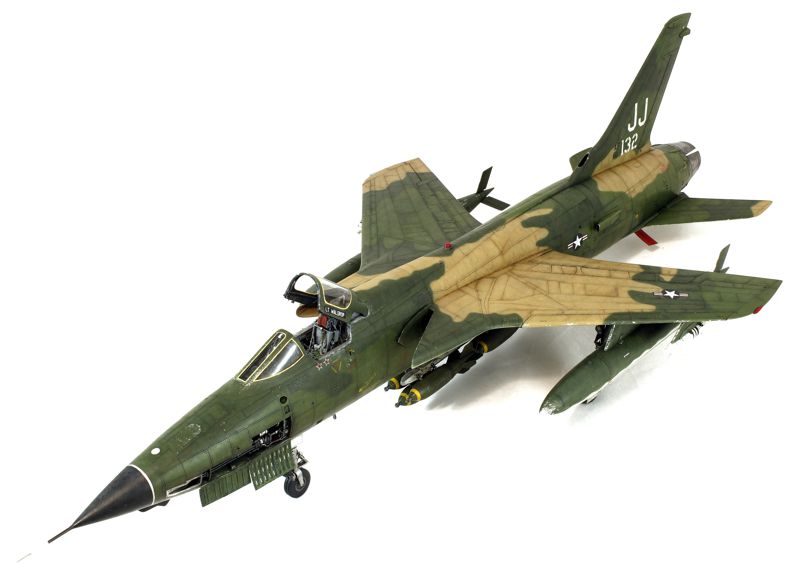 Introduction
This build from 2019 was inspired while reading the special issue of the French magazine "Le Fana de l'Aviation" about the F-105 Thunderchief. One story in particular caught my attention:
While on a bombing mission on the 23rd of August in 1967, 1st Lt. Dave Walrop shot down a MiG-17 with his gun, before climbing to avoid debris and get back in formation. While flying out of the clouds on his way back, Waldrop saw another MiG and shot it down, too. When he was debriefing at the base, he got a phone call from… Robin Olds himself. From his F-4, this famous pilot was not happy to have seen a F-105 on the way back and shooting down the MiG he was engaging with his radar. This MiG could have been Olds' fifth kill, making him a double Ace.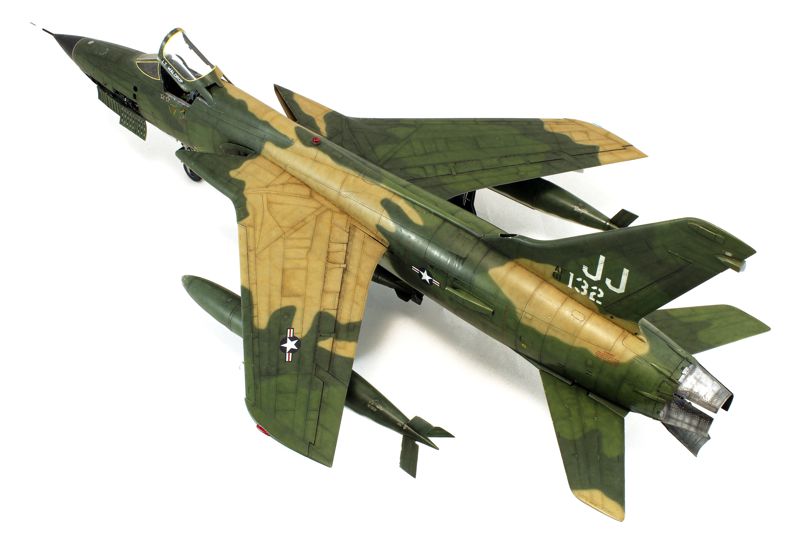 The Kit
Trumpeter released this kit back in 2004. The model shows some shape issues such as the canopy section, nose curvature, MK117 bombs and more. Details are a bit basic for 1/32nd scale in the cockpit, wheel bays and exhausts.
---
Many aftermarket sets were used during construction:
Blackbox cockpit 32014
Master pitot tube AM-32-038
Quickboost air intake 32068
Cutting Edge canopy and spine correction CEC32163 (OOP, hard to find)
Aires Wheel bay 2076
Fisher Wheels A3219
Eduard F-105 interior 32514
Eduard F-105 Exterior 32113
Eduard F-105 armament 32208
GT Resin Fuselage correction set (nose, camera, ventral fin)
Videoaviation MK117 bombs 163932
Eduard MER 632102
---
For more great info on correcting the kit, check out Thierry's F-105D Tweak List.
Work in Progress Pictures
---
Black box Cockpit.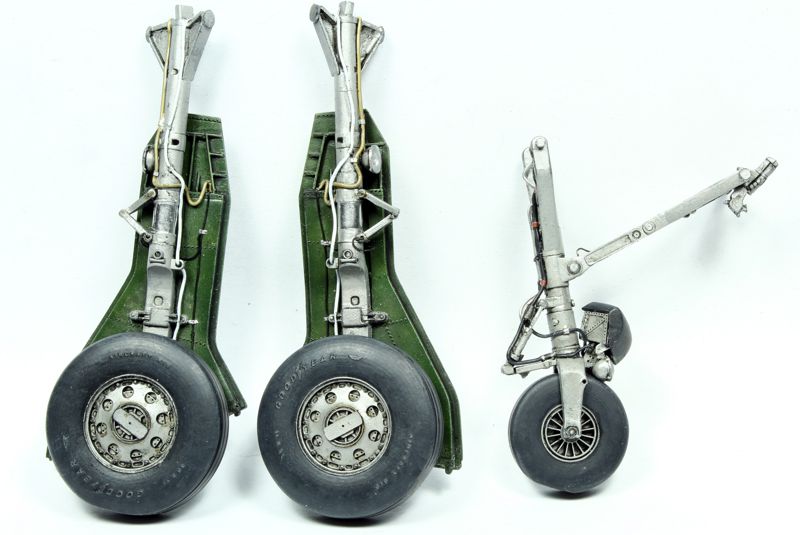 Fisher Wheels.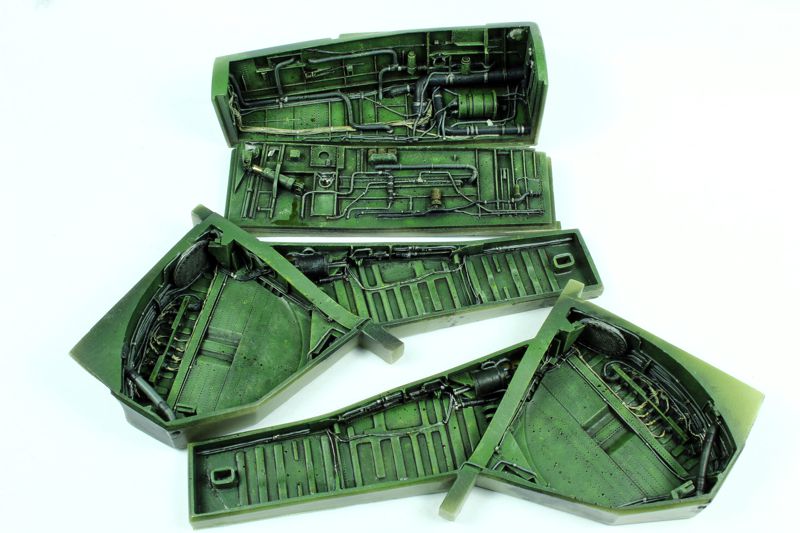 Aires Gear bays.
---
Gun bay is made from scratch, with some Eduard PE parts. The gun is made using Verlinden body and Master barrels.
---
Air intakes were heavily improved, as well as the scoops.
---
GT resin nose in place. On the other end, the kit exhaust was improved.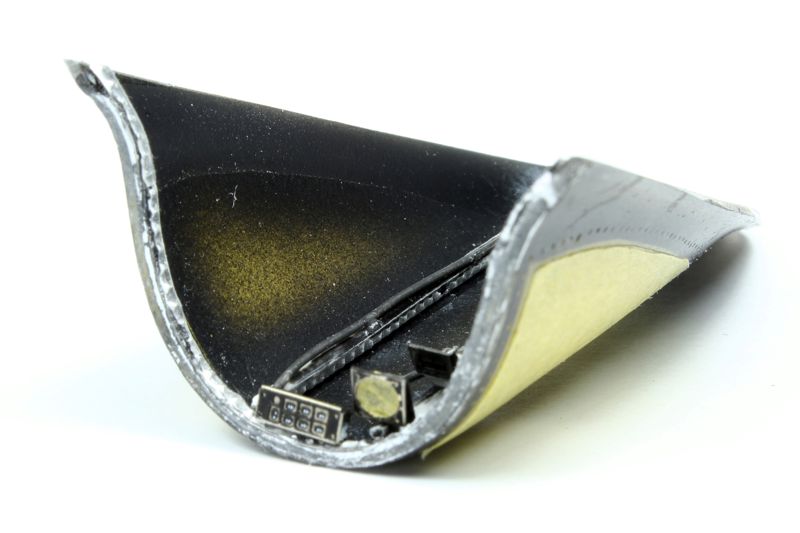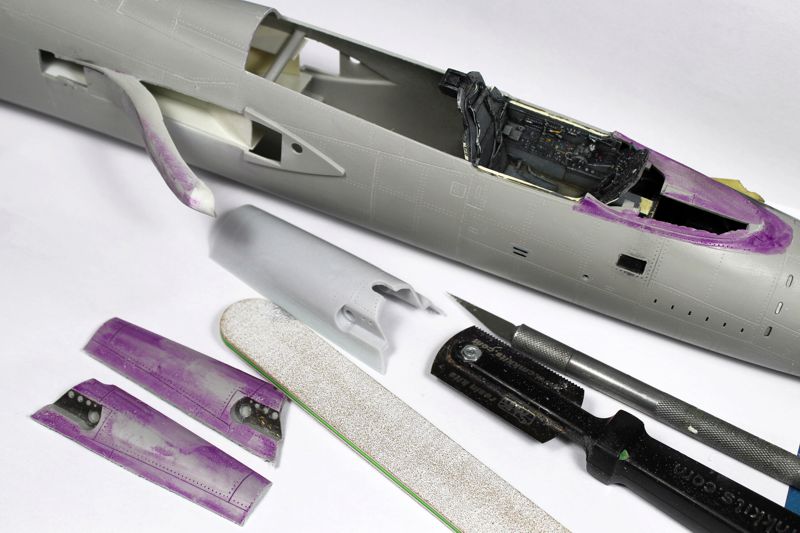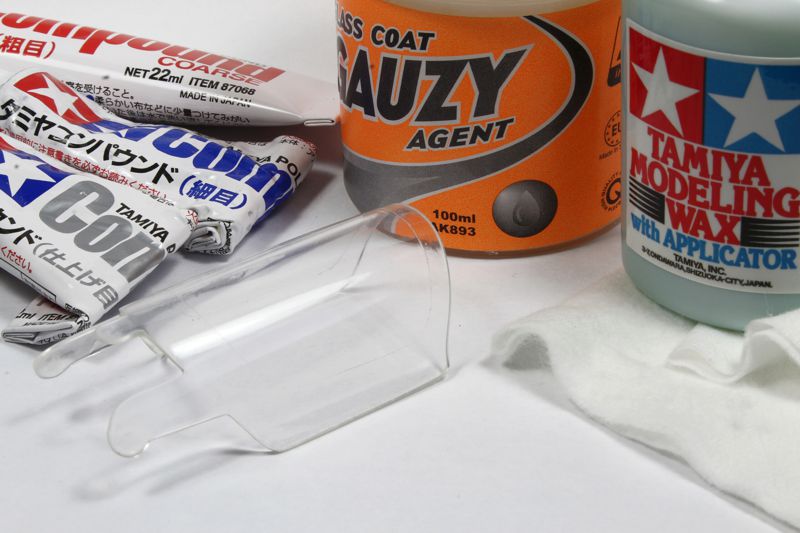 Cutting Edge canopy set needs heavy surgery. AK Gauzy agent did the trick to give clear resin parts a good shine.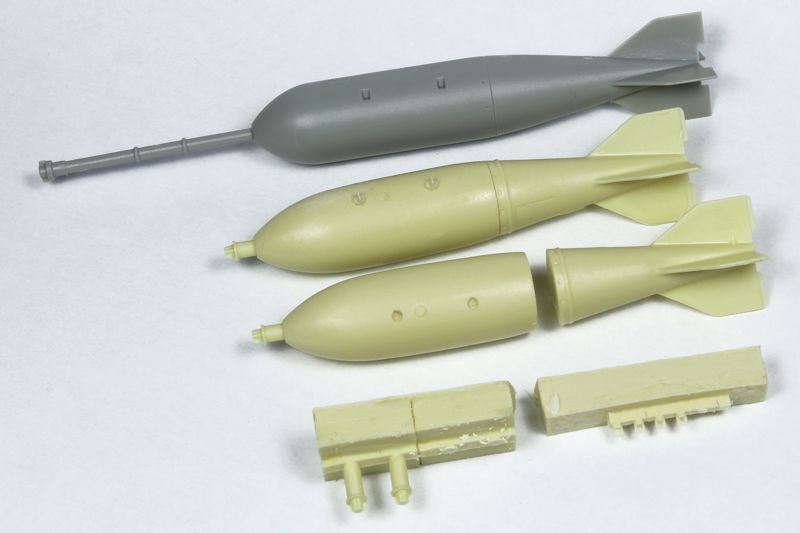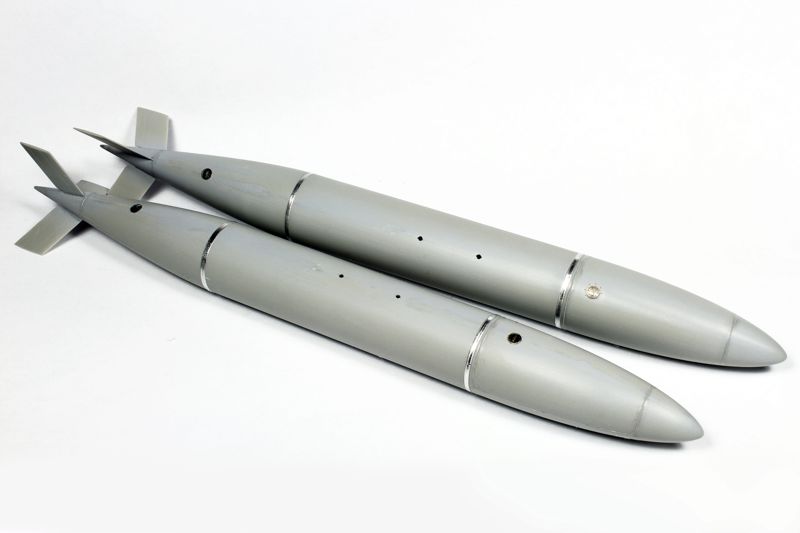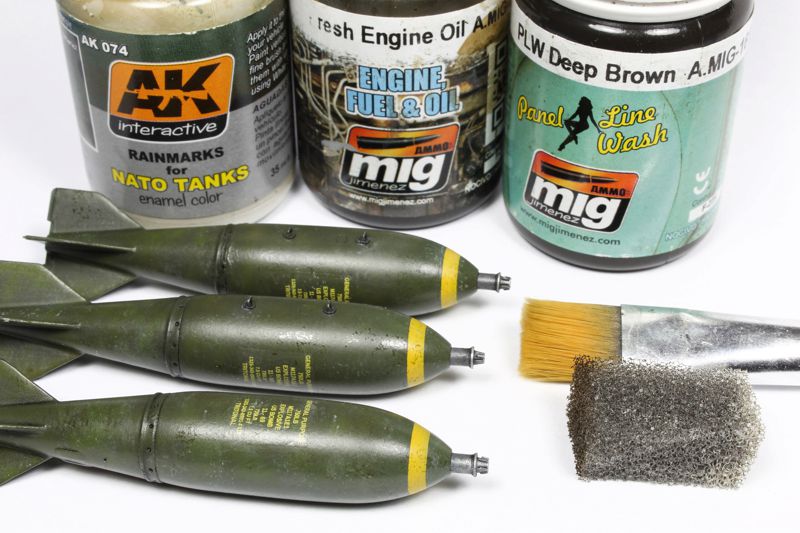 Some scratch-built details added to the tanks and painting the Videoaviation MK117 bombs.
Painting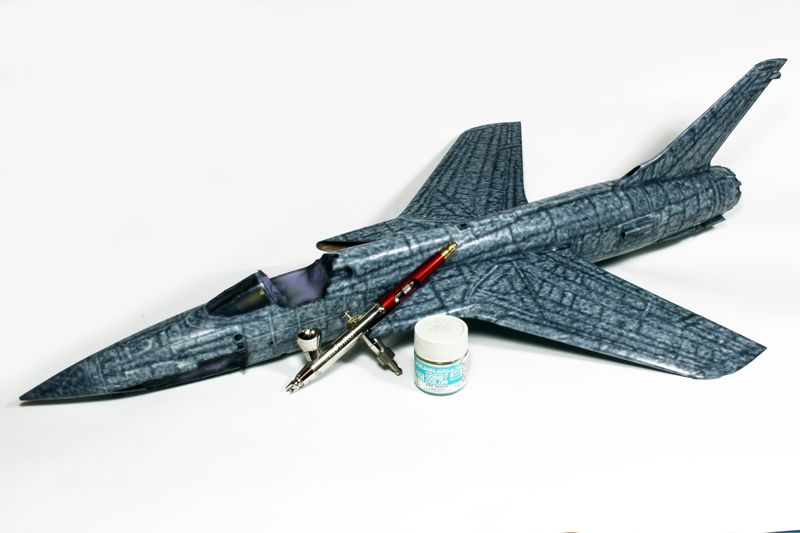 ---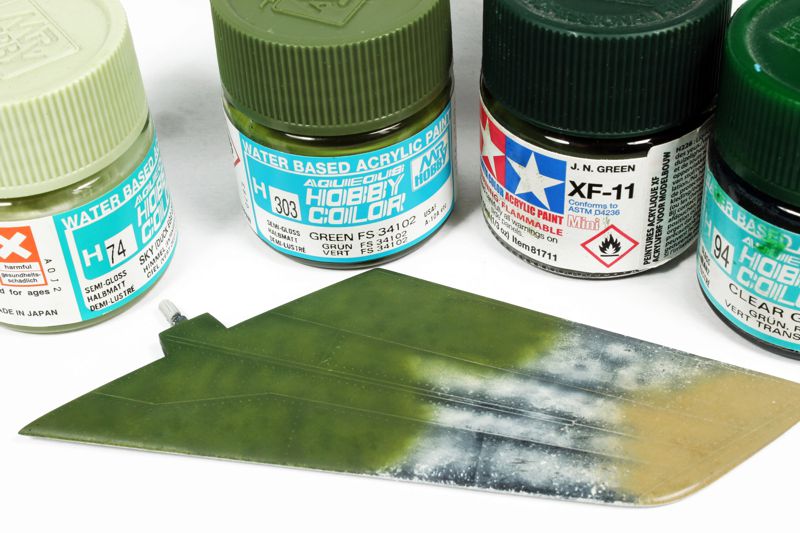 I tried new things with the painting process.
For the light green FS 34102, I used Gunze H303 as basis, but found it too light, so I added drops of H302.
Highlights are done with a mix of H303 and H74 Sky, while shadows are made with H303+XF11 and clear green.
Same process for the dark green FS34092. But the base color is not H309 as required by Gunze. I found this color to tend towards something like olive drab. I chose to use H302 FS 34092 as basis, with some H309 and Tamiya XF11 JN Green. The result is a darker and "greener" shade. Highlights are then done with H303 added in the mix and shadows with XF11.
---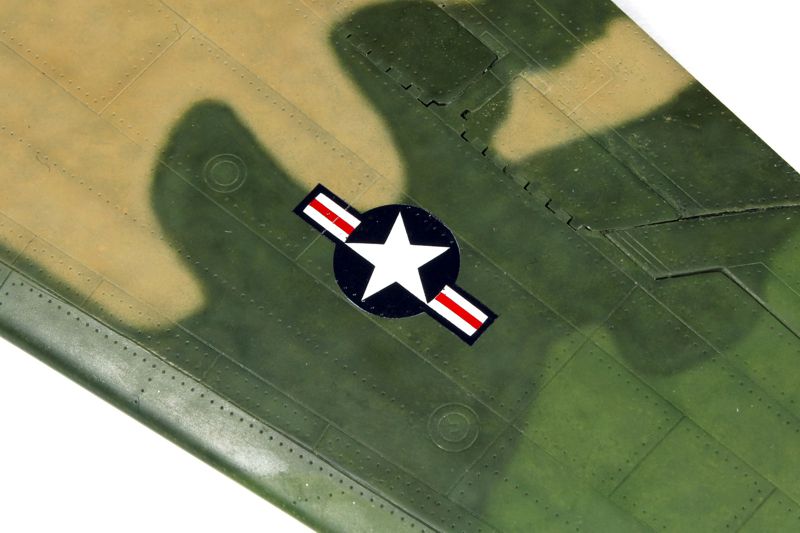 The model was sealed with Gauzy clear varnish. Markings and decals are smoothed down using Micromesh abrasives.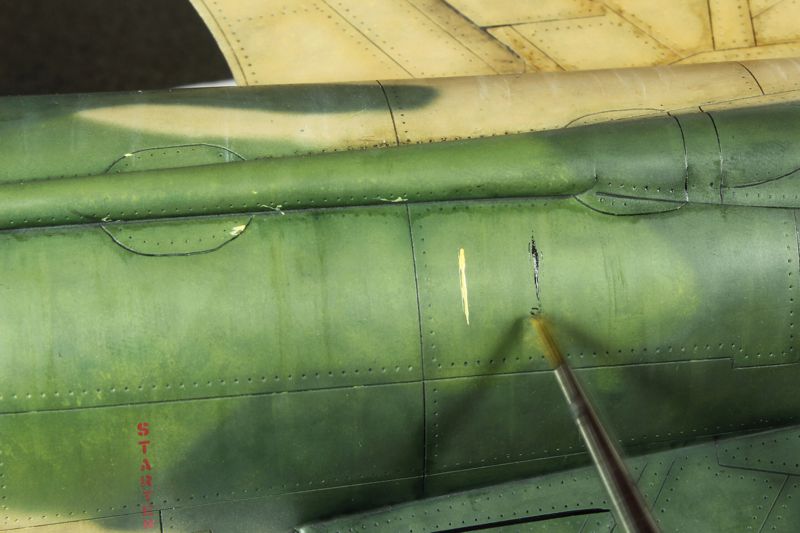 ---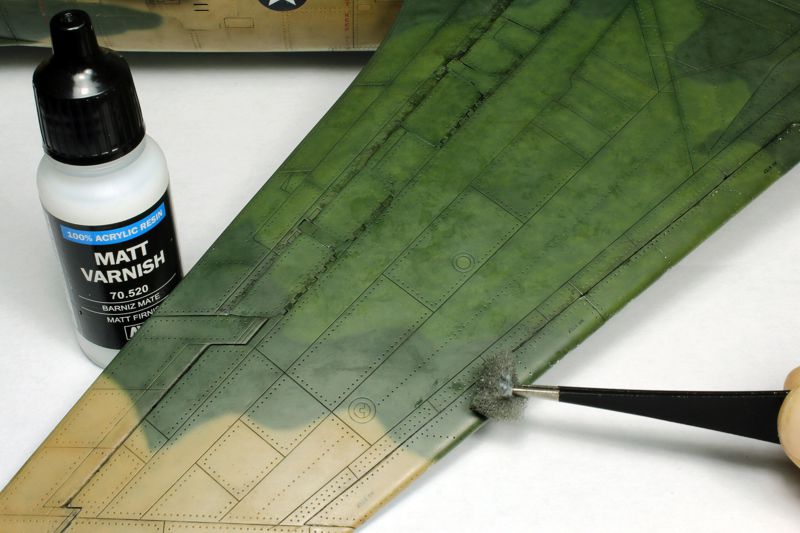 Weathering is done with oil paints.
© Romain Flechon 2023
This article was published on Saturday, May 27 2023; Last modified on Sunday, May 28 2023