Swiss Air Force F-5E
By Sinuhe Hahn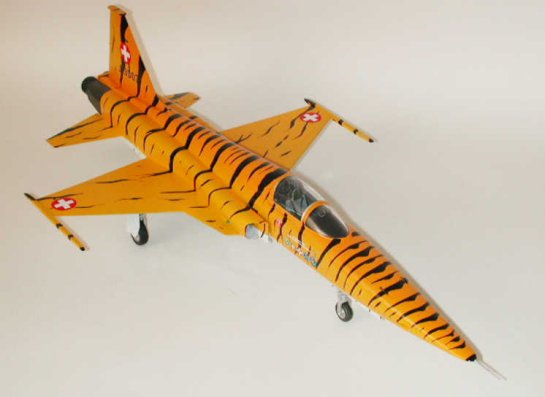 Introduction
This is my model of a commemorative Swiss Air Force F5E which been painted in a special scheme as a mascot for the 2001 fall military manoeuvres, which culminate in the spectacular display at Axalp where those fit enough to hike up the mountain can witness some live firing exercises (www.airshowaction.com/axalp/axalpb.php). For this model I was able to use a set of excellent photos published by the Swiss aviation magazine Cockpit, as well as the excellent Swiss Aviation website of Christoph Kugler (www.airpic.ch). Additional information, in particular regarding the exercise badges was kindly provided by Hofstetter Marketing, who financed the painting of this particular aircraft. The use of Swiss tax money for such issues is a strict taboo. As Mike Grant shares my enthusiasm for colourful Swiss aircraft (e.g. the Fieseler Storch), he was kind enough to produce an excellent decal set. I spent the last 3 odd months completing this rather special bird.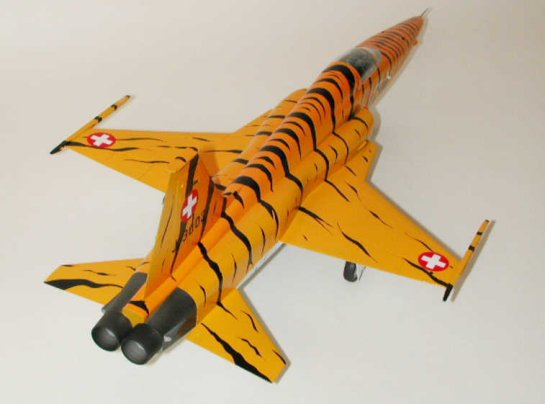 The Kit
I chose to use the reissue of the Hasegawa 1/32 kit in the current Patrouille Suisse guise, as this is basically quite accurate concerning the modifications found on Swiss F5E's: shark nose and extended LEX as well as chaff dispenser. The small flat winglet on the tip of the fin is incorrect but I only discovered this after completing the kit. All other kits would require some surgery. I also felt that this scheme needed quite a large canvas.
Even though this kit has been revamped, it does show its age, and on my example I encountered a moderate amount of flash. In general the fit was quite good. The cockpit detail is adequate, but if I had to build another I would probably use the new Verlinden detail set.
Painting and Decals
I decided to follow my standard method: build the model as completely as possible, spray a grey primer, fix imperfections and them proceed from there, by doing the white belly first then the yellow uppers and then darker orange fuselage section. In hindsight this was not the best approach, as it now meant that I had to mask the entire model in order to spray the black tiger stripes. I felt these were too thin and precise to be attempted free hand. After trying out various methods, I ended up masking the entire beast with Tamiya tape, and then cutting out the individual stripes. As the pattern is very symmetrical and quite tricky, especially on the nose, where I am not entirely happy with my work, this was a very tedious task. If I had to repeat it, I would chose the following route:
After cleaning up the model, spray it completely black. Using a piece of folded frisket film I would cut out the individual stripes and place these on the model. This would simplify the symmetry considerably. Then I would spray the model with Alclad silver which would provide a much better base for the white/yellow than the grey I used as a primer. The deep orange would again be sprayed free hand.
As there are no detailed colour references for this model, I mixed Tamiya and Gunze paints to what I considered the best approximations. The model was sprayed with a few coats of Future and allowed to dry before application of the decals, which were superb and settled down very nicely, and were sealed by another coat of Future. As I was worried that the black stripes may shine though these, I had masked off the areas where the roundels were located prior to spraying the black stripes. This was probably a worthwhile effort.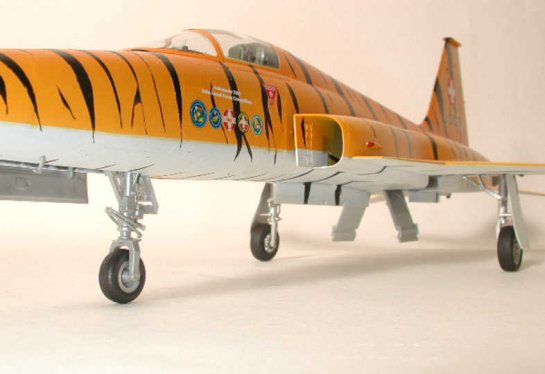 In Summary
This has been a rather complex and challenging build for me, but also a lot of fun. It has been the first large scale model in a long time, and while the airbrushing work may be a bit more tedious, it is a very attractive addition to my display.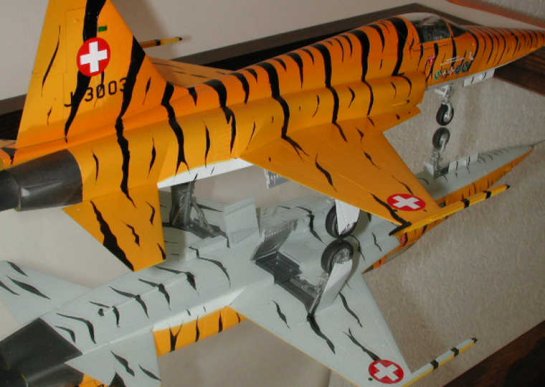 Acknowledgements
Thanks to Christoph Kugler and Hofstetter Marketing for their input and to Mike Grant for the tremendous set of decals and for having so much patience in allowing me to build this model at my own pace.
Decals can be ordered directly from Mike Grant in scales from 1/72 to 1/32: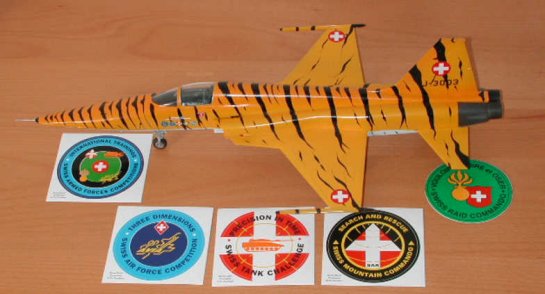 © Sinuhe Hahn 2001
This article was published on Wednesday, July 20 2011; Last modified on Thursday, June 14 2018