Trumpeter 1/24 Focke Wulf Fw 190D-9
By Alex Kontiveis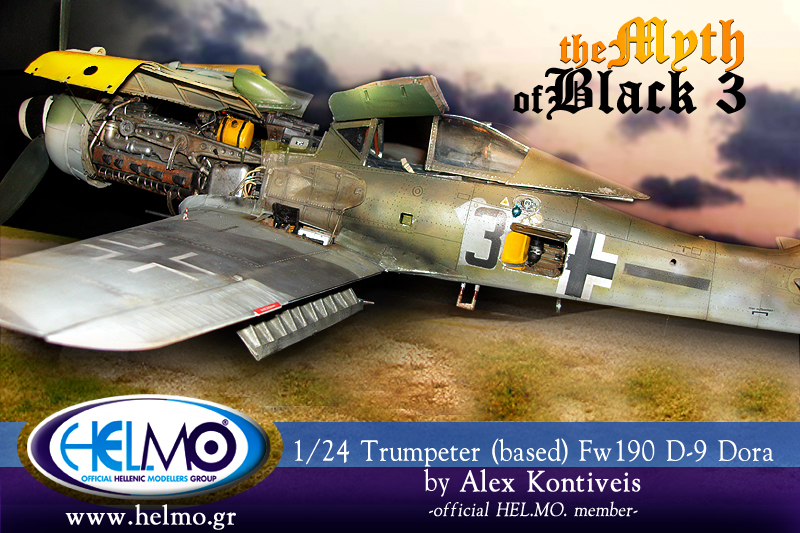 Hi Luftwaffe boys,
This time I decided to build a very special bird, not widely known for its shoot downs, but for the whole myth which covers its strange camouflage!
Black 3 II/jg6 (ex 17) Fieseler (Wr.num 601090)
History
Black 3, was one of a number of D9s captured by the US 7th A.D at Halle. This aircraft is particular in the sense that on 8 May 1945 Fw. Hermy Hartel may have been its very last pilot. He flew an Fw 190D-9 coded "3" on May 5 1945 at 16:35 hrs from Gorlitz of Poland to Altkemnitz of Poland where he finally landed at 17:00 hrs.
On 8 May 1945 Fw. Hartel took off at 08:10 hrs from Altkemnitz to land at Niemes/Kummer am See (Czechoslovakia) at 08:35 hrs. Late in the afternoon, at 16:55 hrs, he flew back into German airspace to Halle were he surrendered to US troops at 17:55 hrs. Since no other D-9s wearing a tactical number "3" were identified at Halle so far the authors of Japo editions insist to Wr Num: 600422.
Camouflage Myth
According to this Wr Num: 600422, Japo's profiles suggest:
Fuselage: RLM 76
Fuselage camo: RLM83 to 82 mottled with 83
Upper wings: RLM 82/76
Lower wings: RLM 76
(More details you may read in japo's book for Doras Prt II.)
The brand new Jerry Crandall's book for Doras, comes up to confirm some different information about Black 3. According to some color pictures, we can obviously see the Yellow under cowlings panels! Also we can observe the upper wing camo, which seems to be close enough to 75/76. (This combination lead me think that a wing replacement had taken place?) The lower wing paint scheme seems to be W2 GFW (76/aluminium + Flat crosses).
So far so good!!! Both sides seem to agree as far as the basic painting standards are concerned. But an enlarged picture of the tail of Black "3" brings out the last 2 digits of the Wr.Num to be ….90. and Jerry insists that the final Wr. Num of the particular bird is 601090. So do I.
According to this Wr Num: 601090, Jerry Crandall's profiles suggest:
Fuselage: RLM 76
Fuselage camo: RLM83 to 82 mottled with 83
Upper wings: RLM 82/76 or 75/76
Lower wings: RLM 76
Lower under cowlings: yellow
But…according to some oldest profiles for black 3, as everybody knows, the fuselage is fully covered with a strange color, mistakenly referred to as RLM 99 (never existed of course).
From the black and white pictures of this aircraft it's impossible to understand the real colors.
Who is right anyway?
If we accept Japo's suggestion Black 3 Wr 600422, and according to Fieseler's paint instructions for series 600311 to 600450, he's absolutely correct.
If we accept Jerry Crandall's suggestion Black 3 Wr 601090 and according to Fieseler's paint instructions for series 600981 to 601110 (601090 belongs to this batch) we can read some very interesting information. And things seem to be different for both authors.
Actually, in a few words, the fifth batch of Fieseler's paint instructions refers that RLM 83 is replaced by RLM 81 brown violet from rear gun cowlings to upper surfaces till the tail, mottled both sides with RLM 81. The fuselage is over spayed with a light coat of RLM 82 covering the 76. The upper surfaces of engine compartment are covered with RLM 82 with segments of RLM 83. The lower wings are displayed as W2/2a.
So I decided to follow the above info, for my bird. I think I built the closest Black "3" and an accurate Dora's build.
Construction
For those who have already modeled the Trumpeter's kit, the changes and modifications are obvious. For the record, I used Eduard's seatbelts. Everything else is scratch built and almost the most of the kit parts are not used. I worked for 3 months for the main construction and 1 month for painting.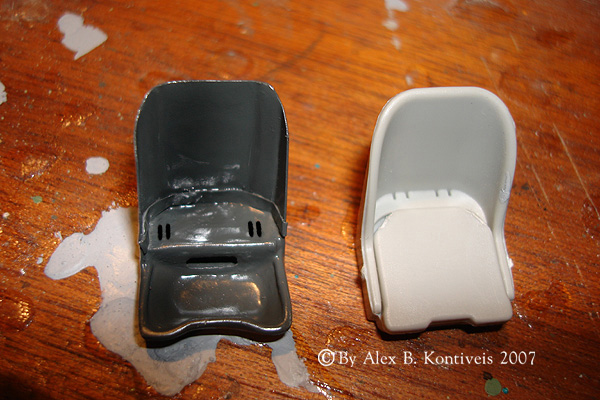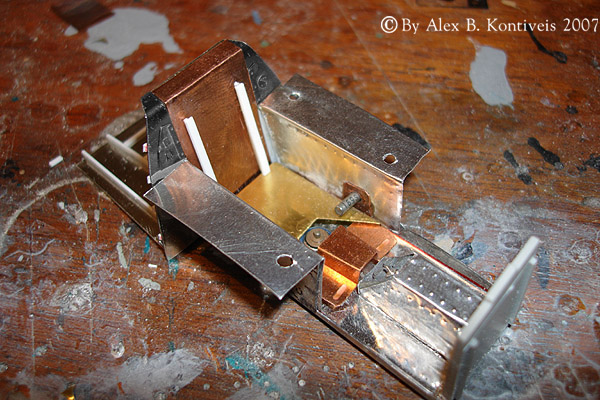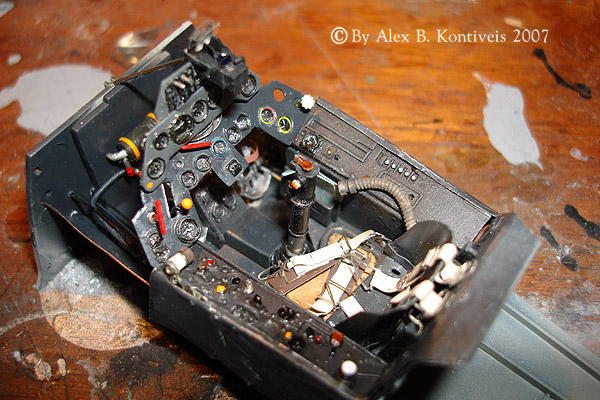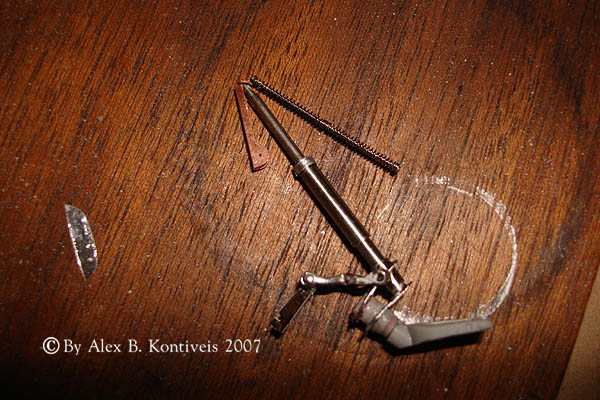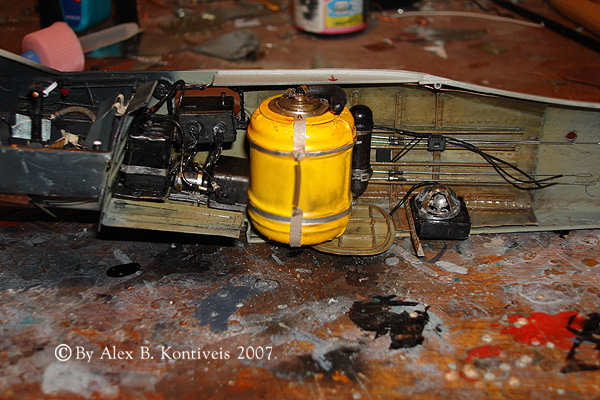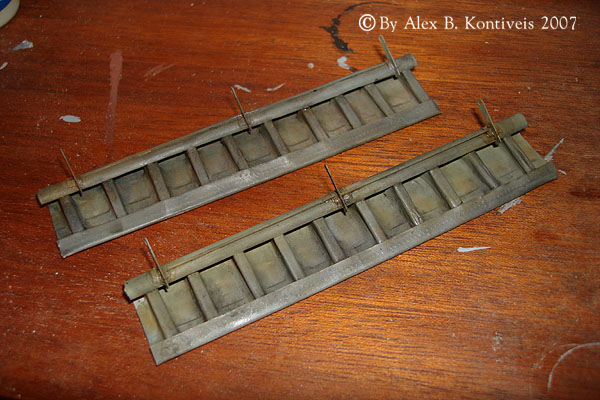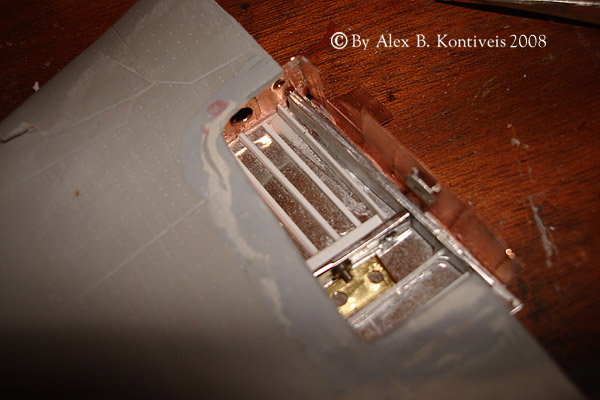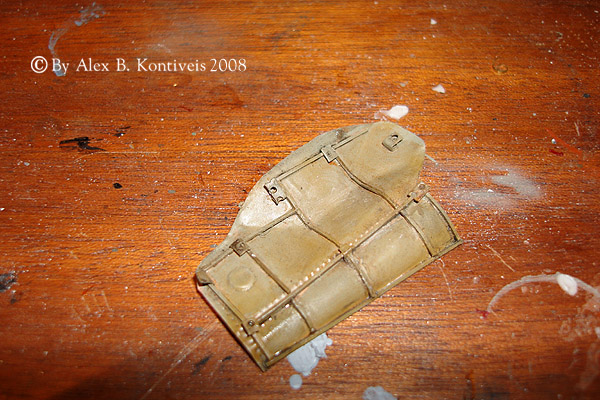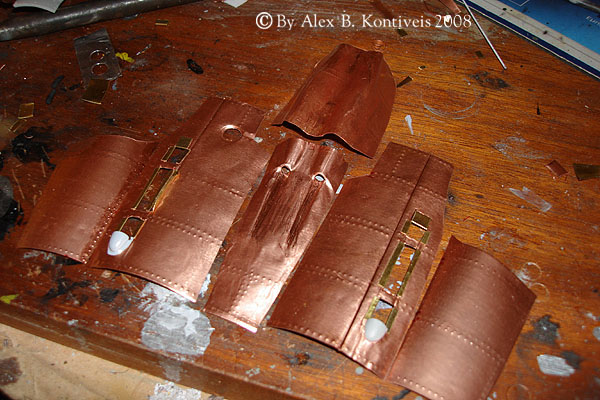 Photostory Build, Step by Step
You may take a look the huge work of scratching and the modification of most of the parts at:
http://www.helmo.gr/forum/index.php?topic=49.0
Hundreds of pictures of step by step construction in a photo-story forum thread without comments among!
I hope you enjoy it.
Alex
Additional Images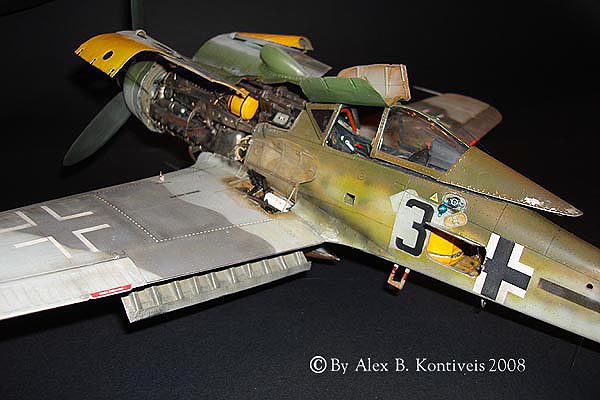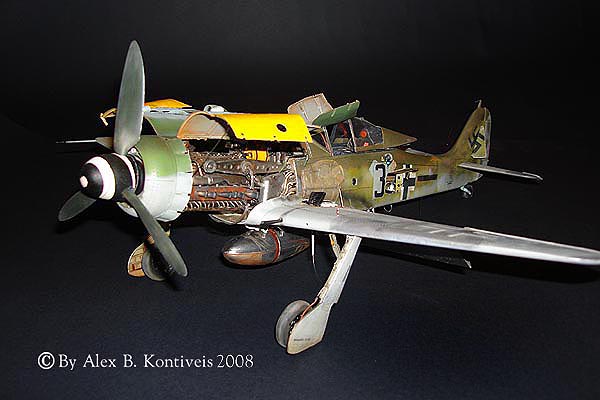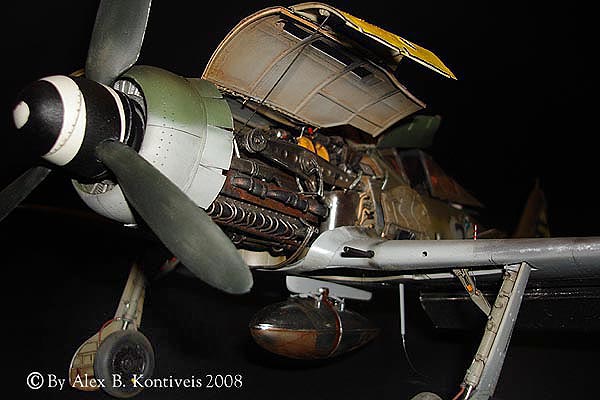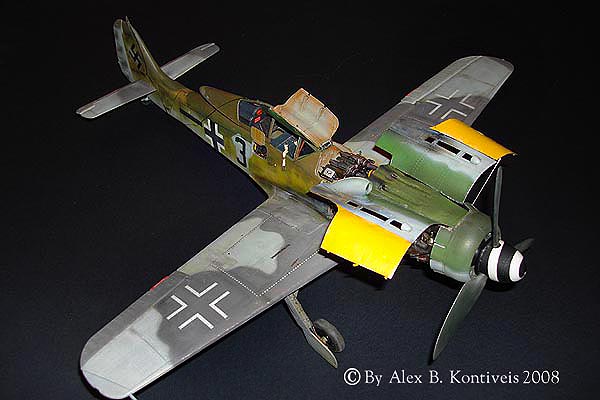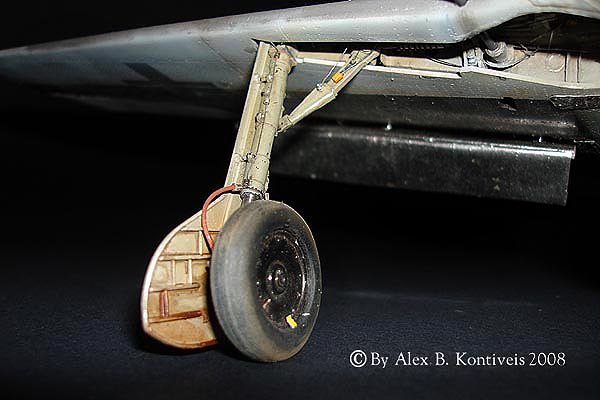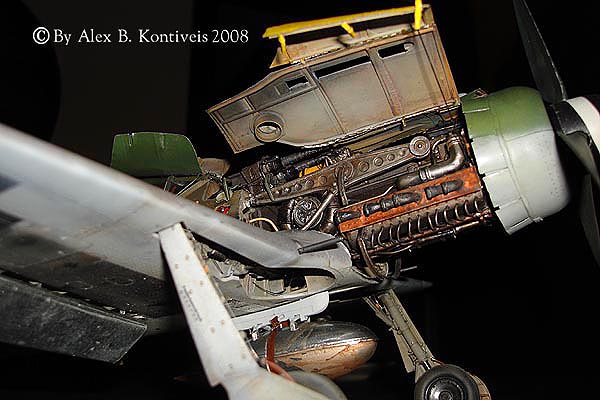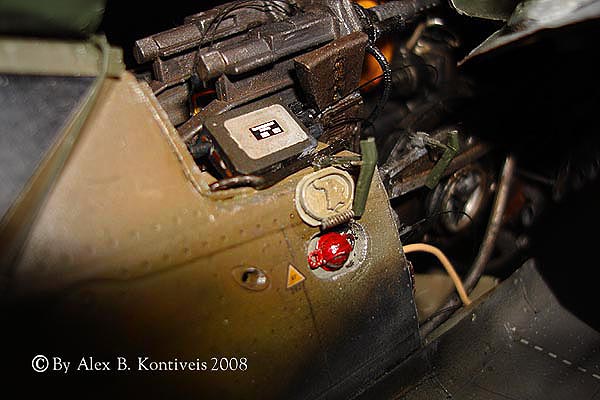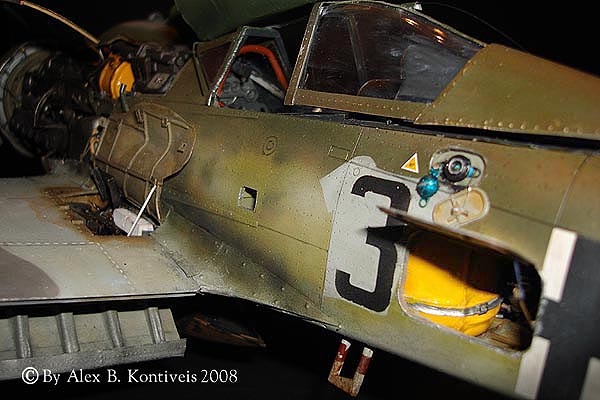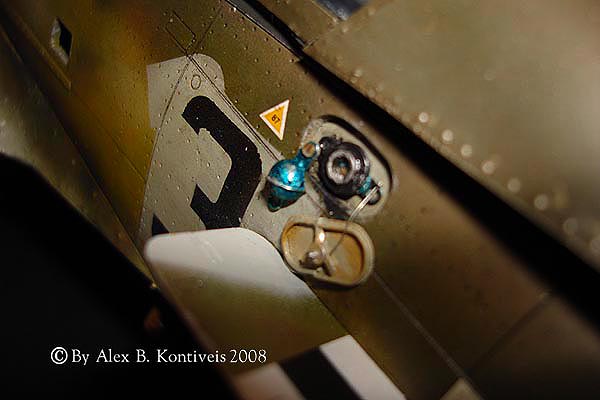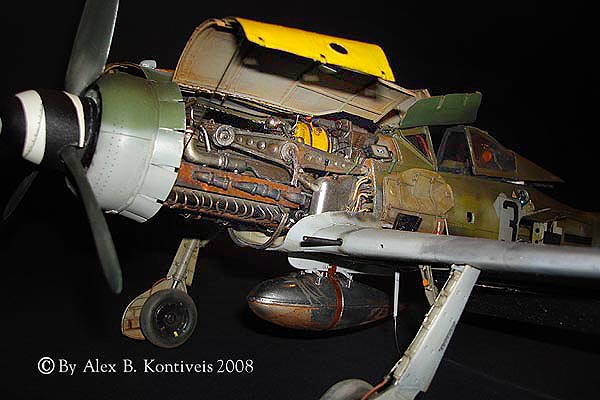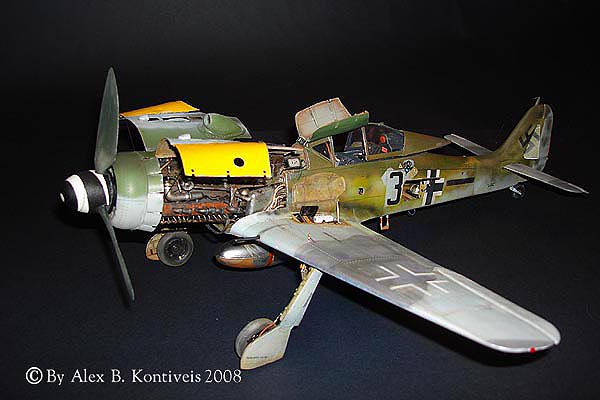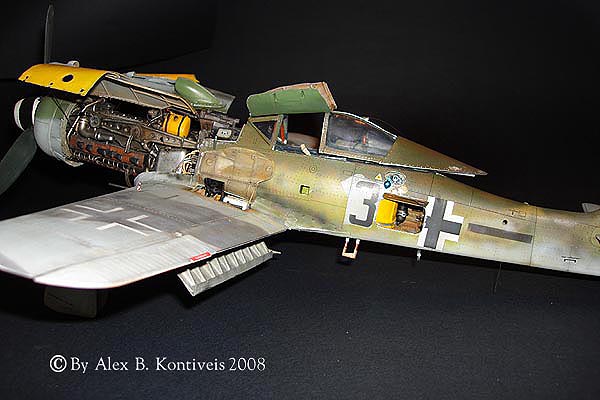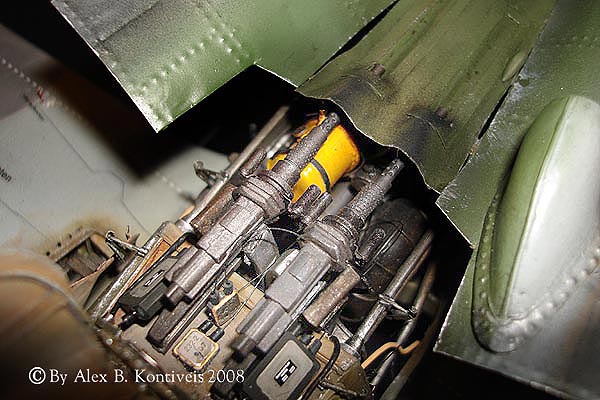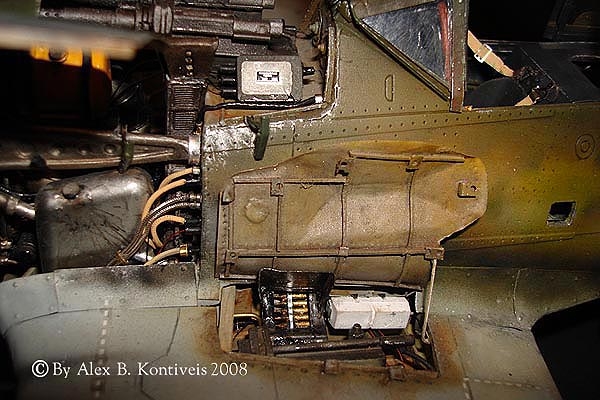 © Alex Kontiveis 2008
This article was published on Wednesday, July 20 2011; Last modified on Saturday, May 14 2016