Hasegawa 1/32 Focke- Wulf Fw 190A-8
By James Kelley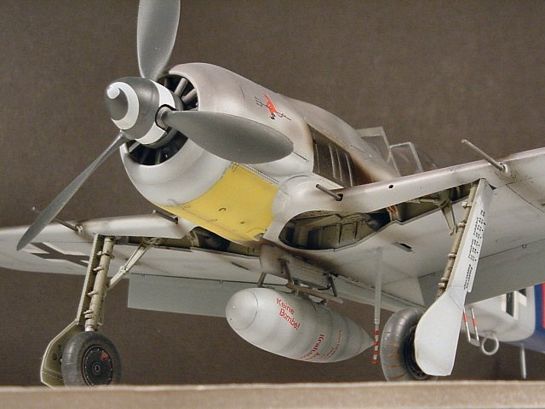 The Eagle has landed. In a dearth of new release large scale aircraft models, the new-tooling, 1/32 Wurger by Hasegawa is an eagle among prey. Having just built the original release Hasegawa-Minicraft kit a few months back, I was excited to learn of this new release (ever notice how these great new kits are announced after you start a difficult build of the original?). Never one to be patient, I ordered one from Hobby Link Japan as soon as they were available early last week. It arrived yesterday, and upon opening the box, the new moldings were very obvious.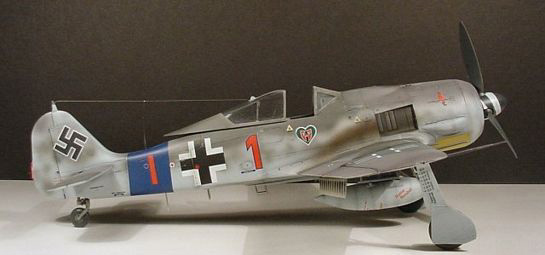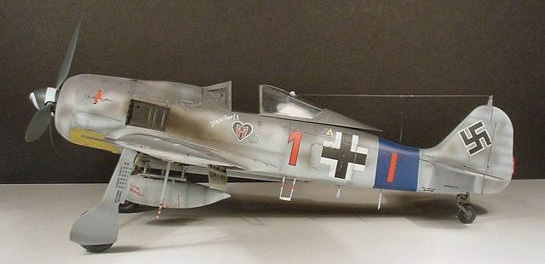 Parts arrangement was on the sprues was nostalgically familiar with the old kit, but any resemblance stops there. The seven light grey and one clear sprue are loaded with 103 finely detailed, exquisitely engraved pieces. The decal sheet provided contains markings for 2 aircraft, one from 2./JG54, and one from 9./JG5. The decals appear to be in perfect register, seem to have less excess carrier film than usual, and include stencils. A small sprue with 4 propeller-shaft grommets is included as well.
Looking at the Fw 190D-9 kit, it's apparent that a few of the sprues from that kit made it into this release; and that's OK with me, as the "Dora" is a nice, accurate build. The undercarriage and radio antennae (DF loop) are among the shared parts. A few other things of interest are the engine for this release is a one-piece affair, unlike the cowling and it's associated armor ring (5 pieces), which bring to mind the quarter-scale Wurgers from Dragon/DML. I'll probably be slipping a few plasticard tabs under those to help with alignment; more on that later.
The canopy represents an early style A-8, but the kit includes an option for early or late war underwing panels, as well as early and late style drop tanks…could future releases include other Focke-Wulf variants? Hmmmmm.
Eagle Editions already has 4 new decal sheets in production for this bird, as well as a few resin parts. Now, on to the best part…building it!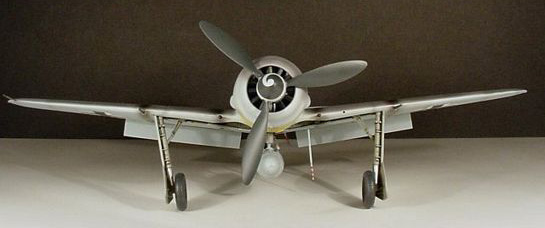 Construction
Well, I had the day off last Friday (April 9th) so I decided to put my time to good use. I spent 8 or 9 hours at the workbench, enjoying the 'Wulf. In that time span I was able to assemble, paint, and detail the cockpit tub(with an Eduard colored PE seat harness added from the aftermarket), the engine, cowling, and fuselage. I began the wing sub-assembly by spraying RLM 02 on the appropriate surfaces, then called it quits for the night. I had to work a 24-hour shift Saturday to Sunday, so she sat for a day. Sunday saw about another 8 hours invested into this project, spaced along throughout the day and into the evening. This "important" work saw completion of all major construction, and surface preparation prior to applying the primer coat. The assembly was very enjoyable and overall hassle free, with only a few caveats that need to be addressed in this flash-free kit: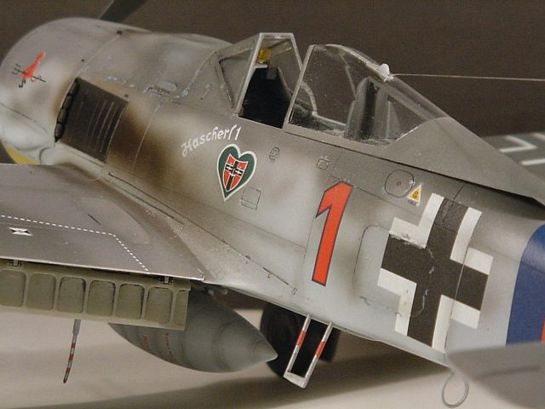 The wing/fuselage union is a bit fiddly; it's a tight fit, and doesn't require filler, per se, but the wing subassembly needs to be spread apart slightly to end up where it belongs. The trailing edges, as on the -D9 kit, present most of the fidgeting. Once seated, a bit of adjusting is necessary to allow for an even fit. A thin seam, however, (which is not present on the real aircraft) will run along the wing/fuselage fillet area. Nothing a little Mr Surfacer can't correct.
The cowling (which fits together nicely without any plasticard tabs as anticipated!) has 6 hinges scribed into the top port and starboard sides. To model an A-8, not an earlier variant, the top hinges on each set need to be filled and sanded.
The multi-piece cowling, although nicely-fitting, leaves a horizontal seam on both sides of the forward cowling (Or, "cowring" as stated in the instructions, I swear!). Hello, Mr Surfacer, as long as you're here…..?
The dropped flaps, as on Hasegawa's 1/32 Dora, hang almost vertically due to over-angled insertion tabs. An easy fix here again, if so desired.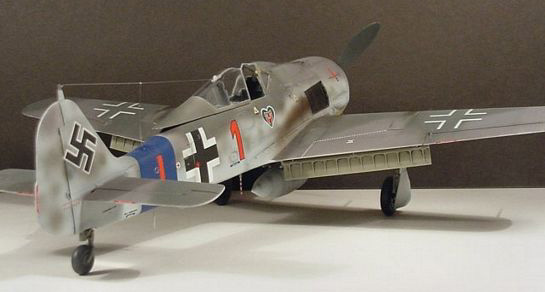 The tires included in this kit are the same molding (I hate to keep referring back to the Dora like this) as in the D-9 kit, i.e, smooth tread. The Fw 190A-8 had the treaded pattern tires, and I've scribed the tires on the kit to replicate them as such.
The cockpit detail is adequate, but room for improvement is evident. The instrument panels are very nice, with raised details made for dry brushing. I opted for the decal instruments. I typically have mixed results with these, but this time the force was with me…I managed to align them right where they should go, and the Micro Set/Sol melded them nicely to the boards. As mentioned above, some PE seat belts were used, and cover a large majority of the plain seat nicely.
My kit had a few light ejector-pin marks inside the upper-wing flight control surfaces. There were 3 evenly spaced marks on each one. Very easily sanded off, as were the 2 on each landing gear strut, without any filler needed. I was just a bit surprised to see any on a brand-new tooling from this company.
The model compares with near-exactness to line drawings in my references, and was, by and large, an easy and fun build. Anyone with a little experience modeling can turn out a nice Fw 190 with this one, with relatively little hassle. It's also a nice first-large-scale kit for those of you who haven't done anything in 1/32 or above yet.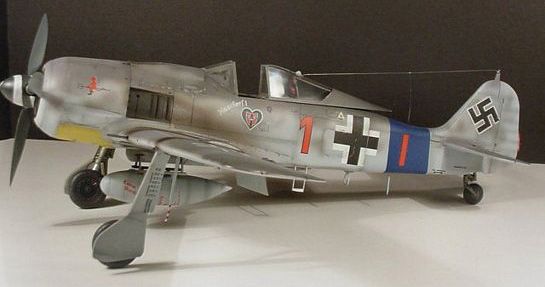 So, it has been 8 days since I ripped the wrapper off of the box and started planning this quick-build, and application of the exhaust stains and pitot tube. Odds are, I'll still snap the dang thing off before I get it upstairs and into the cabinet! Nothing much to add to the text that I haven't already said, as this is one sweet kit to build…. The decals are nice and thin, in my opinion, despite what I have read in at least one other review of this kit; Much nicer than some older Hasegawa kit markings, and they respond very well to MicroSet and MicroSol. I haven't altered the angle of the "vertical" flaps, as this project was falling behind my planned time frame, and I couldn't find my heat gun…
The RLM 74/75/76 daylight scheme was airbrushed freehand with an Iwata HP-C airbrush at 5-10 psi, using Testor's Model Master Acryls. The RLM 70 used on the prop and spinner had a few drops of Black added in to darken it up slightly. Preshading was done with MM RLM 70, and post shading was done along all panel lines with Tamiya Smoke (X-19) thinned to about 75%. The individual panels all had a touch of post fading applied in the original colors with a bit of Flat White added. Exhaust stains were 80% Tamiya Black (XF-1) and 10% Flat Brown (XF-10), mixed together and then also thinned out 75%. Panel lines and stains were applied at 5 psi. The model depicts "Rot Eins", as flown by II./JG 54's Staffelkapitän Hans Dortenmann. This is the aircraft he baled out of near Paris,France, when shot down 26 June 1944.
I hope you enjoyed this quick online build/review, and I hope that if you purchase this kit, you enjoy it as much as I did. Now, I will let the pictures do the rest of the talking…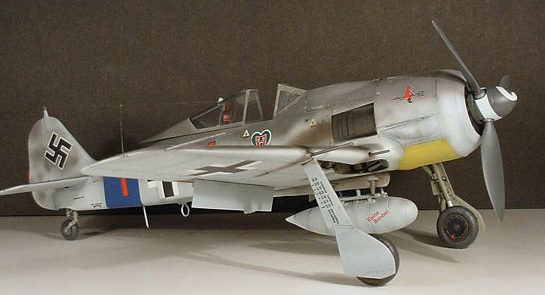 References
Fw 190A, F, and G in Action. 1999. Filley, Greer, Cumpian, and Hudson. Squadron/Signal Publications, Carrolton, TX.
Focke-Wulf Fw 190A. An Illustrated History of the Luftwaffe's Legendary Fighter Aircraft. 2004. Hermann, Leverenz, and Weber. Schiffer Publishing, Atglen, PA.
© James Kelley 2004
This article was published on Wednesday, July 20 2011; Last modified on Tuesday, May 30 2017