Hasegawa P-47D
By Joe Kozak
This is my build of Hasegawa's P-47D. The markings are from Eagle Cals by Edition Editions, Ltd and are the howling wolf "Whooooo". I enjoy building subjects that are not typically main stream.
This kit was built from the box with a few additions such as PE seat belts for the seat, resin cockpit for the correct corrugated floor, added brake lines and tire valve stems made of brass wire. Not much else was added because as we know, this is an outstanding kit to build.
I painted it with Tamiya paints, and weathered with artist oil pencils and pastels. I added the chip marks to the leading edge by just touching a silver or gray pencil to the leading edge. Basically I just "bounced" it along the wing and let the random pattern be created by the action of the pencil. All in all, a very enjoyable build. I was also fortunate to be awarded a Silver Medal for this model at the 2008 Military Miniature Society of Illinois' annual show this October.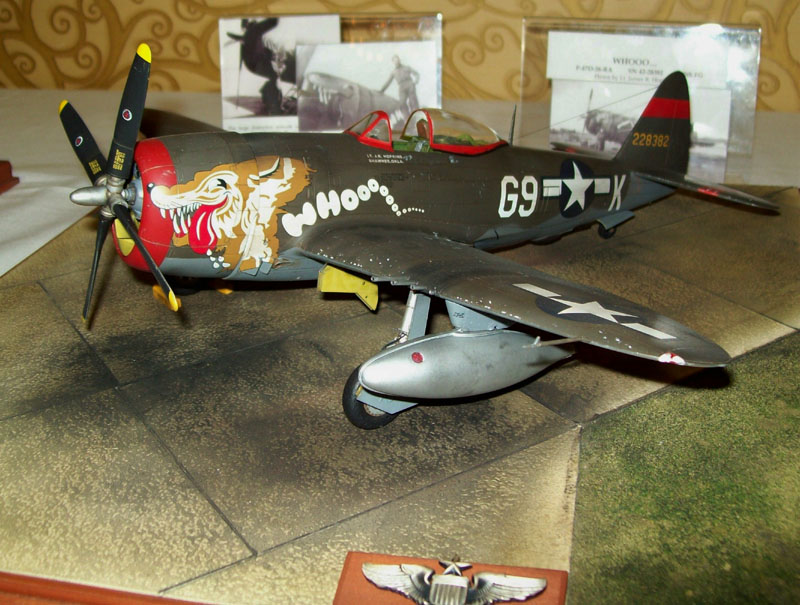 © Joe Kozak 2008
This article was published on Wednesday, July 20 2011; Last modified on Saturday, May 14 2016