Revell 1/32 Bf 110G-4
By Kevin Weiche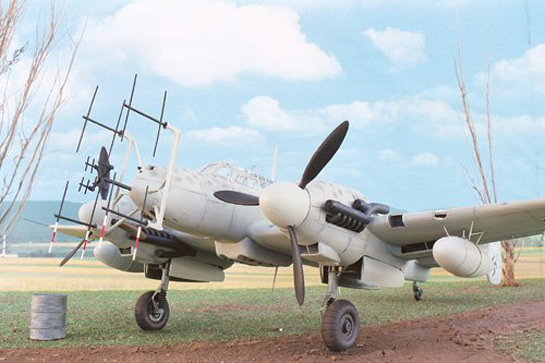 My latest project began when I "won" a bid on eBay for a Revell 1/32 scale Bf 110G-4 for $18.00. I read a review of this kit by Randy Lutz and so had some idea what lay ahead – but more on the inaccuracies in a moment. Upon opening the kit I was amazed by the shear size of this, my first multi-engine aircraft in this scale. The gray polystyrene kit appeared to be in good shape, though the clear parts were separated in a plastic baggie. It was apparent that all parts were present and the woman who sold it to me had been on the up-and-up.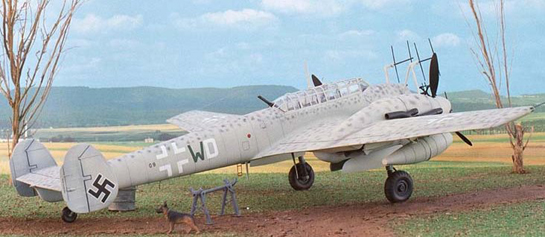 I had the Eduard exterior set of brass detailing and dove into the project, first sanding the pervasive raised panel lines and rivets. I removed mold markings and numbers from the gear door covers and the company name from the underside of the wing. I next built up the cannons and gun compartment using the brass set. Once I had this compartment built to my perfection, I was horrified when the plastic piece that covered these cannons would not fit! The cannons bodies were too large and there was no way to modify this area to make them fit, so I abandoned this and resolved from there on out to build this kit without removable engines or gun compartment. In addition, I would close the canopy. Not only would this overcome the frustration of poorly-fitting parts but would speed up a project that looked to be a major undertaking.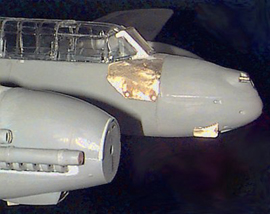 I spent a lot of time fitting, trimming, filling, and sanding nacelle covers, wings, and fuselage joints. I scratch built spinners to the proper shapes and added slight humps to each engine nacelle as indicated by my reference, Aero Detail #21. This book was good, showing dozens of photos of the G-4 in the Battle of Britain Museum in England. The book did have two main faults though: no color plates of nightfighter top views and on the page showing stencil markings, the labels for these stencils were omitted. I added many small details I will list later.
After joining the major sub-assemblies, I used Black Magic canopy masks, the first time I've used these vinyl masks. This was a godsend, allowing me to simplify the tedious job of using masking tape to paint this veritable glasshouse of a canopy. Except for two masks being juxtaposed on the sheet, this was a well-fitting and highly-recommended accessory for anyone building this kit. I primed the model, pre-shaded it with black, and painted it RLM 76 overall. Next I mottled the top surfaces using my Badger 175 with medium needle and Tamiya acrylic paint. I painstakingly applied the mottling in a dark gray RLM 75. I was happy with the results but am considering changing brands of paint because Tamiya seems to dry fast and clog my needle after about 10-minutes of spraying. I had to constantly swipe the nozzle with a rag to prevent paint from spattering.
Affixing the radar array proved difficult as the fragile parts did not align with the fuselage attachment points. Along with the landing gear, gear doors, and drop tanks, I attached the radar array with five-minute epoxy. All in all, the brass parts fit well and improved the overall appearance of the model immensely.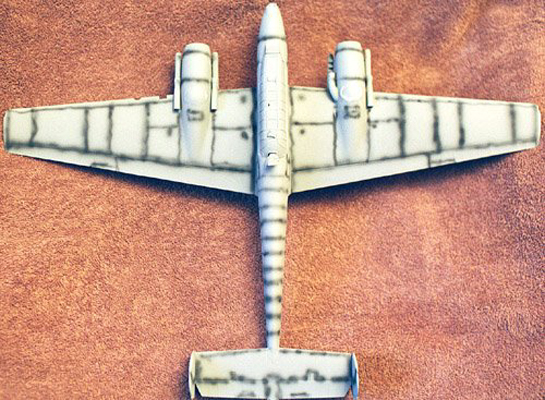 After a coat of Testors gloss acrylic, I applied decals using Micro Sol. Oddly, when dried, the decals had raised fissure-like patterns. I washed panel lines using an artists watercolor mixture. Next I gave the model a coat of flat acrylic and sanded down these raised areas on the decals before giving the model a final coat of flat. The resulting model is large, impressive, and required two months of many man hours to complete. I will now take a few months off before tackling a Revell Ju 87.
Photographic Notes
I used the photographic techniques gleaned from Brett Green. My equipment consisted of a Nikon FM with 50mm lens, and Kodak Gold 200 film exposed outdoors in shade using a tripod with exposures generally F/16 at 1/8 shutter speed. I hope to purchase a Nikon digital camera in the future, but this traditional film is hard to beat.
Here is a list of some of the kit's inaccuracies and how I addressed them:
exhaust openings on nacelles too large. I used sheet styrene to close them down.
shell ejection ports cut into lower nose section puttied closed as these are not indicated by my references
kit spinners discarded as they are short and pointed. Scratch built corrected ones.
underside cannon troughs bored out
brass tubing used for cannon barrels
fuselage hand-grabs oriented wrong. I sanded these off and etched them correctly
kit has a lot of dimpling. Most of them I sanded a bit or filled where I could.
2 half-circle cut outs on left-bottom wing and fuselage puttied
added detail to cockpit
scratch built MK 108 gas exhaust port underside as references indicate
re-drilled tail wheel gear hole 3mm farther aft
rudder shapes are wrong. I modified them closer to the correct shape.
used brass rod for support braces for radiator openings.
scratch built clear bubble on upper canopy
added 300-liter wing drop tanks acquired from other kits
added gauge windows to inner nacelles
added shell ejection ports
machine guns detailed
ETC 500/1XB bomb rack too deep. Some detailing to this area.
In addition to the previously-mentioned inaccuracies of this kit are the following:
ETC 500/1XB bomb rack too deep
tires are treaded when they should be smooth
landing gear have accordion shock boots from earlier variant 110s
decal instructions for decal 8 and 9 have them juxtaposed
no swastika and some stencil decals not included; fuel decals faded to almost white
© Kevin Weiche
This article was published on Wednesday, July 20 2011; Last modified on Saturday, May 14 2016