I.D. Models 1/32 P-61 Black Widow
By Larry Hawkins
This the kit of the ID vac kit of the P-61.It's the same as the Combat kit. But the ID kit is more conformed and has just a bit thicker sheet.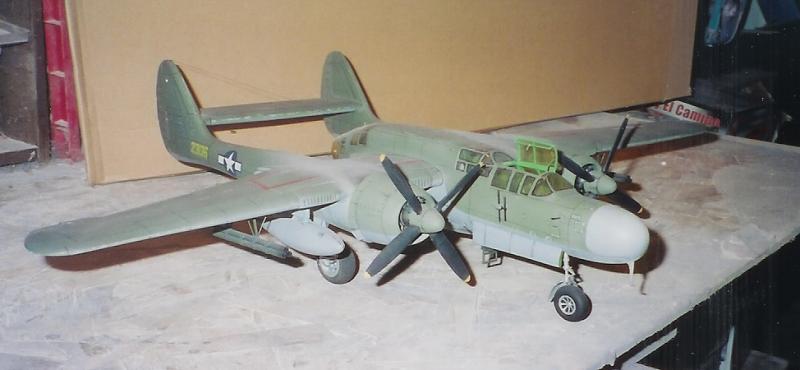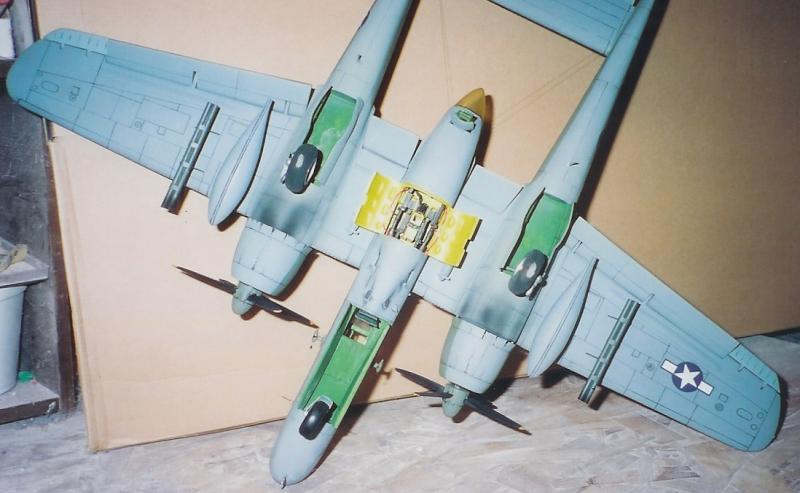 The following is a list of what into this build and this is the second one as to the first one I did back in '92. Hope you like.
Used R/C rubber tires and Model car wheels as to there are no resin types out for this kit.
Props are from the Revell P-47D kit.
All interior parts as to the front cockpit and the rear radar station were scratchbuilt. And with added seat harnesses and detailed also.
Used thin wire as the Cat Whiskers that just to the front and side of the windscreen. And same for the dual type that is just under the sides of the canopy.
Engines are from the Revell P-47 or the Corsair kit. They look the same from each kit. These were detailed with a black wash to bring out the details in the engines.
All gear doors were detailed on the inside as to the pic that you see and to the framing of them as well.
The nose wheel and tire are from the Monogram PBY kit as to they fitted the plans to scale and dia.
The gun bay was cutout ans detailed as to pic's I have and from others who sent me intel. The guns I used are from the quad mounted 20mm cannons that came on the monogram Flack Panzer. These are just the receivers that were used.The gun barrels are aluminum tubing that coming out of the opening just in front of the rear nose well.
All gear legs were scratchbuilt and other than the nose gear strut. Had this already made up from a previous project that got shelved.
Cut out all the flaps and repositioned them and same for the elevator and rudders.
Used decals that were scale as to the 48th decal sheet from the monogram kit.
Paint is a special mix as to I wanted to show some fading and etc.
All panel lines are from the drafting pen set my daughter bought me for X-MAS.
Antenna wire is stretched sprue and painted flat black.
After all was done and everything dried as to paint and etc.I gave her three coats of flat from Model Master paints.
She as to built as to the intel and pic's I have for the 61s that flew interdiction missions in to China, Formosa and Korea.
© Larry Hawkins 2006
This article was published on Wednesday, July 20 2011; Last modified on Saturday, May 14 2016