Zoukei-Mura 1/32 Douglas A-1H Skyraider
By Brian Leitch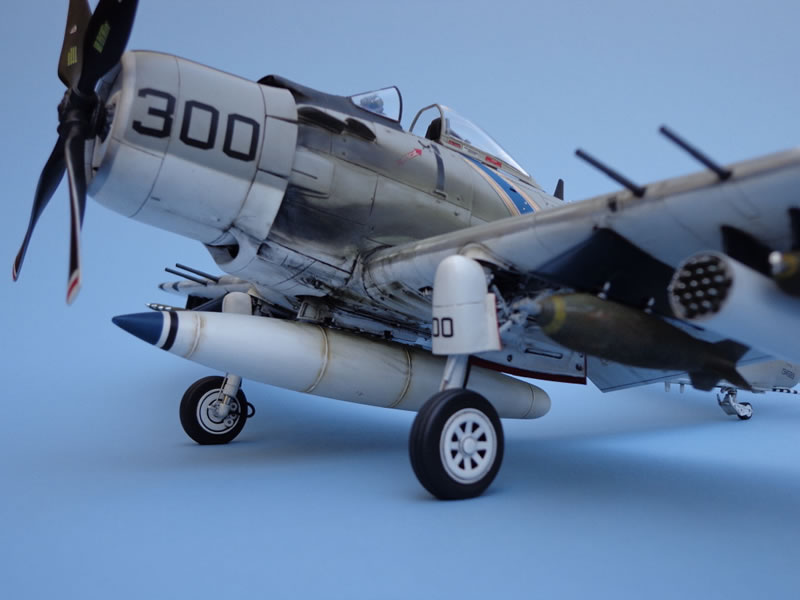 This is my Douglas A1-H Skyraider from Zoukei-Mura. This aircraft belonged to Billy Phillips, who was the Commander of the VA-52 "Kightriders", flying off of the USS Ticonderoga in 1967 over the skies of Viet Nam.
It was a labor of love, and nothing but a complete pleasure to build. I won't go into details about the history of the SPAD as it has been covered many times.
THE KIT
The Zoukei-Mura AH-1 is truly a well designed and laid out kit, and an all around pleasure to build. The kit overall was excellent, well thought out, and most of all easy to assemble, with lots of options.
I chose the weapons load-out #1, utilizing:
center 300 Aero fuel tank
x2 M17 750 lb bombs
x2 AN M57 250lb bombs
x2 LAU-3 2.75in rocket launchers
x8 High Velocity (HVAR) 5in rockets
I chose to keep the AM to a minimum on this project, only utilizing non-factory AM from AMS resin, in the form of an interment IP hood and gunsight.
The only true issue I found OOB in the ZM kit was the gunsight. It seemed to be WAY undersized, and very similarly sized to a 1/48 gun-sight. Harold's set fixed that issue, and it looks great on his IP hood.
Other than those two AMS resin AM parts I also used ZM factory add-ons including the weighted resin wheels, brass turned cannon barrels and pitot, as well as the ZM / Eduard cockpit set. All went on flawlessly and made a real difference in the detail and look of the kit.
I also used a set of HGW seatbelts specifically for the SPAD. These were slightly fiddly, but in the end worked out great.
THE DECALS
The markings are for the commander's ship from VA-52 in 1967. These are the factory ZM decals and they lay down beautifully with a bit of MicroSol.
The paint is all Model Master Enamel, with Model Master clears over the top to seal things in. The model is weathered with a combination of Tamiya weathering pallets, oils, Flory Models washes, Model Master metalizer paints, and acrylics utilizing the hairspray method on the bombs.
Enjoy.
---
© 2012 Brian Leitch
This article was published on Saturday, July 14 2012; Last modified on Friday, September 02 2016