Hasegawa's 1/32 F-86F-6/3 Sabre Jet
By Rodney Williams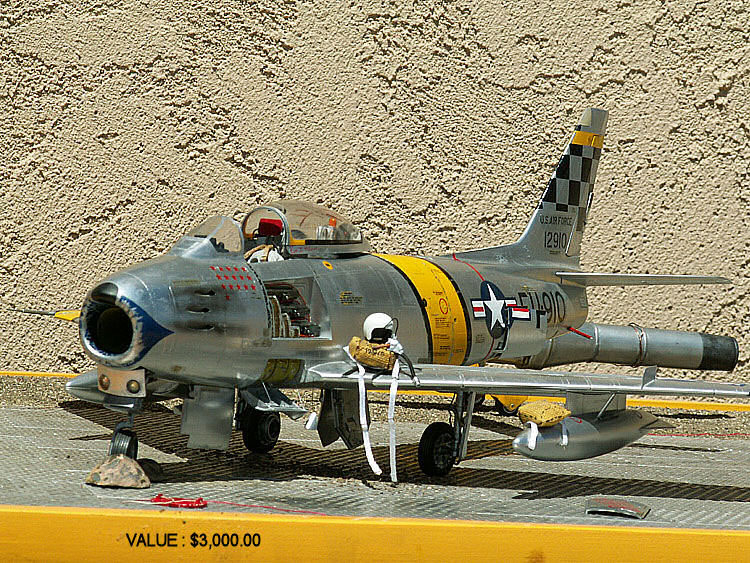 Sometime during the early part of 1985 I purchased this model kit, as it was one of my favorite jets. I kept a building log for future reference of how I made certain items, including my labor that came to a bit over 500 hrs.
The photos will show you that I added seat belts and painted in the copper antenna wires on the inside of the canopy. Furthermore, the photos will show lots of other additions built in per the 2 photos of the real jet.
In the early 1980s I did not have a great deal of experience "scratch-building" items for a model, yet I accomplished several of them (eg: Additions to the guns; built in the "ammo" trays; parachute & helmet; several items built onto the engine, including a scratch-built engine & aft fuselage section dolly).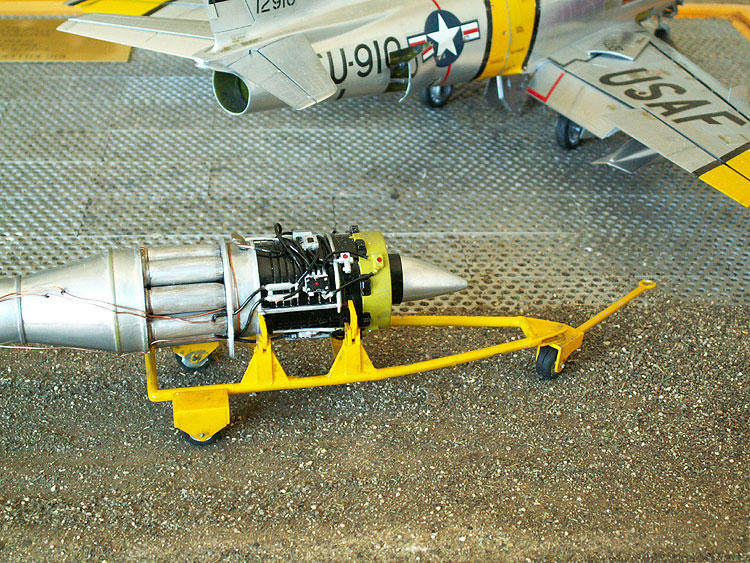 I obtained some perforated aluminum from the backside of an old TV set then cut it to size for my base.
I built up a cardboard mount and then hand crafted each "sand-bag" using some sort of powdered home-style patch material. I mixed the stuff with water and made a semi-soft paste and then molded each bag with my hands. They were placed one at a time on my angled cardboard revetment while they were still wet. I sprinkled on some fine grain sand to make it look "kinda" realistic, including the side area around the perforated tarmac.
My "bare-metal" paint was called "Metalizer" and the other colors of paint may have been by Testors and/or the new acrylic paint that Tamiya came out with.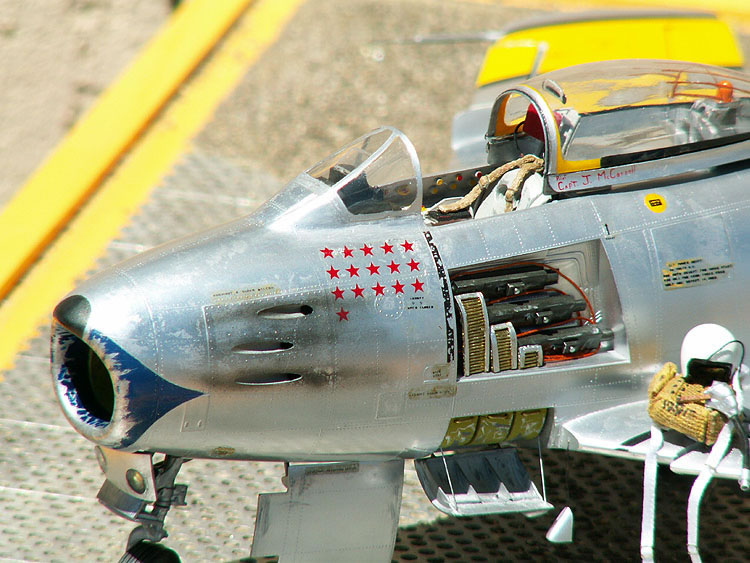 I used the decals that were supplied with the kit.
I hand-crafted my base, using some ½" thick plywood and I had Tap Plastics of San Jose, CA make my ¼" acrylic cover.
The first few photos of Joe and his F-86 came from the web while the other two came from my old Squadron Signal F-86 book.
I lucked out and had my model posted in the local Monterrey, CA newspaper.
Today is September 21, 2012, and it's been 27 years since I built the model and it still looks like it was built last week.
The plastic cove certainly keeps the household dust and kitchen grease that floats around the inside of your home from sticking to your model.
A lot of modelers strive for accuracy in their models today, but all I can say is that this Hasegawa model sure looks like the real thing, so if it's not perfect...I care less.
Enjoy
---
© Rodney J. Williams 2012
This article was published on Friday, September 21 2012; Last modified on Monday, April 25 2016