Airframe Extra - A Series with a Difference from Valiant Wings Publishing
Information supplied by Mark Peacock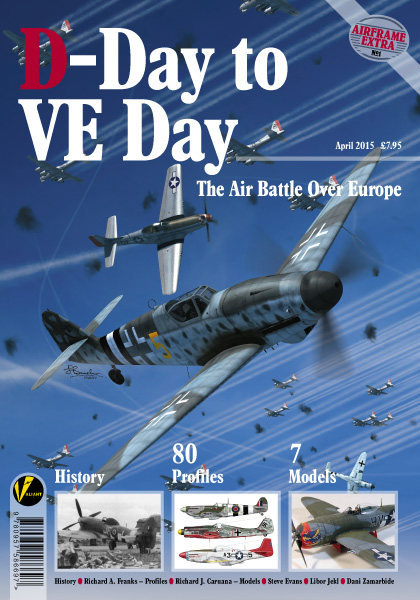 Valiant Wings Publishing are adding more value for the avid aviation enthusiast and scale modeller with the launch of the Airframe Extra series. Many active scale modellers like to build subjects based on a theme or historical event. This brand new series will look at specific areas and events in the history of aerial warfare from a modelling perspective. Each title will cover the history, detail of the protagonists, period photographs and superb colour artwork from Richard J Caruana. Specific kit builds in all three major scales (1/72nd, 1/48th and 1/32nd) from Dani Zamarbide, Steve A. Evans and Libor Jekl will commemorate each event that we cover.
Each title will be A4 in size, a minimum of 84 pages with gloss laminated covers and will retail at £7.95 per copy. Available direct from Valiant Wings Publishing or from all good specialist bookshops.
For the first time readers will have an opportunity to subscribe to four issues, saving over £8.00. Details are on our website. As with our other titles there will be kits available to win in our pre-order prize draw-precise details to be announced.
Coming in April
Airframe Extra No 1 - 'D-Day To VE Day-The Air Battle Over Europe'. ISBN 978-0-9930908-1-3.
Covers the last eleven months of the air battle over Europe from June 1944 to May 1945
Historical narrative by Richard A. Franks
Selection of period images
15 pages of full colour profiles by Richard J. Caruana
50+ pages of specially commissioned kit builds

Hasegawa 1/32nd P-47D by Dani Zamarbide
Academy 1/48th F-5E Lightning, Hasegawa 1/48th Bf 109G-10 and Hobbyboss 1/48th Me 262B-1a/U1 by Steve Evans
Airfix 1/72nd Spitfire PR MK XIX and C-47 Skytrain by Libor Jekl
Coming in June
Airframe Extra No 2 - 'The Korean War-The First Jet versus Jet Air Battles'. ISBN 978-0-9930908-2-0.
Covers the air conflict over Korea from 25th June 1950 to 27th July 1953
Concise historical narrative by aviation author Patrick Branly
Numerous period images
Full colour profiles by Richard J. Caruana
Specially commissioned kit builds

Italeri 1/32nd F-86F Sabre and 1/48th F7F Tigercat by Steve Evans
Eduard 1/72nd MiG-15, Special Hobby 1/72nd Seafire Mk 47 and Sword 1/72nd F3D Skynight by Libor Jekl
Coming Later in 2015
The Battle of Britain – Their Finest Hour
The Battle of Taranto – Judgement Day
We are convinced that this series will be as popular with modellers as our other books have been.
This article created on Friday, March 27 2015; Last modified on Friday, March 27 2015