AK Interactive News July 2015
Information supplied by Maciej Góralczyk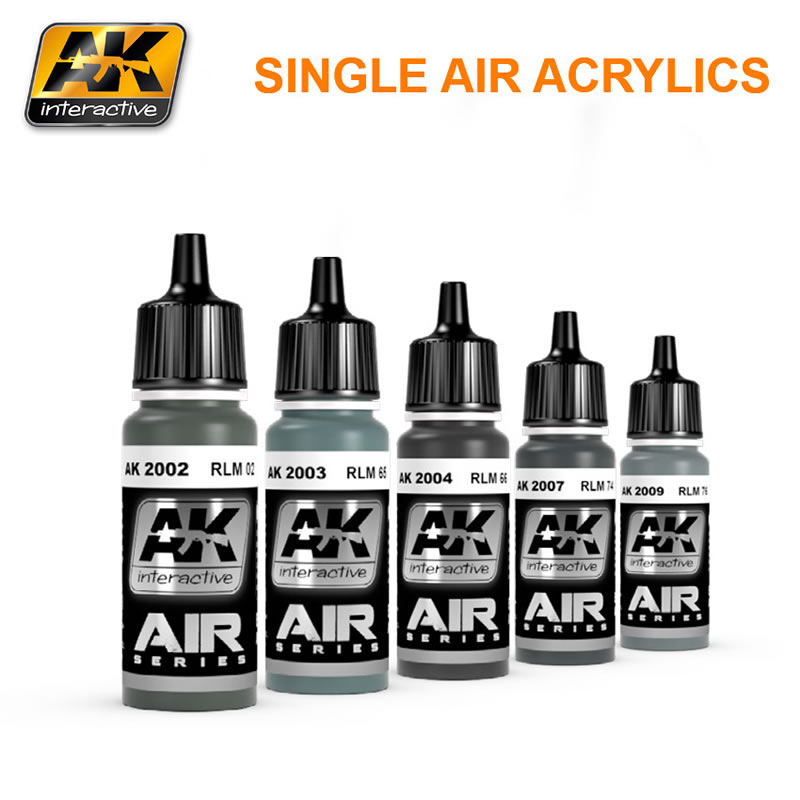 AK Interactive has sent us its news for July 2015. Firstly, from now on, all acrylic paints from the AIR series may be purchased separately. The company has also introduced three new sets in the series, and has releases Issue 5 of Aces High magazine.
AK2090 Luftwaffe Fighter Colour 1941-44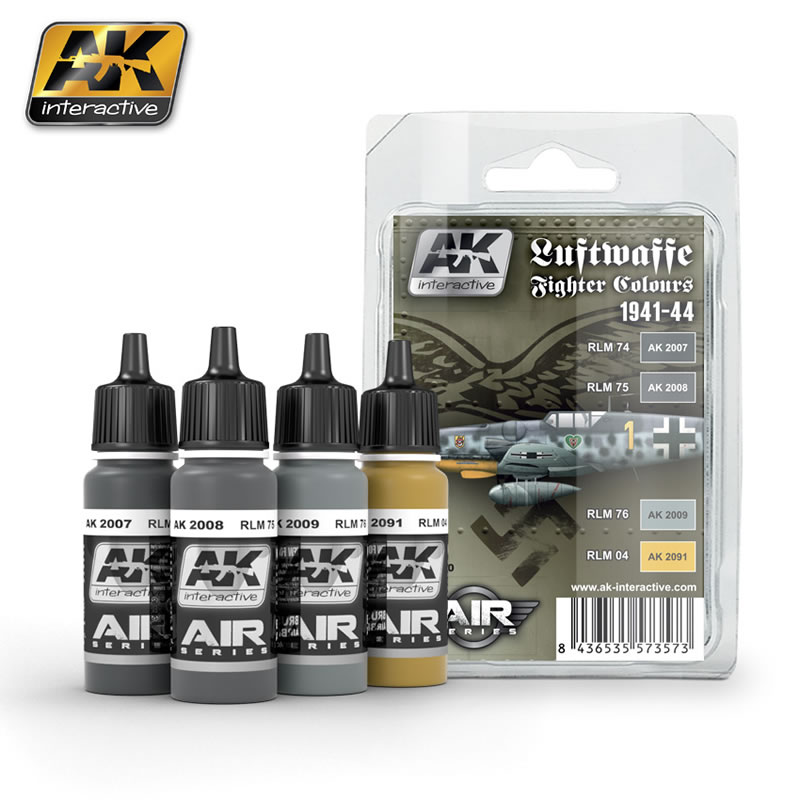 This set offers the modeller the three colours which were officially specified as the basic camouflage colours for Luftwaffe day fighters in 1941; namely RLM 74, 75 and 76. Although RLM 74 was officially withdrawn in mid-1944, all these colours were in fact still in use until the end of WW2. These colours were also extensively used for painting German night-fighter aircraft. The fourth colour included in this set, RLM 04 Yellow, was commonly used for painting various quick recognition markings that were applied throughout the entire war.
AK2080 RAF Day Fighter Scheme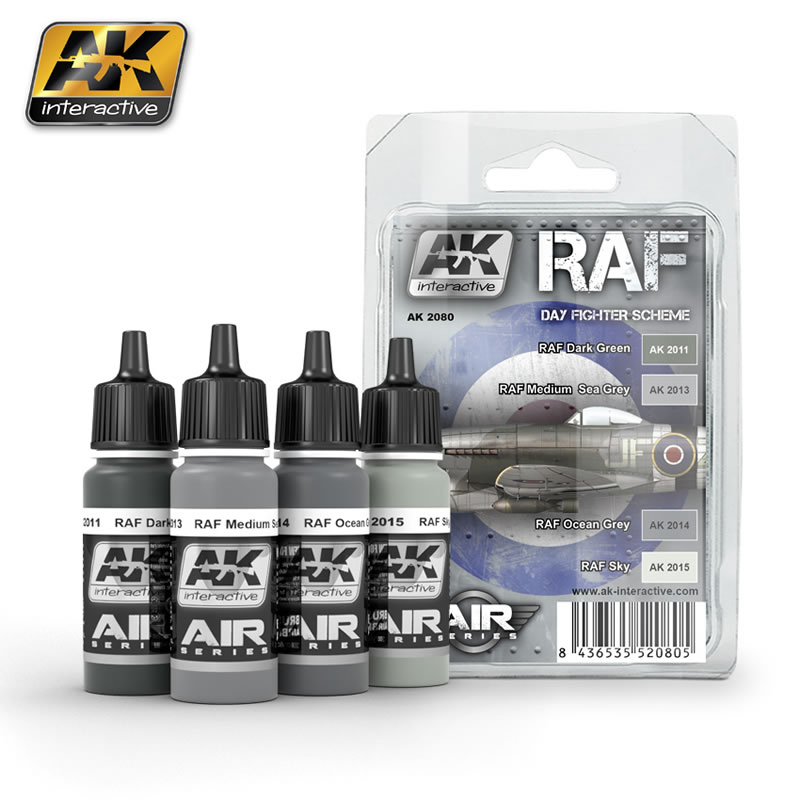 This set includes four acrylic paints that allow the modeller to paint models of aircraft camouflaged in the Day Fighter Scheme, which was adopted by the RAF Fighter Command in August 1941, and remained in use until the end of the 1940s.
AK 2100 USAF TAC South East Asia (SEA) Scheme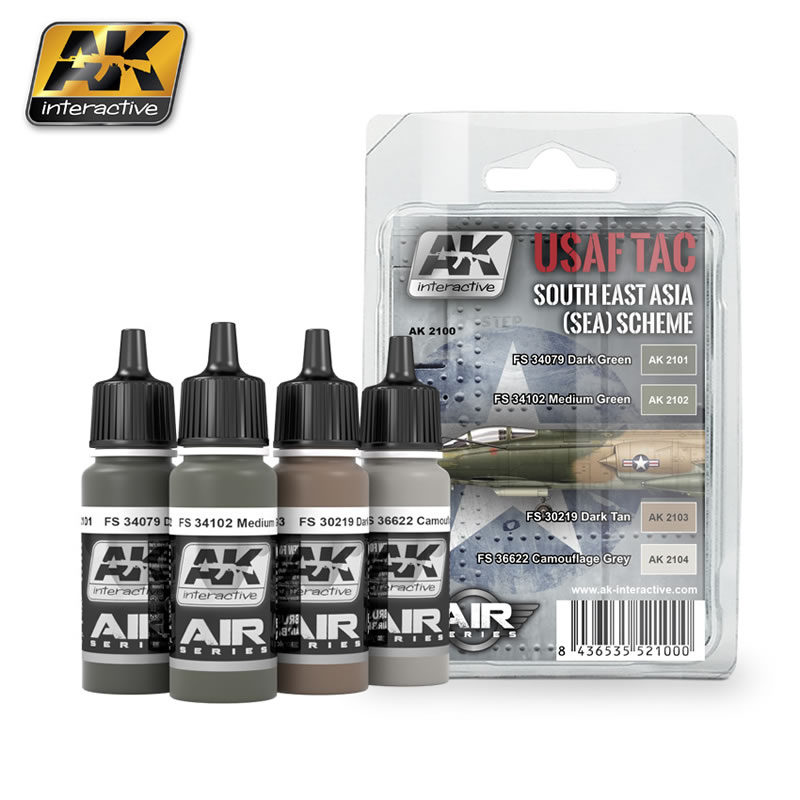 This set of four acrylic paints is essential for painting the aircraft used in the Southeast Asia theatre of operations in the 1960s-1970s, by the units subordinated to the USAF Tactical Air Command. The colours included in this set are also useful for painting models of aircraft used by the American allies, such as the F-5E Tiger II.
AK2908 Aces High Issue 5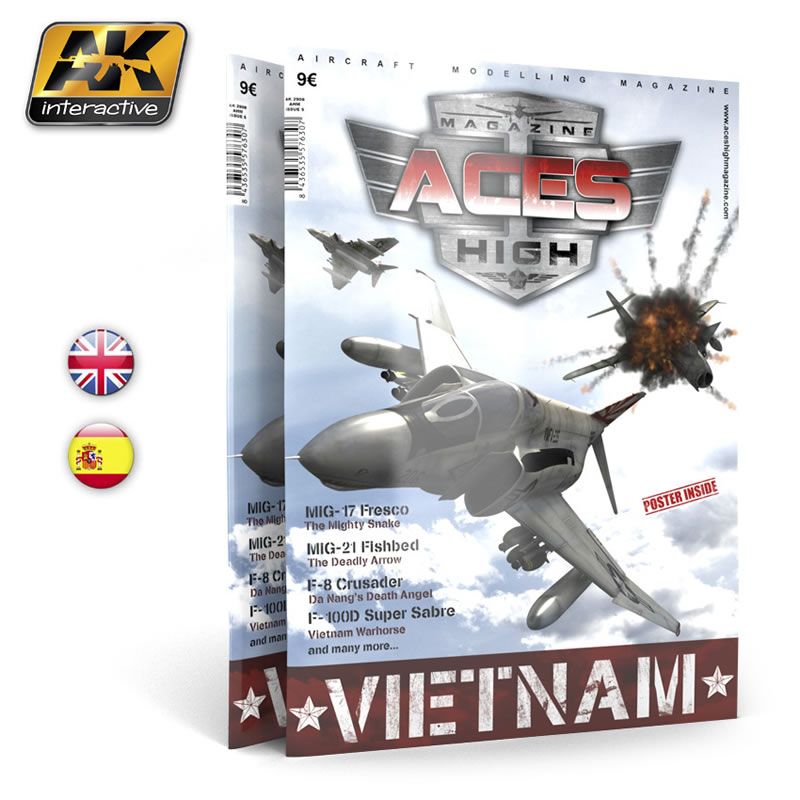 This next issue of our aircraft modelling magazine, is fully dedicated to jet aircraft that participated in the Vietnam conflict. We travel to this hot and humid location, and try to revive the atmosphere of those air battles between the small and agile MiGs, and their opponents from the USAF, US Navy, and Marines. Each of the latter service branches is represented by one aircraft, featured within the pages of Aces High Issue Five, along with a pair of their opponents; two agile MiGs, in spectacular camouflage schemes. To complement these builds, we include a new gallery section and step-by-step articles which show you how to build a figure vignette, and also finish an auxiliary vehicle. So jettison your drop tanks, activate all weapon systems, and fire your afterburners, as we now take to the skies of Vietnam with the latest issue of Aces High magazine!
This article created on Saturday, July 18 2015; Last modified on Saturday, July 18 2015