New Wingnut Wings Albatros B.II (Early) and DH.9a 'Ninak' (Post War)
Information supplied by Richard Alexander
We are pleased to announce our latest releases are now ready for pre-order. Shipping will commence as soon as possible after stock arrives in mid December but unfortunately orders will almost certainly not arrive before Christmas.
32061 1/32 DH.9a 'NINAK' (Post War) US$119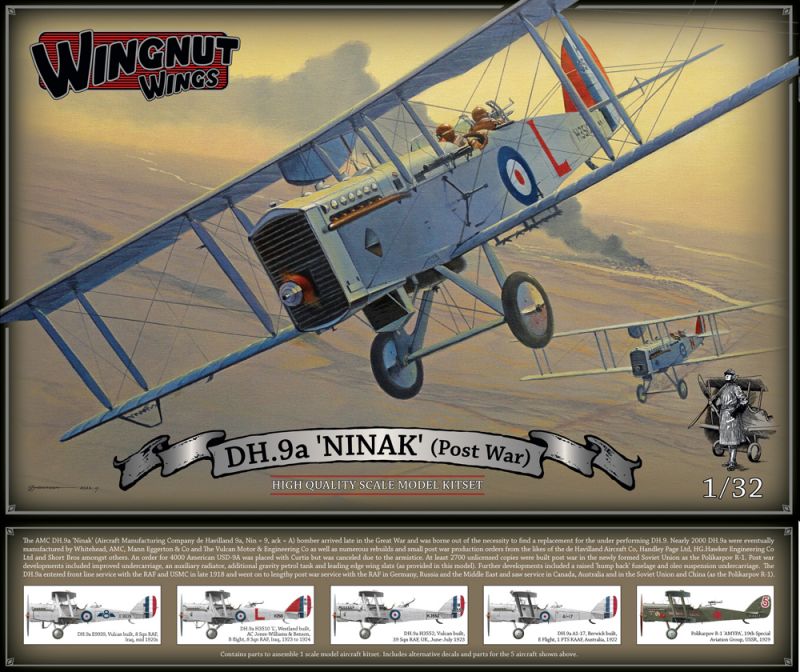 (stock expected mid December)
This is the long awaited follow up to our original First World War era 32007 1/32 DH.9a Ninak' bomber model that we released in December 2010. Nearly 2000 DH.9a were manufactured in the UK. An order for 4000 American USD-9A was placed with Curtis but was canceled due to the armistice. At least 2700 unlicensed copies were built post war in the newly formed Soviet Union as the Polikarpov R-1. The DH.9a entered front line service with the RAF and USMC in late 1918 and went on to lengthy post war service with the RAF in Germany, Russia and the Middle East and saw service in Canada, Australia and in the Soviet Union and China (as the Polikarpov R-1).
348 high quality injection moulded plastic parts.
32 part highly detailed 400hp Liberty V12 engine.
42 all new "Post War" plastic parts including undercarriage, instrument board, wheels (including spare), auxiliary petrol tank, auxiliary (tropical) radiator, leading edge wing slats and Polikarpov R-1 specific gun synchronizing gear.
88 updated armament sprue parts (from 32035) including 230lb HE bombs and improved Cooper bomb carriers.
30 photo-etched metal detail parts.
24 page fully illustrated instruction manual.
High quality Cartograf decals for 5 post WW1 aircraft:

A = DH.9a E9939, 8 Sqn RAF, Iraq, mid 1920s.
B = DH.9a H3510 'L', AC Jones-Williams & Benson, B flight, 8 Sqn RAF, Iraq, 1923 to 1924.
C = DH.9a H3552, 39 Sqn RAF, UK, June-July 1923
D = DH.9a A1-17, E Flight, 1 FTS RAAF, Australia, 1922
E = Polikarpov R-1 'AMYPA', 19th Special Aviation Group, USSR, 1929
---
32046 1/32 Albatros B.II (Early) US$119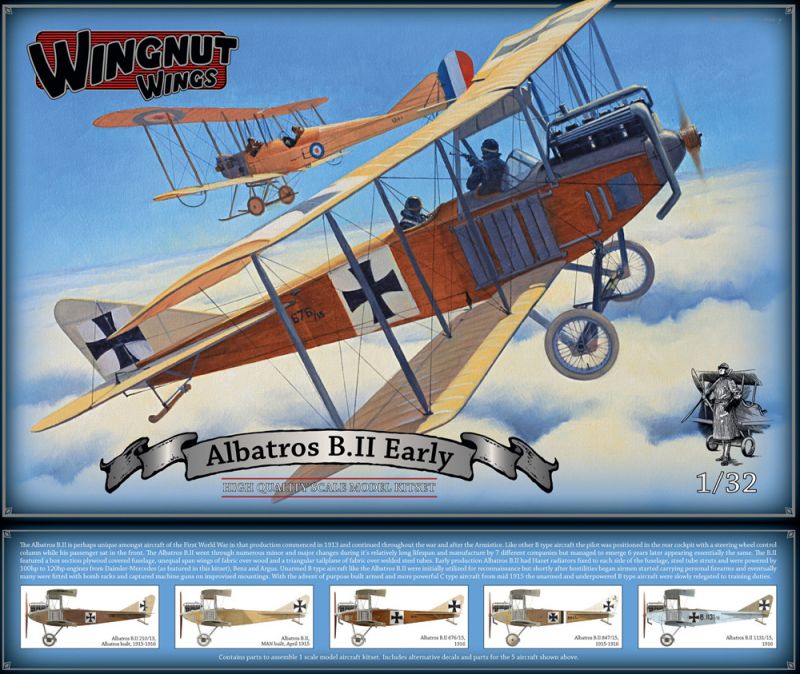 (stock expected mid December)
The Albatros B.II is perhaps unique amongst aircraft of the First World War in that production commenced in 1913 and continued throughout the war and after the Armistice. Unarmed 100-120hp B type aircraft like the Albatros B.II were initially utilized for reconnaissance but shortly after hostilities began, airmen started carrying small bombs and personal firearms. Eventually many aircraft were fitted with bomb racks and various captured machine guns on improvised mountings. With the advent of purpose built armed and more powerful C type aircraft from mid 1915 the unarmed and underpowered B type aircraft were slowly relegated to training duties.
156 high quality injection moulded plastic parts.
Features early production side mounted Hazet radiators and steering wheel control column as well as optional 100hp or 120hp Daimler-Mercedes engines, propellers, exhaust manifolds and covered or uncovered wire wheels.
Flugzeugpistole Luger Automatik armament and 12.5kg PuW or 20kg Carbonit bombs.
39 part highly detailed Daimler-Mercedes 100hp D.1 or 120hp D.II engine.
13 photo-etched metal detail parts including uncovered wire spoke wheels.
28 page fully illustrated instruction manual.
2 high quality Cartograf decal sheets including photo realistic 1/32 scale plywood fuselage panels and markings for 5 aircraft:

A = Albatros B.II 210/13, Albatros built, 1915-1916.
B = Albatros B.II, MAN built, April 1915.
C = Albatros B.II 676/15, 1916.
D = Albatros B.II 847/15, 1915-1916.
E = Albatros B.II 1131/15, 1916.
---
Reminder: Wingnut Wings will be on holiday from 24 December 2015 until 5 January 2016. All orders and emails received after 23 December 2015 will be processed as quickly as possible after we return on 5 January 2016. We appreciate your understanding.
Be sure to check our website hints & tips in case there are any important corrections etc to the instructions. All our models and accessories are available direct from our website with payment by credit card or PayPal and through some specialist retailers.
If you have any questions, comments or suggestions please let me know at richard@wingnutwings.com.
Regards
Richard Alexander
Coordinator
richard@wingnutwings.com
Wingnut Wings Ltd, PO Box 15-319, Miramar, Wellington 6022, New Zealand.
This article created on Friday, December 11 2015; Last modified on Friday, December 11 2015