Airframe & Miniature No 9-The Dornier Do 335 Pfeil is Coming!
Information supplied by Mark Peacock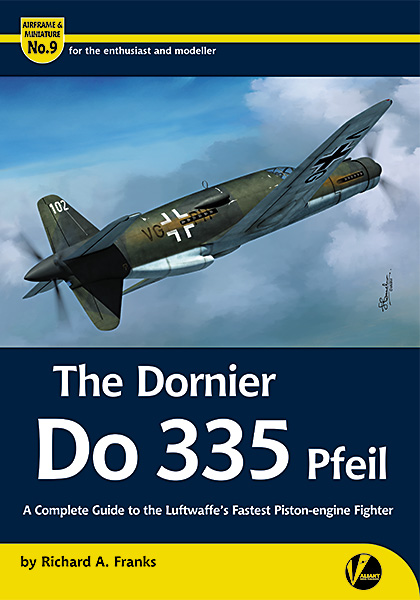 Valiant Wings Publishing's ninth title in the well-established Airframe & Miniature series will be Dornier Do 335 Pfeil by Richard A. Franks.
This ninth book in our much-acclaimed series will contain at least 176 pages packed with vital information that no active modeller and late WW2 Luftwaffe enthusiast should be without.
It will contain:
40+ pages of technical information
20+ pages of walk-around images and technical diagrams
5+ pages of camouflage and markings
25+ pages of model builds and modelling information
200+ photographs including wartime images
Colour side views and four-views by Richard J. Caruana
3D isometric views of all prototype and pre-production variants by Wojciech Sankowski
Specially commissioned extensive full kit builds by Libor Jekl, Steve Evans and Dani Zamarbide of the 1/72nd scale Revell (ex-Dragon) Do 335A-1, 1/48th scale Tamiya Do 335A-12 and 1/32nd scale HK Models Do 335B-2 kits.
Specially commissioned front cover artwork by Jerry Boucher
A set of 1/48 scale fold out scale plans
ISBN is 978-0-9935345-5-3. RRP will be only be £18.95 per copy + postage and packing. Pre-orders via the Valiant Wings website, www.valiant-wings.co.uk, by 'phone on 01234 273434 (+44 1234 273434 if calling from outside the UK) or by writing to:
Valiant Wings Publishing
8 West Grove
Bedford
MK40 4BT
The Dornier Do 335 Pfeil by Richard A. Franks is also available from all good specialist bookshops and certain hobby retailers. Publication is planned for early November.
Pre-order special! – order your copy before November 1st and save £2.00 on postage.
This title is bound to be extremely popular amongst Luftwaffe fans so I would be very grateful if you can find space to publicise this in your respective media as you have done in the past.
Again, many thanks for all that you do to support us.
Best wishes
Mark Peacock
This article created on Thursday, October 06 2016; Last modified on Thursday, October 06 2016