The de Havilland Mosquito Part 2 is coming!
Information supplied by Mark Peacock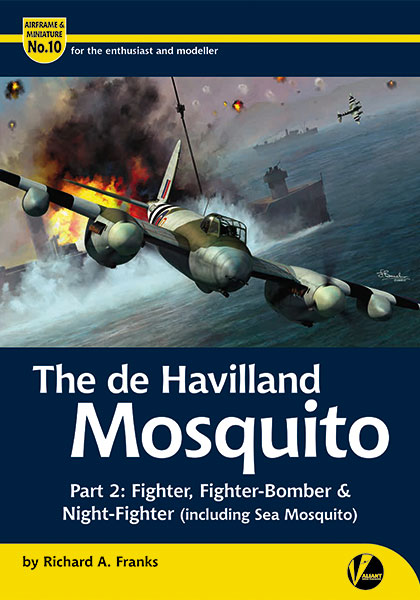 Valiant Wings Publishing's tenth title in the well-established Airframe & Miniature series will be de Havilland Mosquito - Part 2: Fighter, Fighter-Bomber & Night Fighter (inc. Sea Mosquito) by Richard A. Franks.
The modelling map in relation to the Mosquito has changed dramatically over the past eighteen years and much more reference material is now available. The time is therefore right to bring out new titles that comprehensively bring modellers and enthusiasts up to date with the type. This second volume follows our first covering the bomber and photo-reconnaissance versions released in 2016.
This tenth book in our much-acclaimed series will contain at least 176 pages packed with vital information that no active modeller and Mosquito enthusiast should be without.
It will contain:
40+ pages of technical information
20+ pages of walk-around images and technical diagrams
5+ pages of camouflage and markings
25+ pages of model builds and modelling information
200+ photographs including wartime images
Colour side views and four-views by Richard J. Caruana
3D isometric views of all fighter, fighter-bomber, night fighter and Sea Mosquito variants by Wojciech Sankowski
Specially commissioned extensive full kit builds by Libor Jekl, Steve A. Evans and Dani Zamarbide of the 1/72nd scale Tamiya FB Mk VI, Hasegawa NF Mk II and FB Mk XVIII, 1/48th scale Tamiya FB Mk VI in BOAC markings and an Airfix FB Mk VI converted to a Nationalist Chinese Air Force FB Mk 26, plus the 1/32nd scale Tamiya FB Mk VI kits.
Specially commissioned front cover artwork by Jerry Boucher
ISBN is 978-0-9935345-8-4. RRP will be only be £18.95 per copy + postage and packing. Pre-orders via the Valiant Wings website, www.valiant-wings.co.uk, by 'phone on 01234 273434 (+44 1234 273434 if calling from outside the UK) or by writing to:
Valiant Wings Publishing
8 West Grove
Bedford
MK40 4BT
The de Havilland Mosquito - Part 2: Fighter variants (inc. Sea Mosquito) by Richard A. Franks is also available from all good specialist bookshops and certain hobby retailers. Publication is planned for early June.
Pre-order specials! – order your copy before June 1st, save £2.00 on postage and get a chance to win a large scale Mosquito kit (brand & scale TBA) in our pre-order prize draw!
This article created on Monday, April 17 2017; Last modified on Monday, April 17 2017