Reprint Coming of Airframe Constructor No.2 - Building The Heinkel He 219 Uhu
Information supplied by Mark Peacock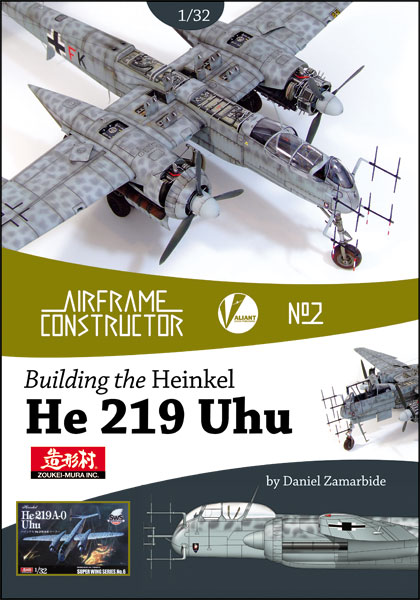 Airframe Constructor No.2 - Building The Heinkel He 219 Uhu By Daniel Zamarbide
Valiant Wings Publishing, publishers of the popular Airframe & Miniature and Airframe Album series of books are pleased to announce a reprint of the second title in their Airframe Constructor series.
This range of books provides active aviation enthusiasts with a comprehensive series of modelling masterclasses in print and will be of particular interest to builders of large scale aircraft subjects.
Our second title, 'Building The Heinkel He 219 Uhu' covers construction and finishing of the 1/32nd scale Zoukei-Mura kit in deep forensic detail but in a manner which demystifies the whole process of building such a complex kit. It was first published in February 2014 and went out of print 18 months later. Author is Daniel Zamarbide.
Anyone who has studied Daniel Zamarbide's in-depth coverage of the Zoukei Mura P-51D Mustang in Airframe Constructor No.1 and missed out on this second book will be in for a treat. In this book Daniel takes modellers through how to get the best out of the plastic in the box, with step-by-step guides on creating the perfect model through every stage. Although specific to the Zoukei-Mura Heinkel He 219, the techniques employed will have relevance to any modeller looking to put new skills within reach, whatever their preferred scale. Everyone should have this series by their workbench.
This Airframe Constructor title contains 100 pages of all the information needed to make the very best of your large scale kit investment. 'Building The Heinkel He 219 Uhu' contains:
Detailed description of what you get in the box
Over 80 pages on construction from start to finish including detailing and painting & weathering with over 800 step-by-step images
List of additional references and available accessories and decal sheets
List of additional accessories produced by Zoukei-Mura for their He 219 kit
---
Airframe Constructor No.2 - Building The Heinkel He 219 Uhu by Daniel Zamarbide retails at only £13.95 per copy + postage and packing, and will be available from all good hobby stores and specialist bookshops. Publication is scheduled for mid-October.
Pre-orders can be made via the Valiant Wings website, www.valiant-wings.co.uk, by 'phone on 01234 273434 (+44 1234 273434 if calling from outside the UK) or by writing to:
Valiant Wings Publishing
8 West Grove
Bedford
MK40 4BT
United Kingdom
Please note that although demand for a reprint has been high this is a limited issue print run so anyone who missed the title first time round is advised to order now to avoid disappointment.
This article created on Sunday, October 07 2018; Last modified on Sunday, October 07 2018