Airframe & Miniature No. 20 is Coming!
Information supplied by Mark Peacock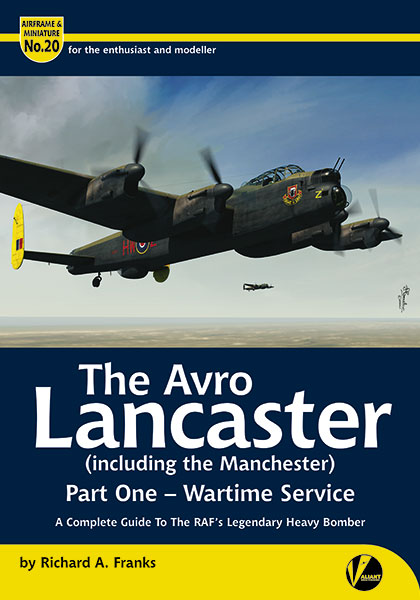 Valiant Wings Publishing is pleased to announce that our next title in the well-established Airframe & Miniature series will be Airframe & Miniature No. 20 covering the Avro Lancaster in wartime service. The sheer weight of material available on the type means that we can only do it justice by producing the title in two volumes. The first to be published will be:
AM20: The Avro Lancaster (including the Manchester) Part 1 - Wartime Service - A Complete Guide to the RAF's Legendary Heavy Bomber by Richard A. Franks. This covers the Avro Manchester and Lancaster B Mks I, II, III & VI in RAF (inc. RCAF/RAAF) service in WWII.
The Avro Lancaster Part 2 will cover postwar variants, use by foreign air forces, civilian types, both Lancaster and Lancastrian, and trials and test-bed machines. This volume will published later this year. Full details of its contents will be announced in due course.
The Lancaster has been a popular aircraft type with modellers and has recently been the subject of several new toolings in all scales, especially in 1/32nd and 1/48th. Our latest book will go some way towards unpicking the different variants and detail differences that apply to the type. It will contain at least 272 pages packed with vital information that no active modeller and RAF Bomber Command enthusiast should be without.
They each contain:
60+ pages of technical information
60+ pages of walk-around images and technical diagrams
8+ pages of camouflage and markings
25+ pages of model builds and modelling information
200+ photographs including wartime images
Colour side views and four-views by Richard J. Caruana
3D isometric views of all variants by Juraj Jankovic
Specially commissioned extensive full kit builds by Steve A. Evans
Specially commissioned front cover artwork by Jerry Boucher
Bonus set of scale plans
ISBN: 978-1-912932-17-7. RRP will only be £28.95 per copy plus postage and packing. Pre-orders can be made via the Valiant Wings website, www.valiant-wings.co.uk, by phone on 07305 062637 (+44 7305 062637 if calling from outside the UK) or by writing to:
Valiant Wings Publishing, Unit 3 Glenmore Business Park, Stanley Road, Bedford, MK42 0XY, UK
This book will also be available from specialist bookshops and certain hobby retailers. Publication is planned for February 2023.
Save money! – Order a copy before February 20th 2023 and save £3.00 on cover price!
This article created on Saturday, February 11 2023; Last modified on Saturday, February 11 2023