The Silver Wings 1/32 Fiat CR.42 is Now Available!
Information supplied by Simon Kulakowski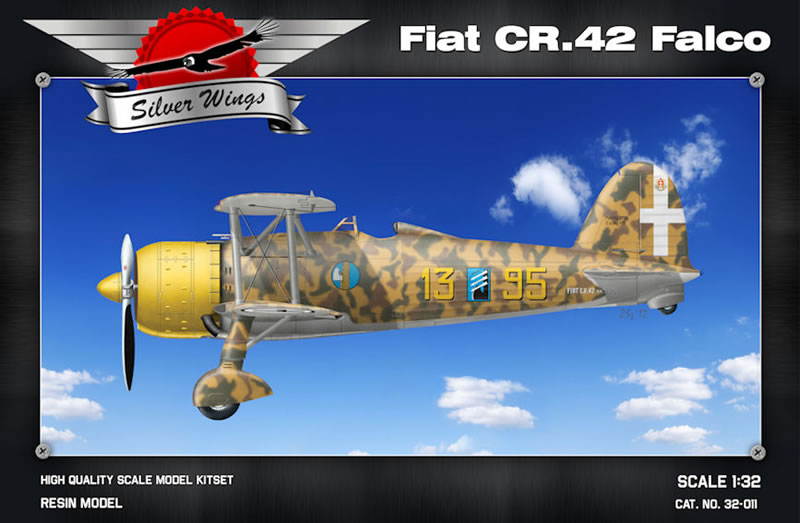 The Silver Wings team is pleased to announce that our newest kit for 2012, the 1/32 Fiat CR.42, is now available in sales!
This kit has always been at or near the top of kits requested by you, our customers, via the poll on our website. We are pleased to offer this exciting new kit in four colourful options, with decals for the following aircraft:
Italian: 92 Squadron, Orfordness, UK, October 1940, flown by sergeant Pietro Salvadori (Battle of Britain)
Italian: 73 Squadron, El Adem T3, Libya, August 1940, flown by Italian ace - major Ernesto Botto
Swedish: 1 Squadron, Kiruna, Sweden, March 1942
German: Nacht Schlacht Gruppe 9, Luftwaffe, Turin-Aeritalia, Italy, April 1944
Kit includes:
173 resin parts
10 film elements - sheet
38 PE parts - sheet
reinforced: wings, landing gear and struts
colour instruction
decals sheet including 4 marking options - sheet
different elements (landing gear, exhaust pipes) for different schemes
* please visit our website (http://www.silverwings.pl/fiat-cr42-falco.html) for photos of all kit parts.
As a special thank you, all direct orders placed before 23rd September 2012 we will be offering the Fiat CR.42 kit in the time-limited offer of 110 EUR/138 USD including free shipping worldwide.
Additionally randomly picked kits will include 12% discount coupons for all models ordered before 30th November 2012. We prepared about 100 coupons which will be inserted both to our distributors' orders and to direct orders placed via our website. These coupons include special codes and although they may be used only once, the discount will apply to your total order and can be applied to any kit or combination of kits.
---
Sincerely,

The Silver Wings Team
This article created on Saturday, September 01 2012; Last modified on Saturday, September 01 2012