Valiant Wings Publishing Announces New Hawker Tempest Book
Information supplied by Mark Peacock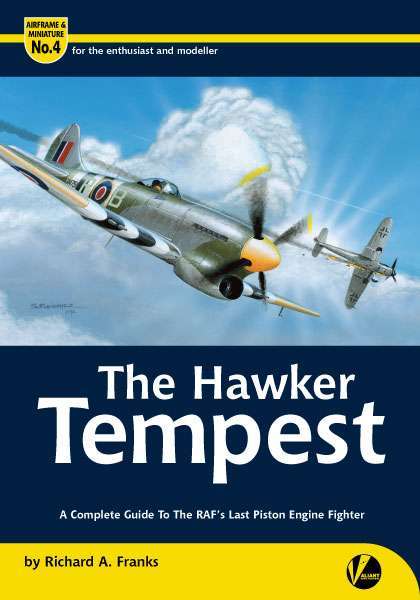 Hot on the heels of our Airframe Album book on the Heinkel He 219, I am delighted to announce our fourth title in the ever-popular Airframe & Miniature series, The Hawker Tempest – A Complete Guide To The RAF's Last Piston Engine Fighter by Richard A. Franks.
This fourth book in our much acclaimed series contains a massive 128 pages packed with vital information that no active modeller and Tempest enthusiast should be without.
The Hawker Tempest will contain:
Over 40 pages of technical information
Over 20 pages of walkaround images and technical diagrams
Over 5 pages of camouflage and markings
Over 25 pages of model builds and modelling information
Over 200 photographs including wartime images
Colour side views and four-views by Richard Caruana
3D isometric views of all variants by Jacek Jackiewicz
1/72 and 1/48 scale full kit builds by Libor Jekl and Steve Evans
As with prior titles a full set of fold-out 1/48 scale plans will be included.
RRP will still only be £17.95 per copy + postage and packing. Pre-orders via the Valiant Wings website, by 'phone on 01234 273434 (+44 1234 273434 if calling from outside the UK) or by writing to:
Valiant Wings Publishing
8 West Grove
Bedford
MK40 4BT
Order before November 5th and get half-price shipping! (If ordering online you must select the postage area appropriate to where you live – UK, Europe, World Surface or World Air - before completing your order).
The Hawker Tempest – A Complete Guide to The RAF's Last Piston Engine Fighter is also available from all good specialist bookshops, retailers and ADH Books.
Follow us on Facebook: facebook.com/valiantwingspublishing
This article created on Thursday, September 20 2012; Last modified on Thursday, September 20 2012