Reference Details for Mirage III vs MiG-21, Six Day War 1967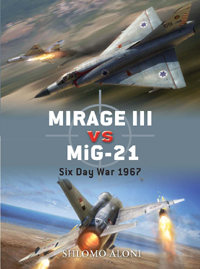 Title
Mirage III vs MiG-21, Six Day War 1967
Authors
Aloni
Publisher
Osprey
Year
2010
Types Covered
Mirage III, Mig-21
Cockpit Details
Wheel Well Details
Other Details
Cutaway Drawings
Multiview Drawings
Generic Camouflage Patterns
Generic Markings Patterns
Specific Markings Profiles
Notes
Not a walk around type publication, but rather an overview of the types involved, with overall strengths and weaknesses analyzed; engines, climbing, diving and turning performance/speeds, weapons, defensive strategies and capabilities being compared so as to determine the overall perceived better fighter. Highly recommended.

Number 28 in the Duel series.