Reference Details for Jasta 18: The Red Noses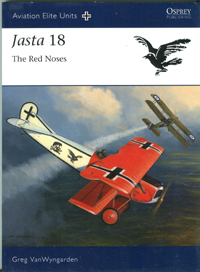 Title
Jasta 18: The Red Noses
Authors
VanWyngarden
Publisher
Osprey
Year
2011
Types Covered
Albatros D.III, Albatros D.V, Albatros D.VA, Pfalz D.III, Fokker D.VII,
Cockpit Details
Wheel Well Details
Other Details
Cutaway Drawings
Multiview Drawings
Generic Camouflage Patterns
Generic Markings Patterns
Specific Markings Profiles
Notes
A detailed look at operations within the depicted unit. Text covers unit history/operations from inception to end of hostilities, with day to day operations of the units described, and accomplishments noted, as well as unique characters/personalities within the unit. Much general black and white photography, with several pages of very nice color profile illustrations. Highly recommended.

Number 40 in the Aviation Elite series.