Contact Resine | 24006: 1/24 Bf 109G-2 Wheels
Reviewed by Mark Proulx
Contact Resine is a new French resin manufacturer. To date, they have released a number of 1/24th scale resin items for Trumpeter's product line. This is the first of three reviews showcasing their different wheel sets for the Bf 109 G series.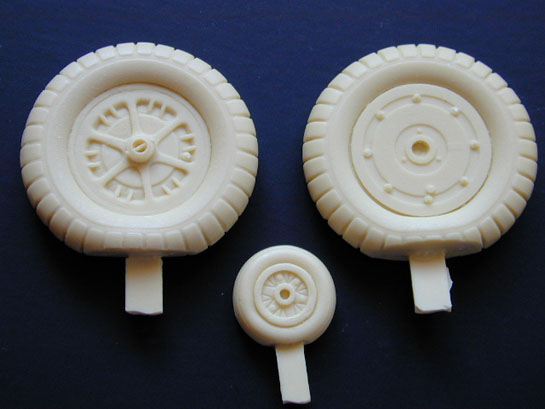 Product number 24006 provides two mains and a single tail wheel for the Bf 109 G-2. These are designed to be direct replacements for the plastic and vinyl items supplied by Trumpeter. They are shipped in a small sturdy plastic container without instructions. The lack of instructions isn't really an issue, as this is a very simple installation.
My initial reaction to these wheels is that they are crisply cast with plenty of clear details. Items such as the axle cotter pins and valve stems can be identified. A small casting block is easily removed. It is possible that the hole for the axle may also need to be lengthened. The tires are bulged and flattened. This does appear to be slightly overstated in my opinion. Contact Resine also incorporate the slanted stance of the wheels into this feature.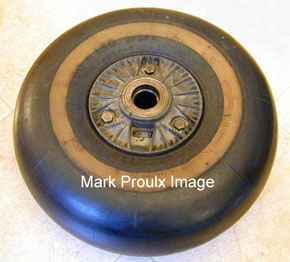 A comparison of the Contact Resine hubs and the Trumpeter hubs (see attached photo) identifies the superior details of the aftermarket items. It appears that the Trumpeter hubs were used as the masters with smaller details added to them prior to casting. The details on the tail wheel hub can be compared to the attached photo of a tail wheel from a Bf 109G.
I am quite impressed by the 1/24th scale Bf 109G wheels from Contact Resine. They are a welcome relief, as many modelers dislike vinyl wheels due to their gloss finish and difficulty in painting. These wheels are sure to enhance your Trumpeter 109.
Review Sample Compliments of Contact Resine
© Mark Proulx 2004
This product is available from the following LSP sponsors
This review was published on Saturday, July 02 2011; Last modified on Wednesday, May 18 2016