airscale | AS32 AJET: 1/32 Instrument Dial Decals - Early Allied Jets
Reviewed by Kevin Futter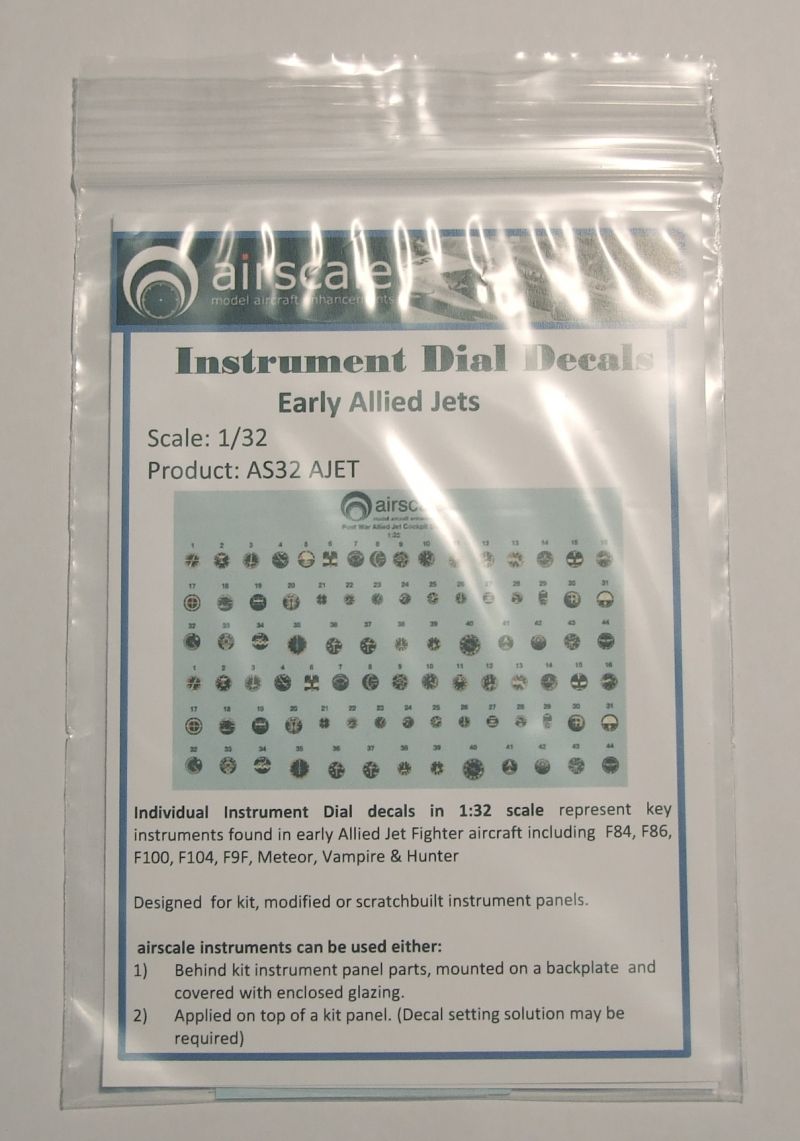 airscale made quite a splash when they entered the market a year or so ago, and have been quite prolific ever since, releasing a multitude of instrument dial and placard sets for all manner of subjects in all manner of scales. This time we take a look at a new set of 1/32 instrument dial decals for early Allied jets (set AS32 AJET).
The decals are packaged in the now-standard airscale zip-lock bag. Inside is a small folded sheet containing information and instructions, and of course the decals themselves.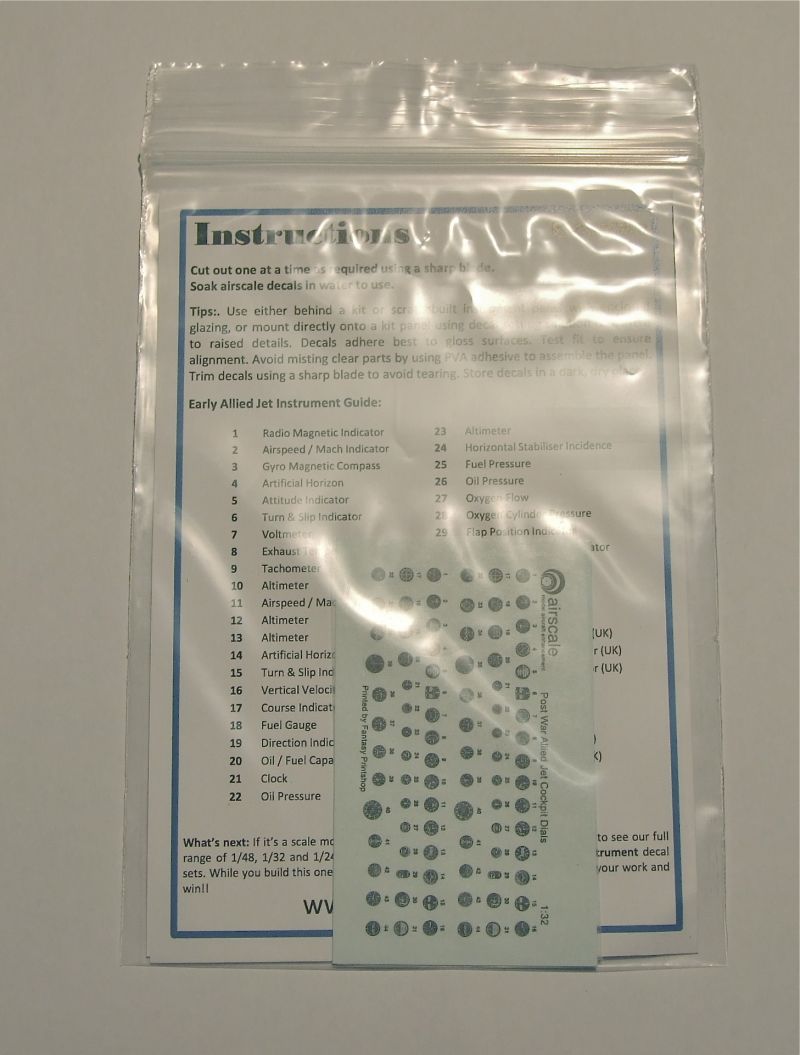 The front of the sheet lists applicable subjects as F-84, F-86, F-100, F-104, F9F, Meteor, Vampire and Hunter. Quite a selection, and I'm sure they'd pass muster for other early jet subjects too.
The decals themselves are printed by Fanstasy Printshop, and ship with a protective sheet of waxy paper.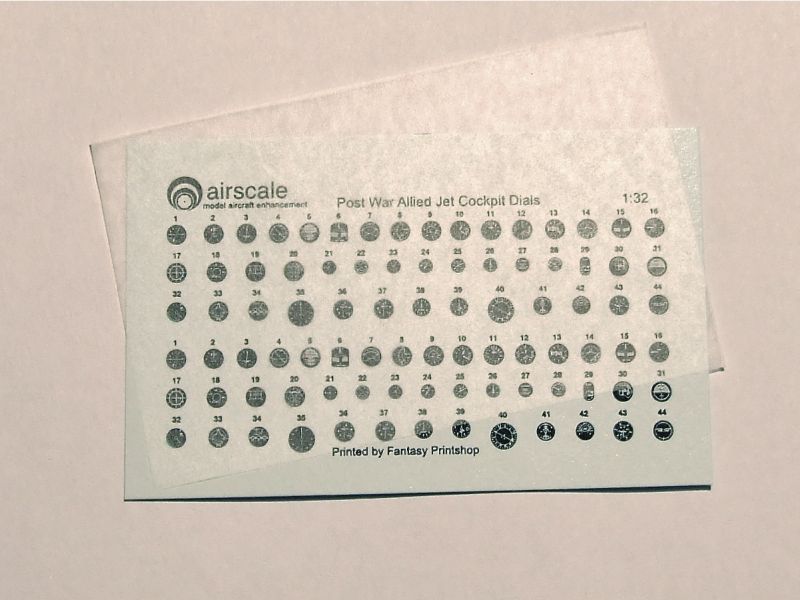 This close-up gives you a good idea of the crisp printing and fine detailing that's a consistent feature of airscale's products.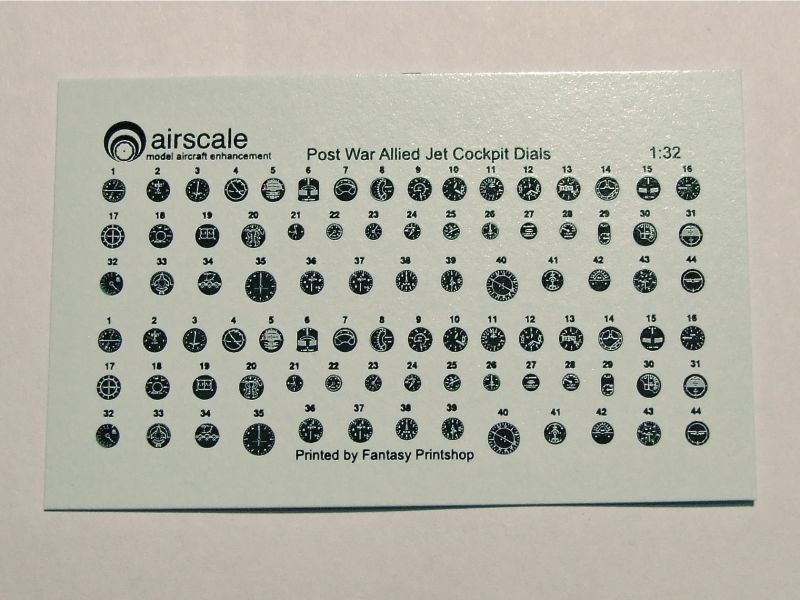 This set also includes a rectangle of clear acetate sheet to aid in emulating the glass covers found on most instrument dials, and is an especially thoughtful touch if you're using the traditional 'sandwich' method to fabricate an instrument panel.
So, whether you're sprucing up and old instrument panel or scratch-building a new one, these airscale decals will make the process considerably easier, and the result considerably better.
Highly recommended!
Thanks to airscale for the review sample.
This product is available from the following LSP sponsors

This review was published on Wednesday, November 16 2011; Last modified on Wednesday, May 18 2016