Twobobs Aviation Graphics | 32-060: 1/32 F-15C Eifel Eagles
Reviewed by Mark Proulx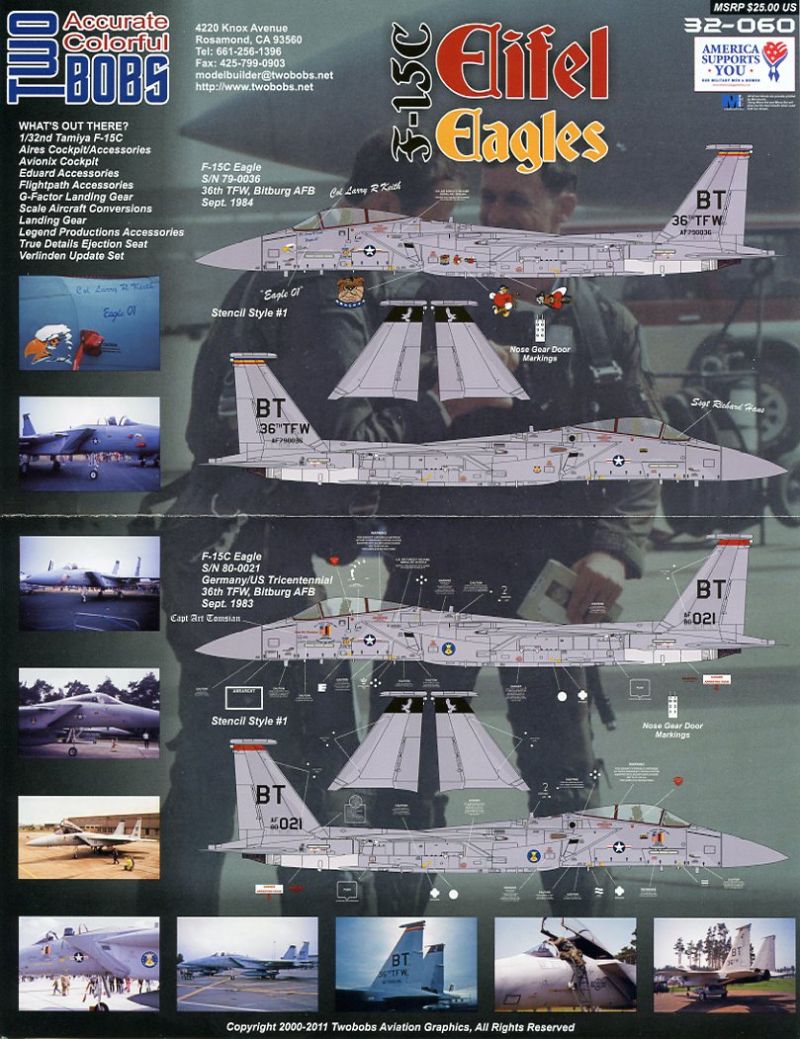 Twobobs Aviation Graphics has just released an extensive 1/32nd scale decal sheet for the F-15C Eagle. There are markings for 13 aircraft, each based at Bitburg AFB from the 1980s and early '90s.
The subject aircraft are:
F-15C 79-0036 36th TFW, circa Sept 1984
F-15C 80-0021 Germany/US Tricentennial, 36th TFW, circa Sept 1983
F-15C 79-0053 53rd TFS, circa June 1983
F-15C 84-0001 53rd TFS/AMU, circa May 1993
F-15C 84-0009 36FW, circa May 1993
F-15C 84-0015 36FW, William Tell Meet circa 1992
F-15C 79-0078 36FW, William Tell Meet circa 1992
F-15C 84-0022 22nd TFS, circa July 1983
F-15C 84-0025 53rd TFS, circa Sept 1992
F-15C 79-0025 525th TFS, circa Aug 1991
F-15C 84-0027 53rd TFS, circa May 1992
F-15C 84-0019 53rd TFS, circa Feb 7 1991
F-15C 79-0048 525th TFS, circa Nov 1991
The instruction sheet for this release is large, spanning three pages printed in full color. Left and right side profiles for each aircraft are provided, eliminating any guesswork for the modeler. Upper and lower profiles are also included. FS painting instructions are matched to Testors MM, Humbrol, Gunze Sangyo and Xtracrylics paint lines. There are 38 small thumbnail photos added, providing invaluable reference material.
The decals are printed over four pages with an additional small insert. They include three different stencil styles. The markings are printed by Microscale Industries and appear to be in perfect register.
In my opinion, there are enough markings choices here to satisfy almost any F-15C Eagle fanatic. I recommend the decals to anyone without hesitation.
---
Review Sample Compliments of Twobobs Aviation Graphics.
© Mark Proulx 2012
This review was published on Monday, February 20 2012; Last modified on Wednesday, May 18 2016