Contact Resine | 24008: 1/24 Bf 109G2/G6 Spinner and Propellers
Reviewed by Mark Proulx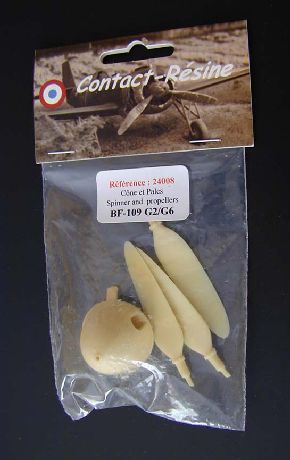 Contact Resine has just released a new spinner and propeller assembly for the Trumpeter Bf 109 G2 thru G6. This is a closer inspection of their latest 1/24th scale casting.
Contact Resine now uses small plastic bags to package their resin products. This is a departure from their earlier plastic boxes. This isn't a problem given the sturdy nature of this resin set. No instructions are provided. This doesn't pose a problem due to the simple construction of the parts.
Four resin components make up the complete set. This includes three propeller blades and a spinner. The largest item is the spinner cast in cream-colored resin. The surface detail is perfectly scribed. Further careful examination reveals that the spinner date plate is also visible. The propeller openings are tapered as per the actual aircraft. This is one of the major flaws the Trumpeter failed to capture. It is also important to note that the actual spinner was a two-piece (fore and aft) affair with the tip fitting as a cap over the base. This resulted in a single line of rivets ahead of the seam towards the gun opening in the tip. Contact Resine depicts two rows of rivets. However, this in itself does not detract from overall look. Modelers looking for total accuracy can easily fill in the single row of rivets aft of the seam. The modeler needs to remove the casting block and bore a hole in the backplate to accept the prop shaft.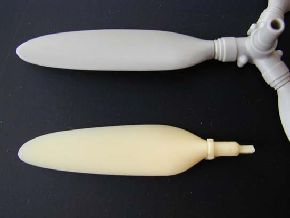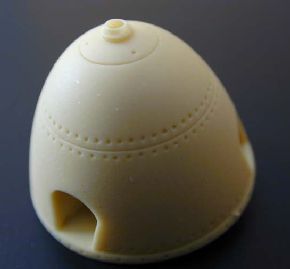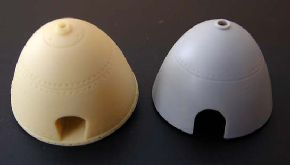 Three propeller blades are included. A small casting tab needs to be removed from the shaft. Modelers will need to pay attention when inserting the blades to achieve the proper pitch.
This new propeller assembly from Contact Resine should go a long way towards correcting the look of your Trumpeter Bf 109. I'm sure you won't be disappointed with the final result.
Review Sample Compliments of Contact Resine.
© Mark Proulx 2005
This review was published on Saturday, July 02 2011; Last modified on Wednesday, May 18 2016