Maketar Productions | Insignia Series: British Royal Air Force Spitfires
Reviewed by Kevin Futter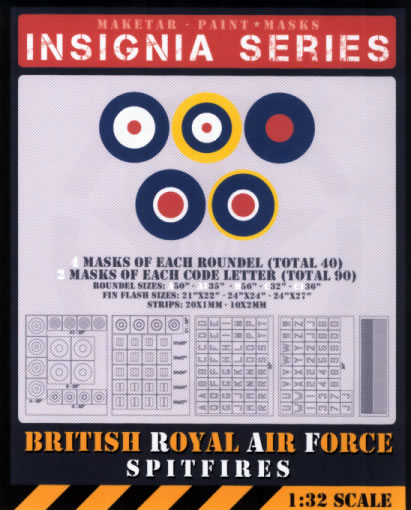 Employing custom paint masks to airbrush markings on aircraft models has become quite popular in recent times, and is especially well-suited to the large scale kits we all know and love. They can be used to either completely replace traditional waterslide decals, or work in conjunction with them for a hybrid approach. Several outfits have begun to service the growing interest in this area, one of the latest being Maketar Productions.
Maketar Productions was started by Aleksandar Pocuc from Serbia, a gifted modeller in his own right. Maketar's mask sets are divided into two basic types. The first, known as the Insignia Series, features a range of national markings of various types that can be used to replace the equivalent kit decals. A wide variety is available, including elusive markings such as RCAF and RAAF insignia.
The second type goes by a number of labels, including Fighter Series and Luftwaffe Series, but each essentially gives you all the necessary markings for either a specific aircraft, or a specific type. We'll be looking at some of those in a subsequent review, but for now let's take a look at a set from the Insignia Series, British Royal Air Force Spitfires.
All sets come packaged in a resealable clear plastic bag, and are very nicely presented. This set is no exception. I especially like the breakdown of contents on the front, both as text and diagrams. This is particularly helpful because, as you can see from the photo below, the individual masks can be very difficult to distinguish on the sheet by sight alone.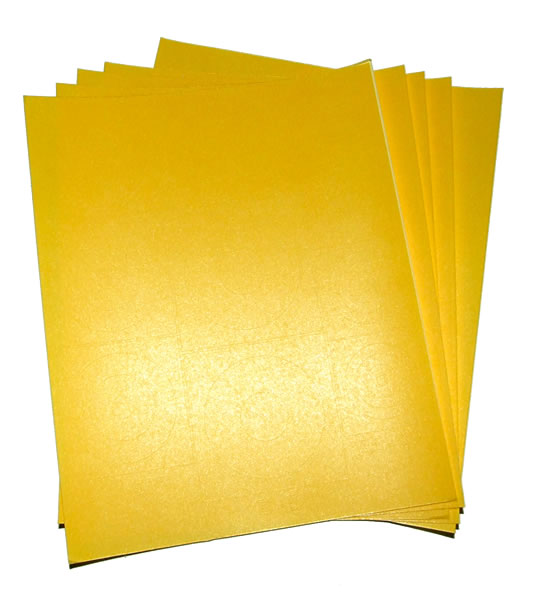 This set features five sheets containing 40 roundels, 90 code letters, 24 fin flashes and a series of utility strips. The breakdown is as follows:
Four masks each of roundel sizes A 50", A1 35", B 56", C 32" & C1 36"
Four masks each of fin flash sizes 21" x 22", 24" x 24" & 24" x 27"
Two masks of each code letter/number
20 x 1mm strips & 10 x 2mm strips
The masks themselves are made from Kabuki, which makes them look and perform similarly to Tamiya tape. Alek explains this choice of masking material in the About Maketar Paint Masks article on the Maketar website. In any case, their performance should be familiar to anyone who has used Tamiya tape.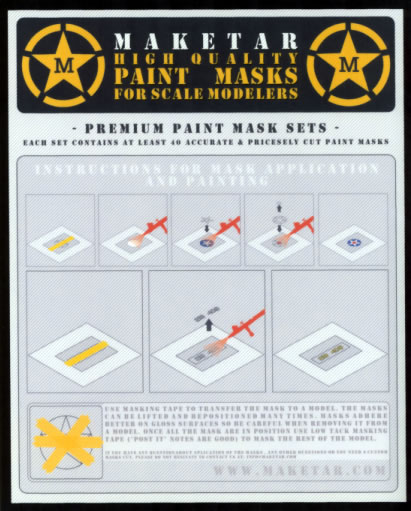 The rear side of the package includes some instructions for using the masks. Not having used commercial mask sets before, I found these a little confusing in terms of the exact spraying sequence suggested. The images combine the mask placement and airbrushing steps into the same frame, and I struggled at first to work out which was supposed to come first. While careful consideration of the logic involved will yield the correct suggested sequence, I think these instructions could be rendered a little more explicitly.
This is a very minor quibble though in what is an otherwise excellent package. I can't wait for the opportunity to try them out on one of my own builds!
With thanks to Maketar Productions for the review sample.
© Kevin Futter 2012
This product is available from the following LSP sponsors
This review was published on Saturday, April 21 2012; Last modified on Thursday, January 04 2018