airscale | AS32 SJET: 1/32 Instrument Dial Decals - Early Soviet Jets
Reviewed by Kevin Futter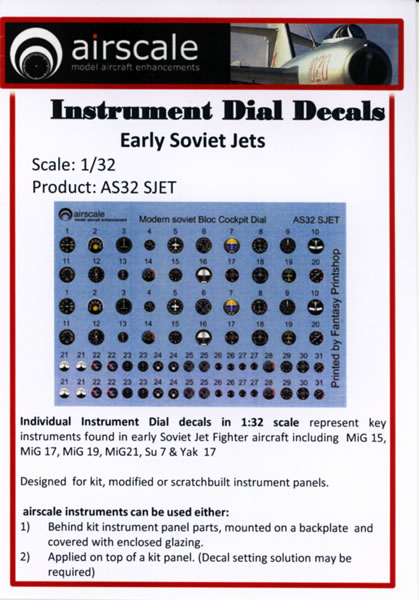 airscale continues to expand its range of instrument dial decals, and has recently released a set for early Soviet jets. As with all their previous sheets, this one is printed by Fantasy Printshop, and features the same fine detail and crisp printing as its predecessors. The image below shows it at approximately 4 times actual size.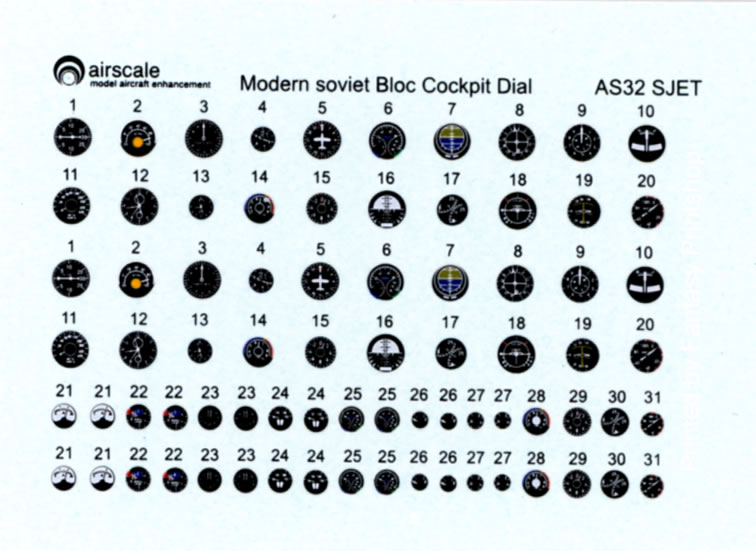 The sheet features 76 individual dial decals, and the front of the enclosed product sheet lists the following as applicable aircraft:
MiG-15
MiG-17
MiG-19
MiG-21
Su 7
Yak 17
The rear of the sheet, as is usual for airscale, features some tips for application, plus a detailed breakdown of what each instrument decal represents.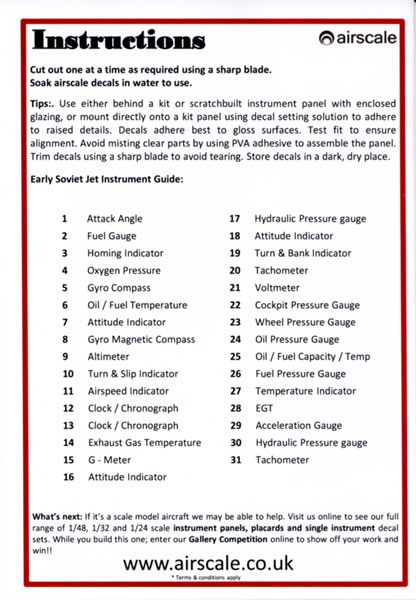 This set also includes 4.5cm x 5cm rectangle of clear acetate sheet to assist in the construction of a 'sandwich' style instrument panel. This sheet is extremely thin and clear, so much so that it's actually hard to see in the pack! Its inclusion is a thoughtful and helpful touch.
As with all airscale products, this latest sheet is highly recommended, and is available directly from airscale in both 1/32 and 1/48. The current price for the 1/32 set is £6.25.
© Kevin Futter 2012
This product is available from the following LSP sponsors

This review was published on Friday, April 27 2012; Last modified on Wednesday, May 18 2016