Scale Aircraft Conversions | He 162A-2 Landing Gear Set #32063
Reviewed by Ray Peterson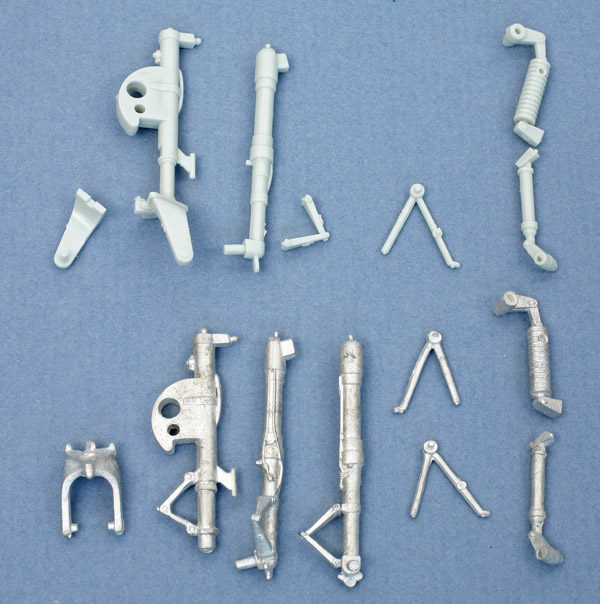 Kit gear at top (not all parts present, only representative parts); SAC gear at bottom of picture.
A recent release from Scale Aircraft Conversions is this new accessory set for the Revell 1/32nd He 162 kit. The set includes the main landing gear and the nose gear as some of the bracing or retraction mechanism details.
This set is simply meant to be a direct replacement for the kit's plastic landing gear, providing the modeler the option to go with white metal instead of plastic. Therefore while the casting is quite good, most of the details are unchanged and any defects of the kit parts, such as molding seams, are therefore replicated on the SAC gear. SAC did upgrade the Revell parts this time by separating the fork and fork bracket from the nose oleo (Revell part #3) and adding additional detail in the form of bolt heads and other small items. They then cast this new bracket and both forks as one piece which make the nose wheel assembly stronger and removes the need to deal with cleanup of a tricky joint between the forks. Comparing the original nose strut (Revell part #3) to the SAC gear, the SAC part is actually better cast as my Revell sample has some sink marks in it.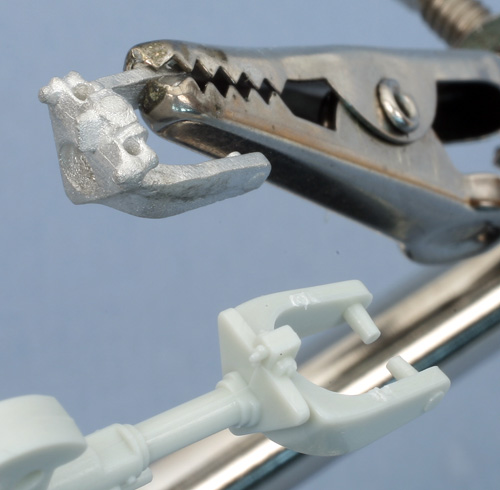 I still am not happy with the softness of the alloy used. However, the gear of the Salamander is quite spindly and even though the SAC gear will easily bend I am confident it is stronger than the kit gear and will hold up well. As the He 162 is quite small and the kit light-weight I do not expect the SAC gear to sag over time.
Recommended as a quick and relatively low-priced replacement for the rather spindly kit gear with a slight upgrade in detail and engineering.
Thanks to Scale Aircraft Conversions for the review set.
© Ray Peterson 2012
This product is available from the following LSP sponsors

This review was published on Monday, May 28 2012; Last modified on Sunday, June 10 2018