Scale Aircraft Conversions | #32065 P-51 Mustang Landing Gear
Reviewed by Ray Peterson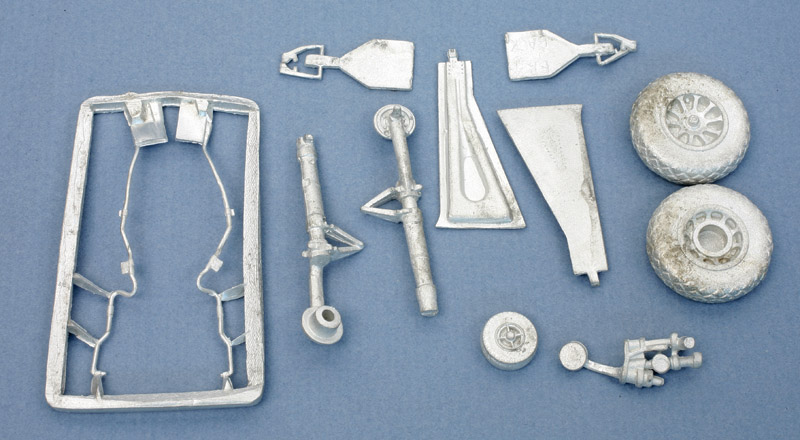 A recent release from Scale Aircraft Conversions is this new accessory set for the venerable 1/32nd P-51 series of kits available from Hasegawa. The set includes the main landing gear, the nose gear, and the wheels in white metal.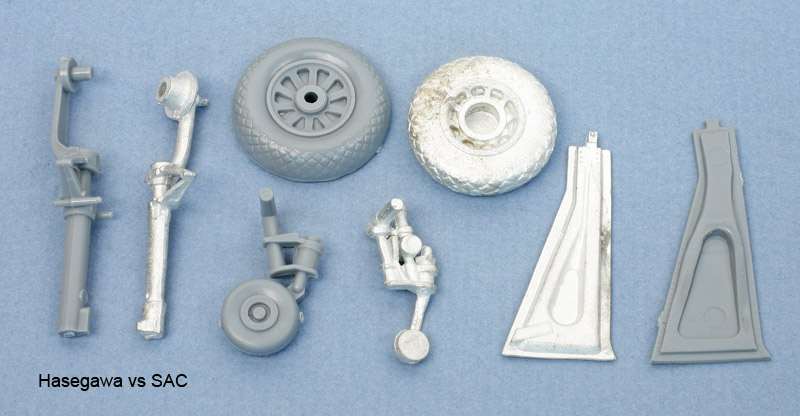 Unlike many of the other SAC sets this replacement gear has many differences to the kit gear. Accordingly, the set also includes new main and tail wheels and main gear doors to fit the changed landing gear.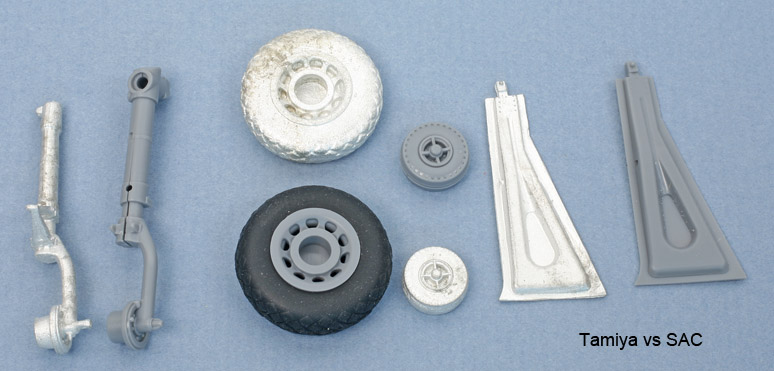 Looking closer at the new gear, it turns out they are copies of the Tamiya gear parts with the mounting system of the Hasegawa kit added on. Even the two Tamiya brake line parts, connected together for you, are included.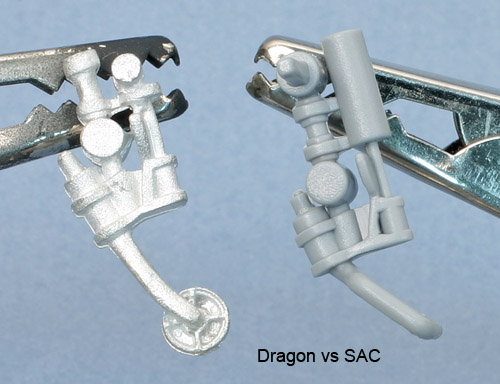 The tail wheel mechanism, however, is a different story. It appears to be created from a combination of Tamiya (axle and wheel), Dragon (lower part of assembly) and Hasegawa parts (mounting system).
The gear is relatively well molded. There is some mold seams present that will require some cleanup. This will be a bit difficult to do on some of the really thin parts such as the brake line. The builder may wish to replace that part with their own solder wire or the like, using the supplied piece as a guide. One of my wheels appears to be slightly oblong but that may not be typical in all sets. Also, the Hasegawa gear door is a bit larger than the Tamiya or SAC door so that should be taken into account if using this set. It may not be noticeable with the gear down however.
As usual with SAC, I am not sure what kinds of alloys are available for this type of casting, but I wish SAC would use something with a higher bending strength. The material bends awfully easy, especially the relatively thin tail wheel axle.
All in all this set is a quick and relatively low-priced replacement for the Hasegawa kit gear, giving the Hasegawa kit about the same amount of detail in its gear as the Tamiya kit. Recommended.
Thanks to Scale Aircraft Conversions for the review set.
© Ray Peterson 2012
This review was published on Wednesday, June 13 2012; Last modified on Wednesday, May 18 2016