Caracal Models | CD32001: F-117 Nighthawk
Reviewed by Eric Galliers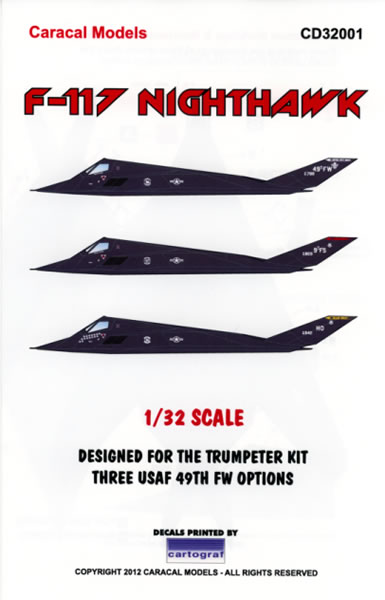 I recently obtained the new 1/32 scale F-117A decals from Caracal Models and am pleased to have been invited to review them for the Large Scale Planes website. These are the first 1/32 scale decals released by this company and I am very impressed at the high standard that Kursad has been able to achieve.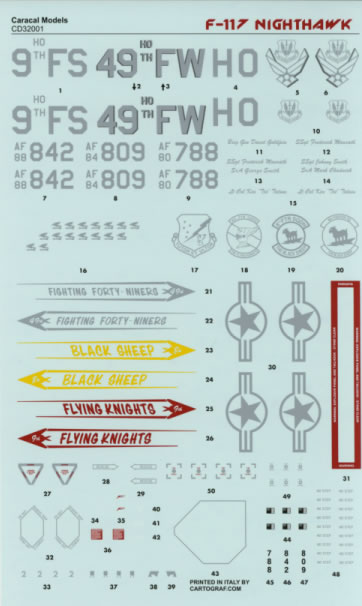 They arrived through the post in a stiff cardboard parcel. Upon initial inspection, I was able to choose from 3 different aircraft, all from Holloman Air Force Base units and comprising fighters from the 49th FW, 8th FS and the 9th FS. I believe that the most popular option will be that from the 8th FS, which has 16 Operation Iraqi Freedom mission markings under the cockpit. When examining the decals they appeared very dark, certainly a lot darker than what I was expecting, but upon application to the model they are exactly the right tone and contrast very well against the flat black of the airframe.
---
The decals are printed by Cartograph and are up to their usual high standards, being perfectly in register, and very thin. I used Microset and Microsol in my application of these decals and within 30 seconds, the usual wrinkling of the decal occurred. Within a few minutes, the decals had settled into the paintwork and where perfectly flat against the model. I gave them another coat of Microsol, but I don't think it would be needed in most circumstances. As the decals are very thin, care needs to be taken to minimise re-positioning once on the model but they performed very well given that I had to shift a few around to get them in the exact position required.
---
As a comparison to the Trumpeter decals, the Caracal decals offer a significant improvement in the spelling, as well as accuracy of the markings. I could not fault any of the spelling of the Caracal decals, whereas the Trumpeter ones are full of mistakes and contain quite a few inaccuracies. For instance the `Tutoret Ultor' shield marking on the right hand side of the aircraft is not contained in the Trumpeter decals, but it is included in the Caracal offering. The aircraft serial number which starts with its year of manufacture (in this case 88) is depicted as B8 in the Trumpeter decals. The Caracal decals of course do not contain this error. There are numerous instances where the Caracal decals contain much better accuracy than the kit ones and it is for this reason I think that they could be considered a correction set as well as being of a much higher quality.
---
I would highly recommend this set to any one building this kit as a `MUST HAVE'.
© 2012 Eric Galliers
This review was published on Tuesday, July 10 2012; Last modified on Wednesday, May 18 2016