Fisher & Heritage Aviation | Red Baron and Voodoo Mustangs
Reviewed by Mike Swinburne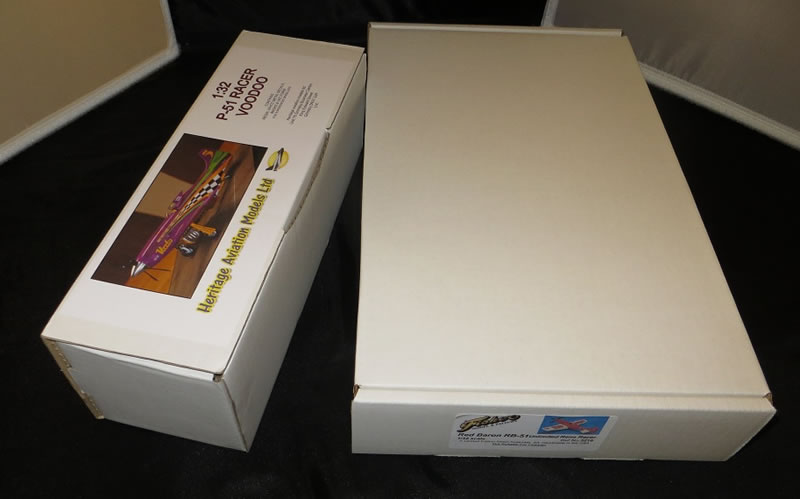 I hadn't seen the two kits compared and contrasted, so I'm happy to present my impressions of these kits of two very sexy Reno racer P-51s: Heritage Aviation's Voodoo and Fisher Models RB-51 Red Baron.
Those of you who have seen Heritage's kits/conversions in the past probably found something wrong with the casting or quality; I know I had multiple items they sold and all had resin shrinkage problems, big air bubbles or incomplete castings, etc. I am VERY happy to say that I can find none of these problems here! Fisher's Mustang has been reviewed in multiple places and most of you are familiar at least indirectly with the quality of his kits. Both of these kits are based off of kits built by the same guy (Nick Turner). So here we go:
Boxes
The Baron comes in a standard Fisher-style box and packing with lots of tissue paper. Voodoo comes in a smaller box and is not well packaged inside, however the kit was shipped with a metric ton of shredded paper in the shipping box and everything arrived across the Atlantic in great shape. I do like that I can actually see what kit is in the Voodoo box from more than a few feet away!
Main Parts
Voodoo: Fuselage is molded in halves with several giant locating pins. There's a little bit of flash on the underside but dry fitting shows that if there was any shrinkage, it was even and fit will be *perfect* when the flash is cleaned up. The locating pins are spot on. Very happily impressed with how much Heritage has stepped up their quality.
Red Baron: One-piece fuselage though the lower fuselage with air scoop is separate. Dry fitting shows that this will be an annoying area to fill/sand.
Interesting to note that the Fisher fuselage has recessed panel lines and the Heritage has panel lines represented by a decal sheet (more on this later). Both kits have separate flaps and elevators but ailerons and rudders are molded in place.
Fuselage Comparison
Fisher on top, Heritage on bottom. Notice difference in length. I haven't looked at dimensions of these two modified racers so I can't/won't comment on accuracy but I'm willing to bet they're near perfect.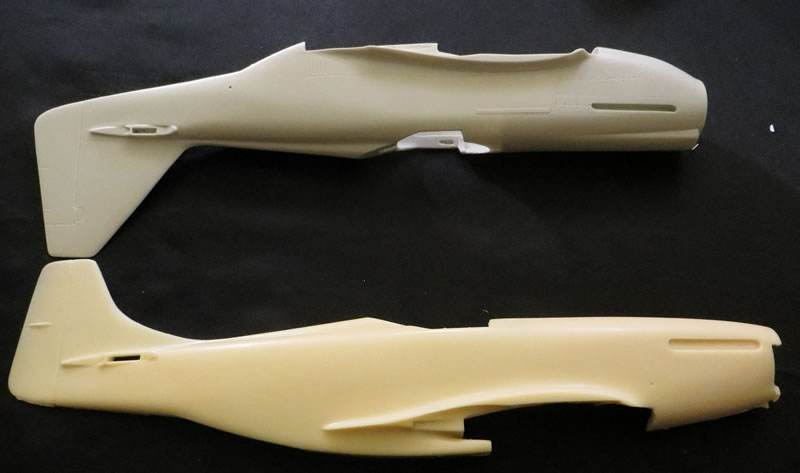 Now this I just found amazing - the similarity and quality of both moldings is evident here - the Heritage wing fits the Fisher kit perfectly!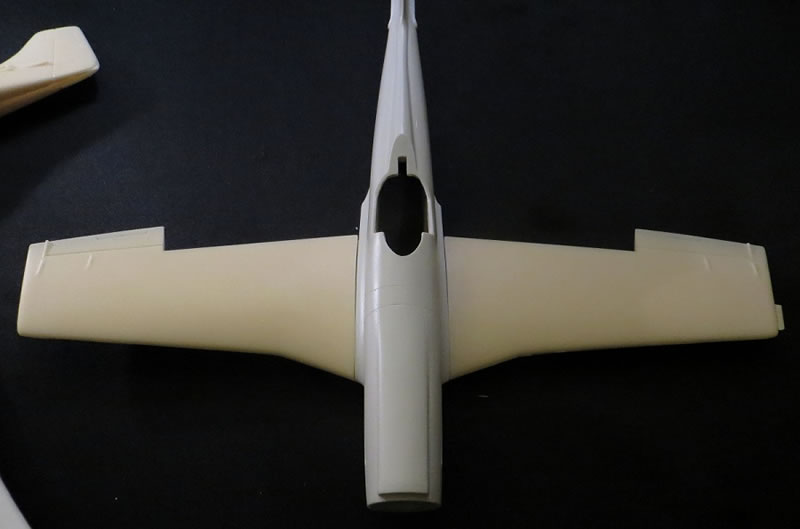 Gear bay detail is nearly identical on both kits. Quite nice. Heritage wing is still on Fisher fuselage in this shot. The gap at the front of the wing join will be about the same on the correct fuselage for Voodoo. Fisher wing will fit better to this fuselage in this respect.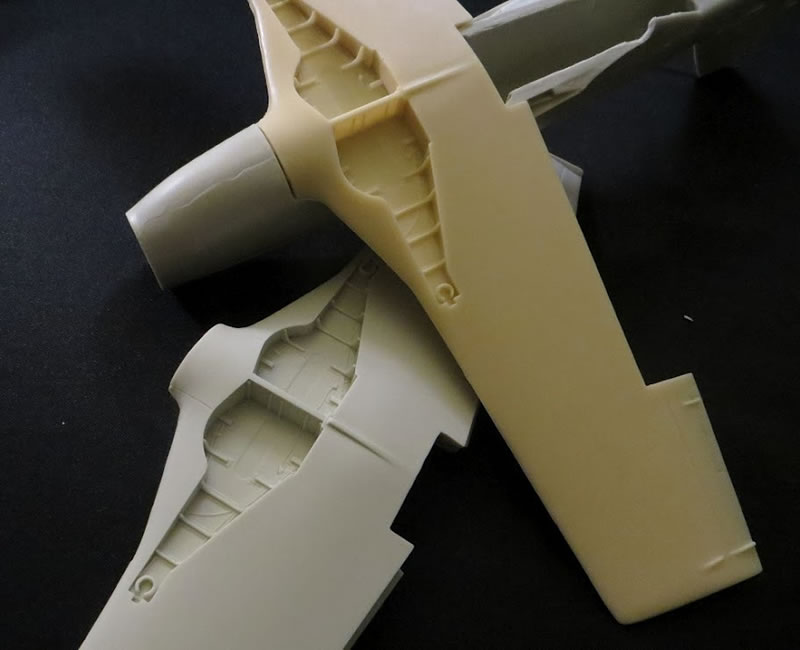 Detail shots for Voodoo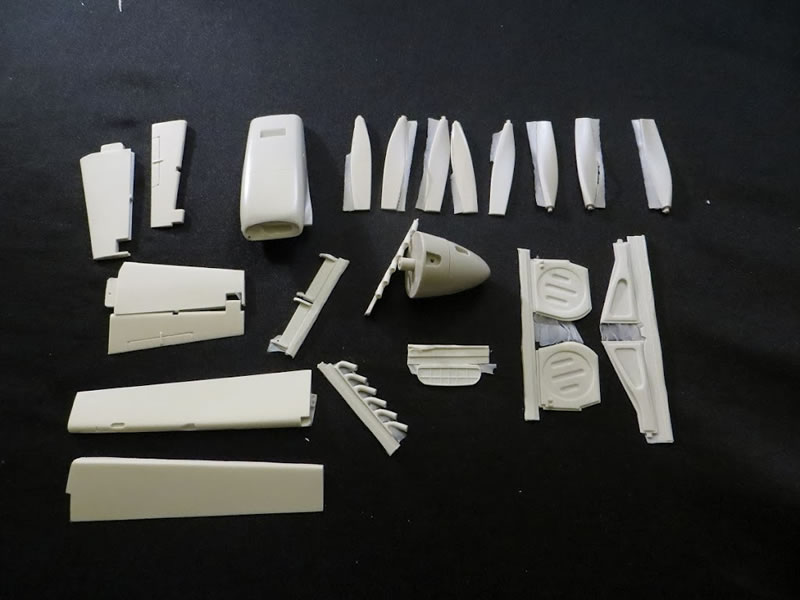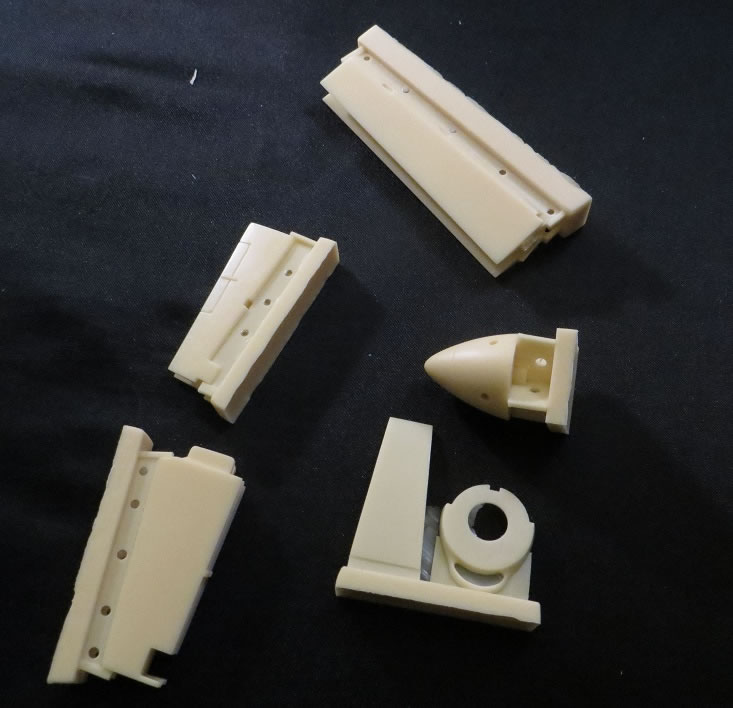 Note here, clear resin canopy - this is a first for a Heritage kit to my knowledge, and is as nice as the Fisher canopy! Vacform clear parts are for the windscreen.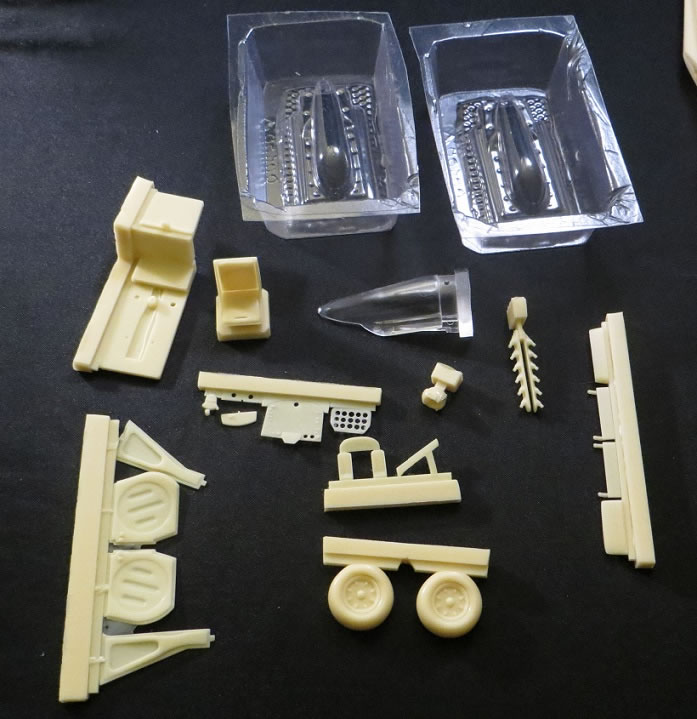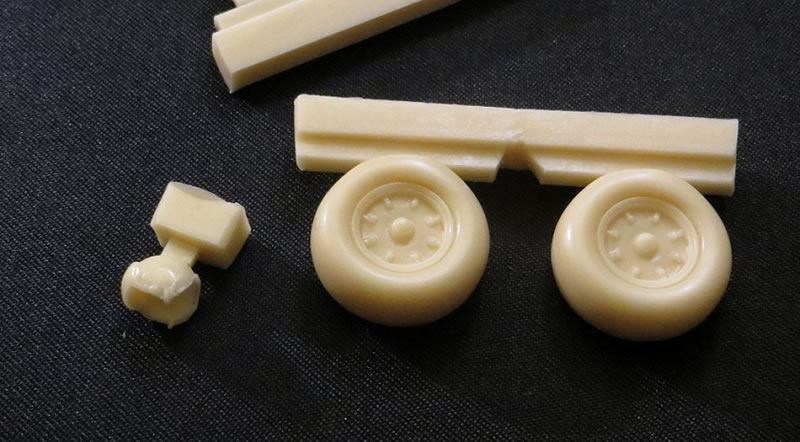 Exhaust stubs are molded solid so a small drill will be needed. I like the cockpit detail on this one. Cockpit floor seems to have very subtle wood grain.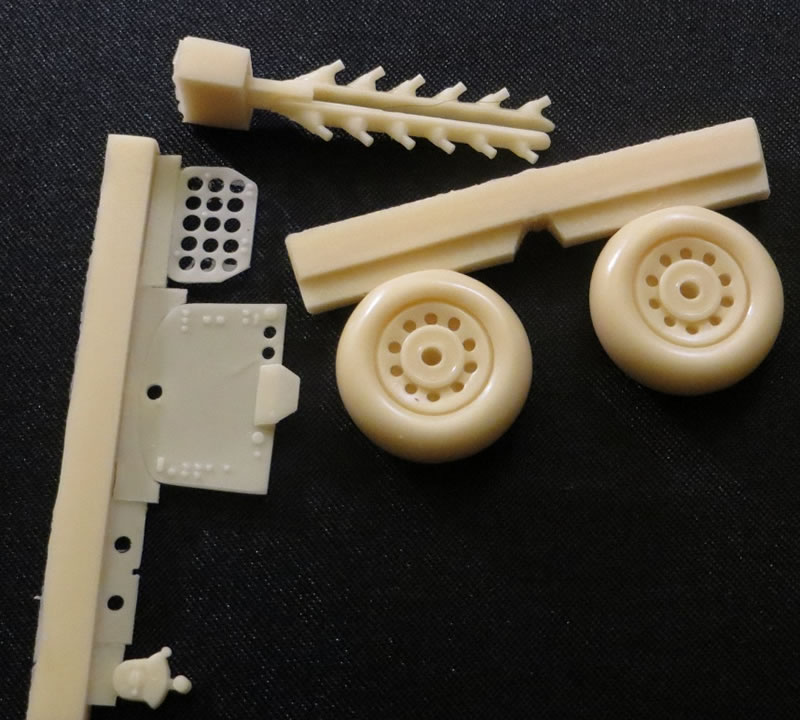 Metal parts, these will need the most work...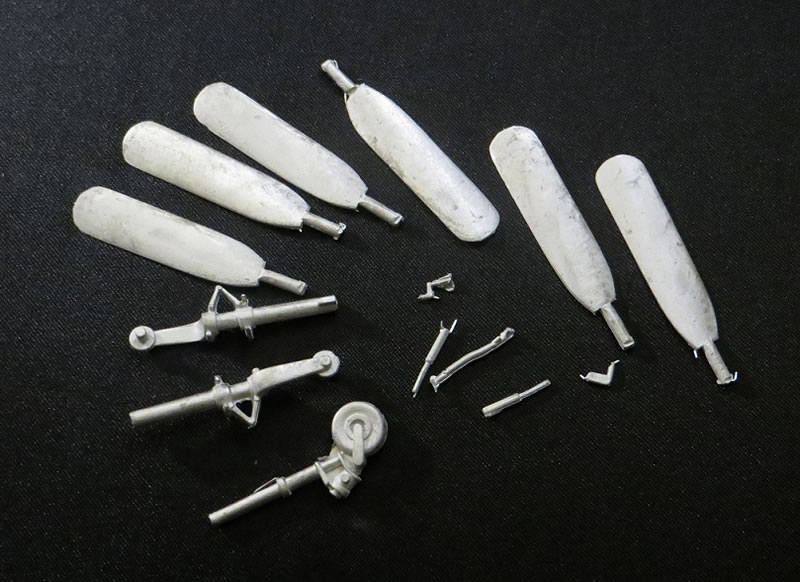 Detail shots for Red Baron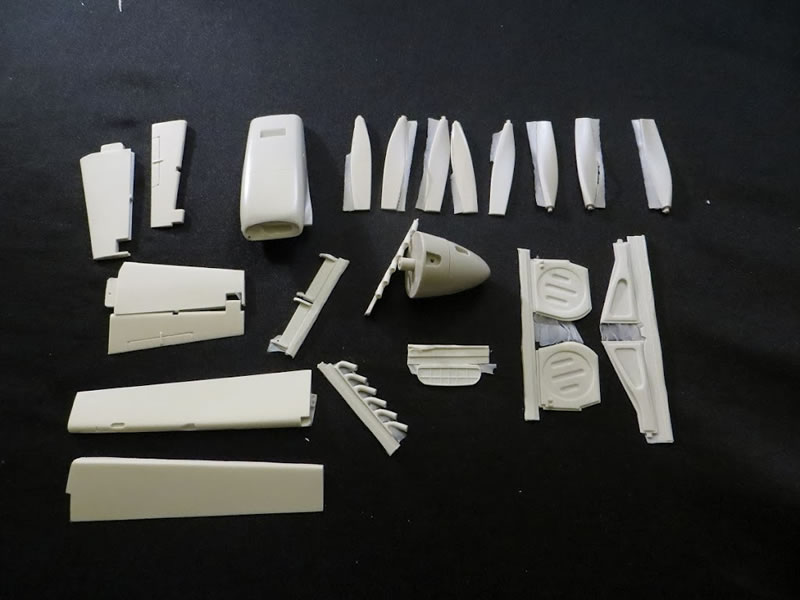 Hard to complain with this quality!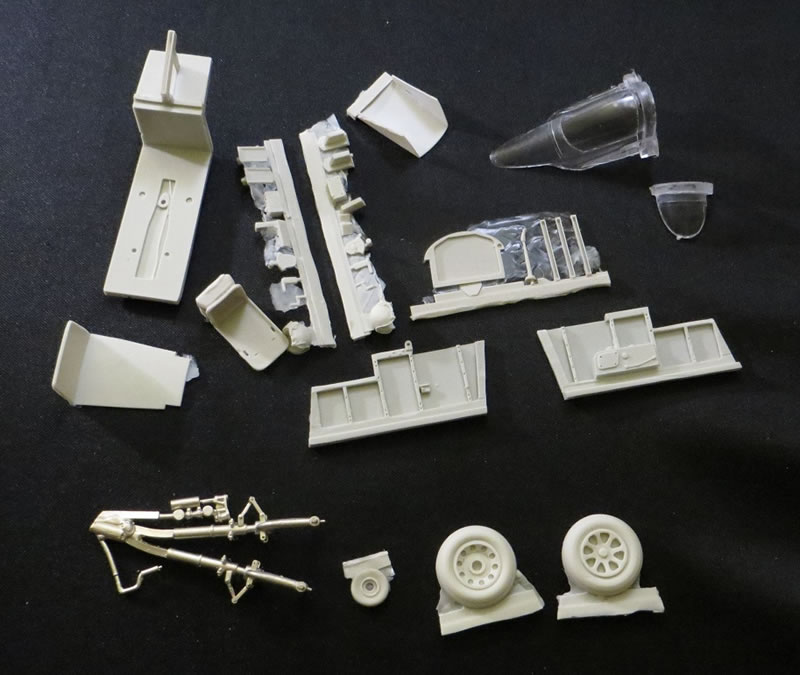 Here's one thing worth comparing - instructions and markings.
Voodoo:
Pros - Decals printed by Fantasy Printshop. Kit comes with vinyl paint masks and step by step painting instructions with large color photos. Build instructions also have large color photos.
Cons - instructions could use some more wording to assist in some areas and some more detail in progress shots would be great too but these are workable still.
Red Baron:
Pros - Decal detail is superb! Lots of photos in the instructions and great detail for markings. Great descriptions to aid building.
Purgatory - Decals are by Draw Decal in digital silk - quality is superb, I'm a bit hesitant to use digital silk details for the first time so unsure if this goes pro or con.
Cons - with other Fisher kits I've seen, the pics in the instructions are tiny and hard to see detail in black and white.
Voodoo markings, instructions:
---
Red Baron decals, PE, instructions:
---
Verdict
For both kits, FREAKING WOW!!!!! I've owned the Red baron in the past so I knew what to expect. I was extremely happy and surprised to see the kit for Voodoo. I believe that this kit can be easily made into Strega, another good looking racer (decals by Red Pegasus) as well. Voodoo does not come with seatbelts (RB has them in PE) but this is a very easy fix. The detailed pilot helmets in both kits are a welcome addition for detail that did not have to be included. Fisher's cockpit will need sidewall wiring added if there's any that's visible on the real plane. Painting Voodoo will be more difficult due to the complexity of it; the instructions actually have you add the black checkerboards on white fuselage before masking to paint the other colors so the vinyl marks will need to be very low tack to not mess that up.
Now I just need to finish the other billion kits I'm building!! Both are highly recommended.
© 2012 Mike Swinburne
This review was published on Saturday, July 21 2012; Last modified on Wednesday, May 18 2016