Contact Resine | CK32001: Dewoitine D.520 Multimedia Correction/Detail Set
Reviewed by Chris Sherland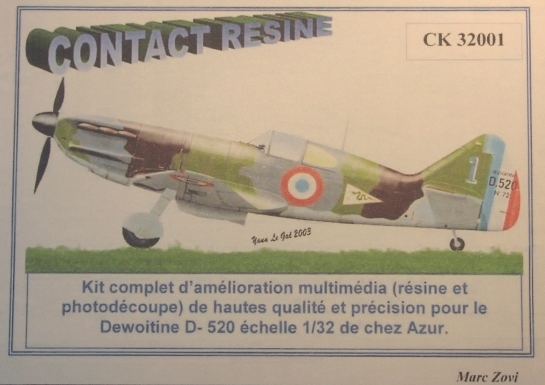 Limited run kits in 1/32 are rare enough, let alone aftermarket detail sets for them. When Contact Resine released this correction set for the 1/32 Azur Dewoitine D.520 it seemed to double the mystique for this release. Contact Resine is a fairly new resin aftermarket supplier, and being based in France no one can doubt their interest in Azur's release. The only 1/32 injection molded Dewoitine to be released to date was sure to get their attention.
Well anyone who has an Azur "Dewo" or has read the reviews (Hyperscale's review, LSP's review) knows that while this is a special kit, and well crafted, it lacks detail in some spots and suffers from some small inaccuracies and a poorly engineered canopy.
This set offers solutions for all of the Azur's shortcomings, and in the instance of the cockpit, includes almost two full correction sets; one in white metal, and one in tan resin from the same molds. Without a doubt this set turns this high quality limited run kit into a super-detailed stunner.
In a small sturdy box the set (retailing for 65?) is packed well and contains the following:
2-Page color instruction sheet
Solid-cast resin full nose section
PE fret including, instrument console, gear doors, cockpits details, radiator grilles, and harness
High-quality instrument decal
Resin cockpit set
Resin horizontal stabilizers, elevators, and rudder
Resin propeller blades, and two hub styles
Resin rear-fuselage access door
Resin main gear wheels
Resin radiator scoop
White metal main landing gear, and cockpit set
Vacu-formed canopy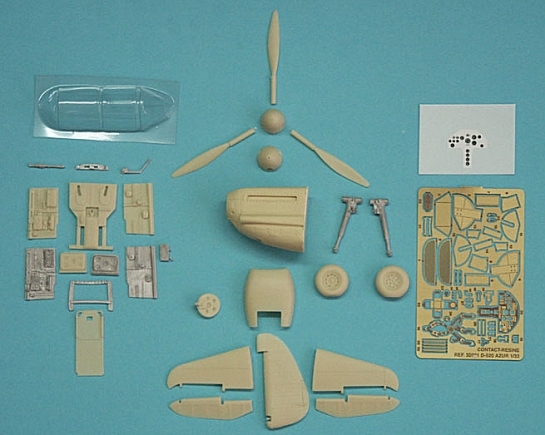 ...It is practically a full replacement for all but the wings and rear fuselage.
Exterior Parts
The Azur Dewo's detail is fine and well represented, and thoughtfully this set keeps the panel lines and rivet detail consistent. The centerpiece in the set is the heavy solid-cast nose replacement piece. This is very well cast from a gorgeous master with delicate detail that cannot be conveyed through these pictures. It is a truly great resin piece.
Installation of this item will require the modeler to get the big saw out! I imagine no one would disagree that chopping the nose off of a limited run 1/32 D.520 would be a little tough to do. But if you have this piece in your hands to replace the Azur nose, you won't even bat an eye.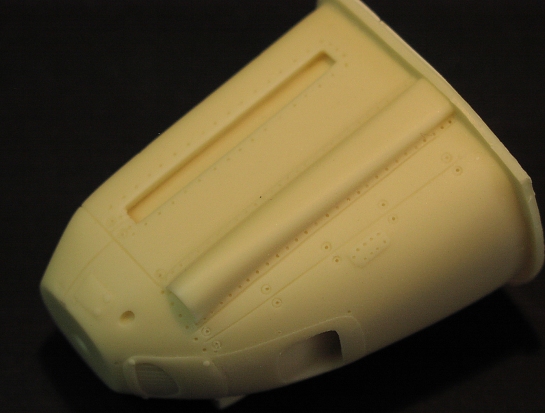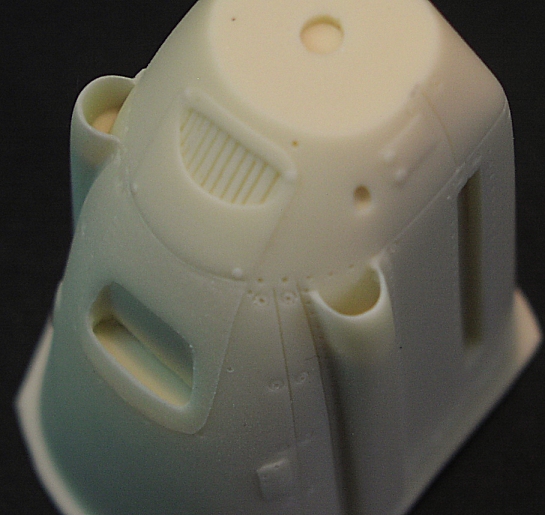 The Contact Resine nose replacement solves a couple of difficult issues with the Azur kit. One is that the chin scoop (shown well above) supplied with the Azur kit is a resin piece that needs to "straddle" the two fuselage halves when they mate. Not that this is a difficult operation, but the resin and plastic have vastly different hardnesses and at best smooth seams here would be difficult. Also, the Azur kit's "cheek" scoops are brutish and thick. Contact Resine's integrated cheek channels are far more delicate and well-done, eliminating assembly and offering higher detail.
Further exterior additions are the complete tail (minus the fin), propeller and hub(s), round fuselage access door, the main landing gear and wheels, and the prominent low-slung radiator scoop.
The tail parts are all very well cast and offer posable flying surfaces where the Azur kit does not. The fabric detail is well done and more convincing than the original. The radiator allows for a posable cooling door option, and with some scratch-building inside the fuselage, the unique round-shaped fuselage access door is offered to be posed open.
The white metal gear legs are sturdy and well cast replicas of the Dewo's "simple" legs.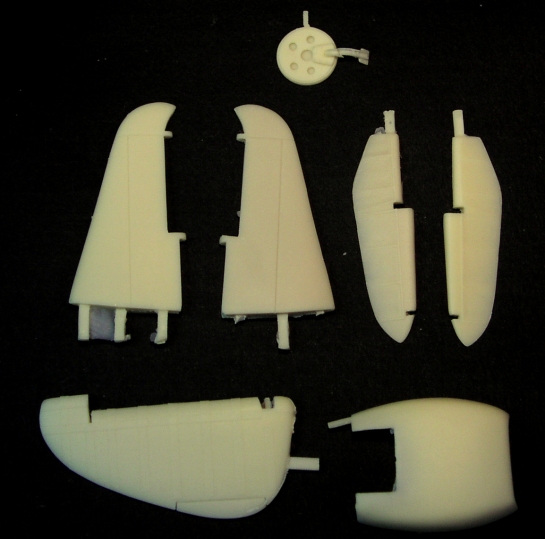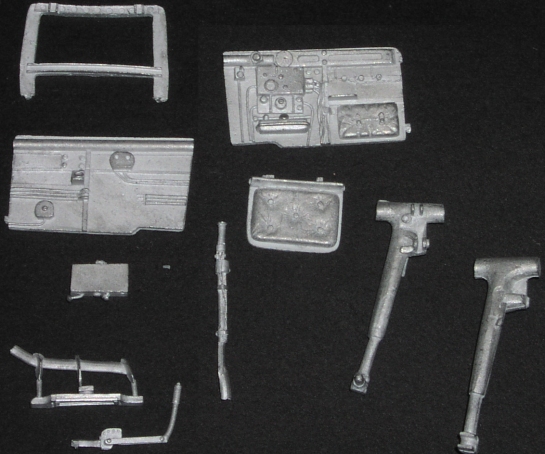 The well-formed vac canopy allows for cutting and posing much more readily than the thick Azur piece.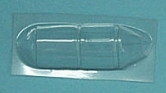 Interior Parts
If the nose plug is the centerpiece of the set, then the cockpit is the heart of it. Parts in resin, white metal, PE and decals for the floor, seat, sidewalls, pedals, gunsight, control stick, instrument panel and harness make the cockpit a real focus. A fascinating choice to offer cockpit walls, seat, and stick in both resin and white metal gives the modeler lots of choices. The white metal parts are very highly detailed and rival the resin ones. It'll be a tough call which to use on some parts, but ultimately a mixture of all types is needed to complete the cockpit.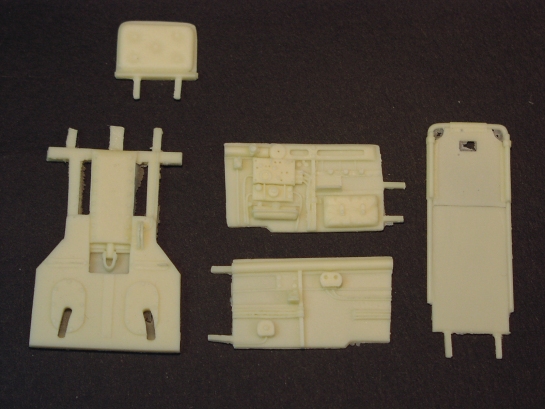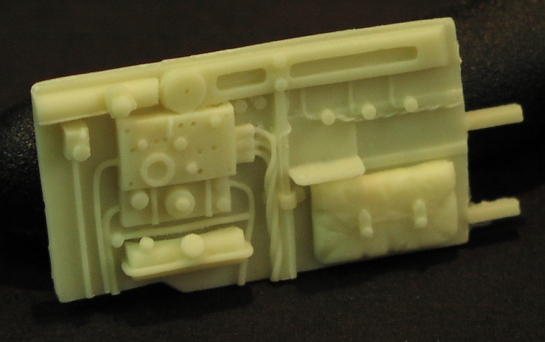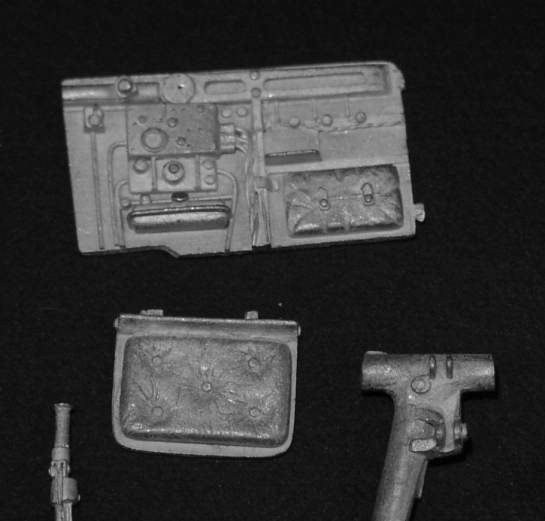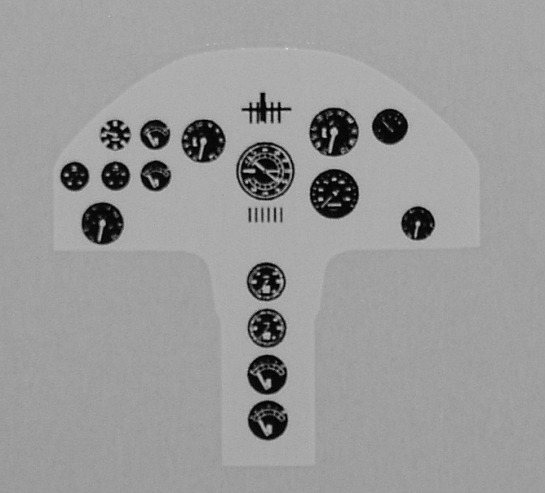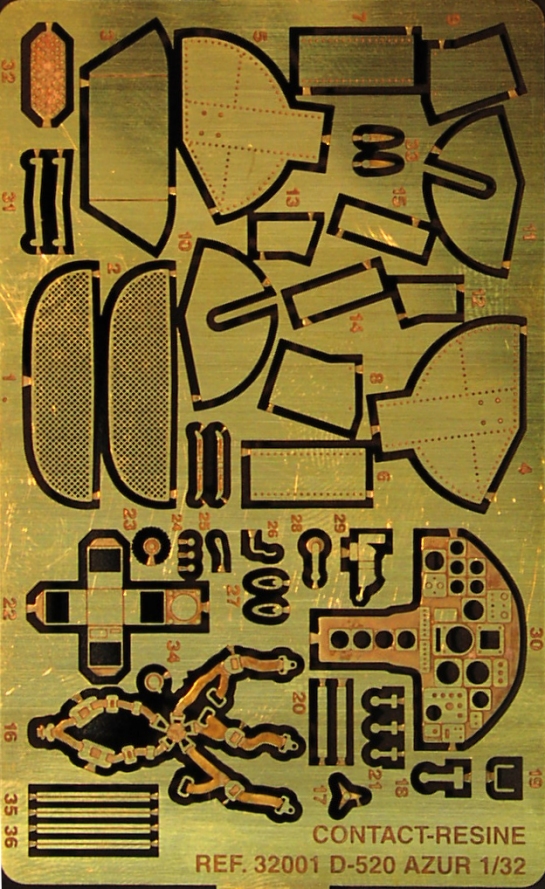 The PE fret is nicely done and offers a great set of gear door parts as well as a detailed (and accurate) harness and a cleverly engineered gunsight...and if there ever needed to be a cleverly engineered gunsight, this has to be the one...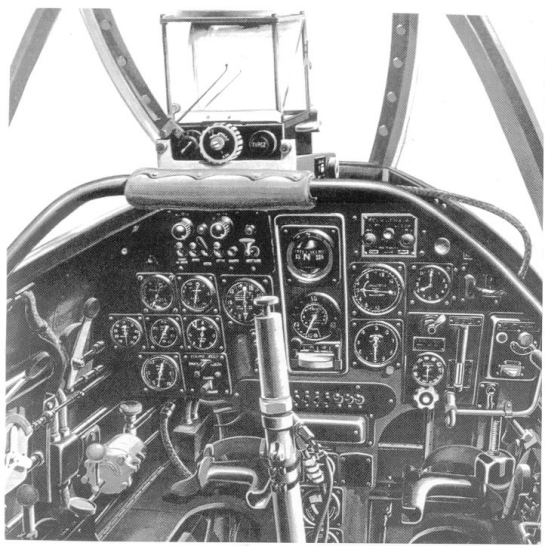 Conclusion
This set is high quality, well-detailed, and accurate. The use of multimedia is smart and well thought out, and the overall set leaves the feeling of opulence given that there is so much included. Most of the set is made up of direct replacement parts and a few items (like the nose) that will require you to perform some surgery, but nothing that looks remotely difficult. The instructions are in French, so be sure and contact your sister (didn't she take French in college?) when things get a bit blurry.
If you have the Azur Dewo, and you are not resin-shy, you should seriously consider the Contact Resine correction/detail set to bring this kit up to today's standards.
Thanks to Contact Resine for the review sample.
© Chris Sherland 2004
This product is available from the following LSP sponsors
This review was published on Saturday, July 02 2011; Last modified on Wednesday, May 18 2016