airscale | 1/32 Cockpit Instrument Bezels and Cockpit Details PE Sets
Reviewed by Kevin Futter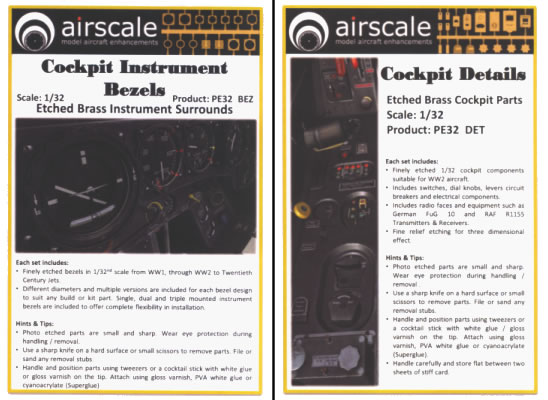 UK firm airscale (note that according to proprietor Peter Castle, the company name does not begin with a capital letter) has made quite a name for itself in recent years with an extensive and growing range of quality instrument decals and cockpit placard sets. This latest set of products deviates slightly from that now well-established path in that, while they're still intended for aircraft cockpits, they are in fact photo-etched detail sets, rather than decals.
Aircraft cockpits are Peter's passion, and this pair of photo-etched sets provides instrument bezels and cockpit detail parts respectively. Let's take a closer look.
PE32 BEZ: Cockpit Instrument Bezels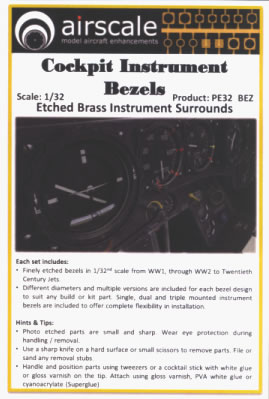 This set is subtitled "Etched Brass Instrument Surrounds", and this pretty well sums up what this set is all about. The fret features 9 rows of instrument surrounds of various shapes, sizes and designs. While I wouldn't dare to suggest that every conceivable type is covered, there should be more than enough here to produce a reasonably accurate and comprehensive instrument panel.
The set itself comes in airscale's now-familiar press-seal bag: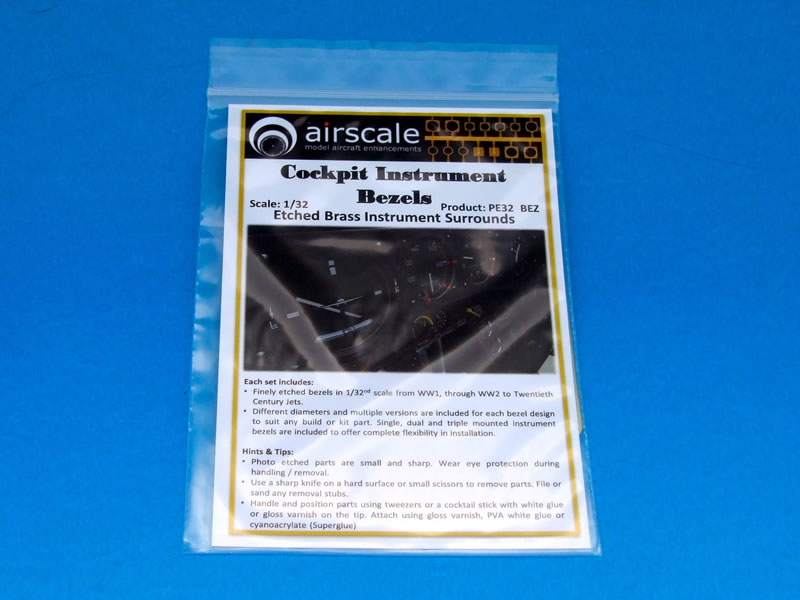 The supplied backing sheet is made from stiff card, rather than the usual folded sheet of paper as found in the decals sets, and should protect the etched fret against all but the most malicious handling. The rear of the card features a list of descriptions for the bezels themselves, and it's worth noting that they cover US, RAF and Luftwaffe instrument types from WW2, as well as German and Allied WW1 types. I'm sure many would work for early jets too.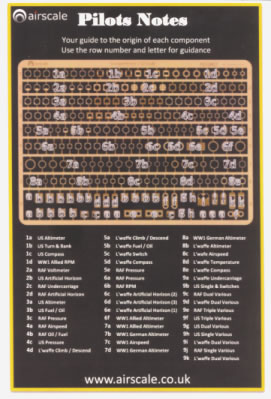 The photo-etched fret itself is extremely fine in detail and finesse, and many parts feature raised relief detail. Particularly useful are the very fine attachment points, which will make detaching the parts a reasonably straightforward exercise - something that's not always the case with photo-etched parts!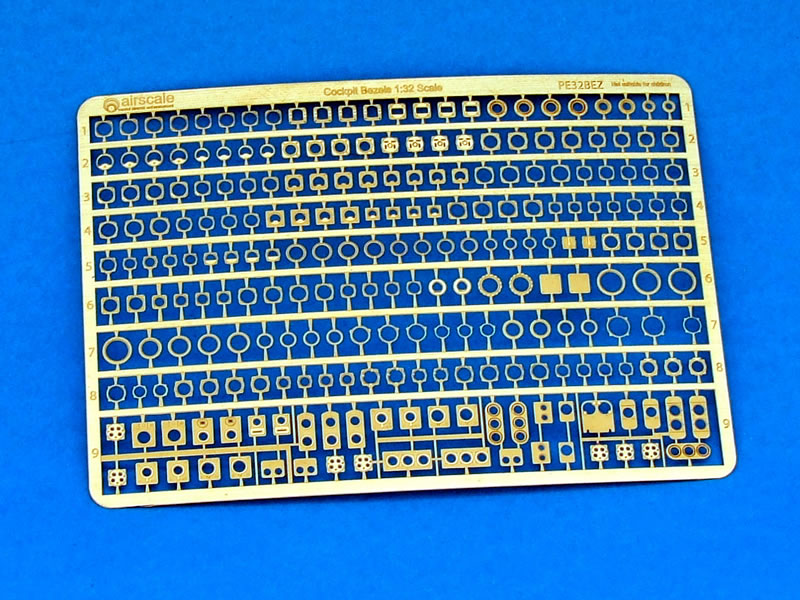 PE32 DET: Cockpit Details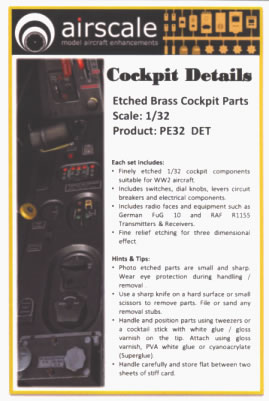 This set is also intended for 1/32 cockpits, and while not explicitly stated, the focus appears to be on WW2 aircraft. This time we have 7 rows of parts to enhance cockpits, such as levers, switches, dials, brackets, radio faces, control panels, and more. The packaging is similar to the Instrument Bezels set: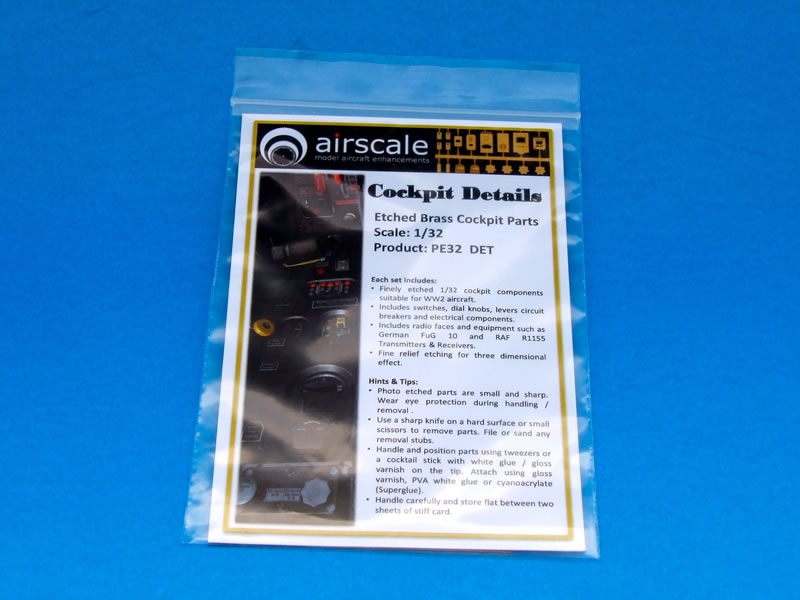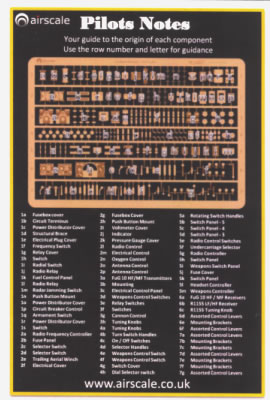 Once again the production quality is top-notch, and this set features the same fine detail and relief etching as the Instrument Bezels set.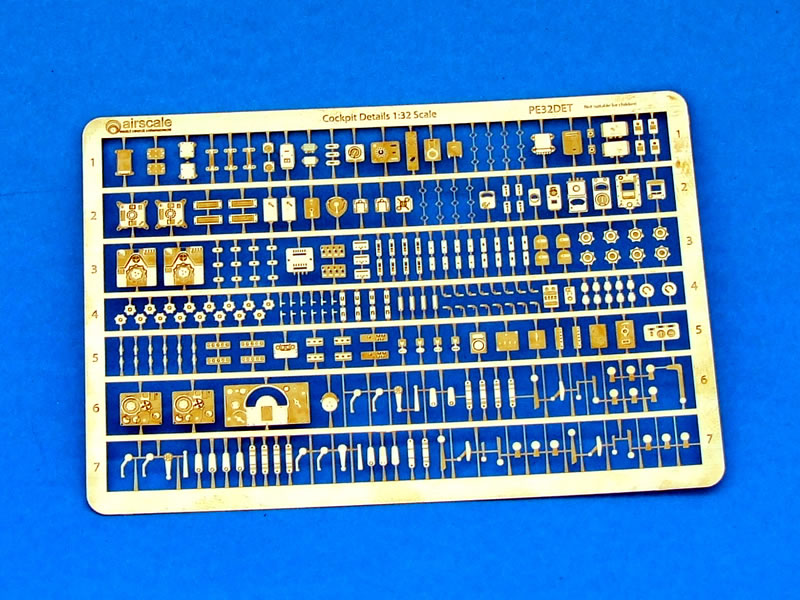 While it obviously can't feature every single useful part that a cockpit might have, this set will still go a long way to enhancing a plain-Jane kit cockpit, or supplying difficult-to-make parts for a scratch-build project. My only caution is that some of the parts a very small, and will be difficult to remove and apply to the model. But that's PE for you!
Conclusion
For those of us who like to enhance older kits or indulge in scratch-building projects, sets like these two from airscale are invaluable. They can be used generically for a bit of creative gizmology, or they can be deployed to accurately represent actual instrument and cockpit details where appropriate. Each part is finely rendered and difficult to reproduce to the level with traditional scratch-building methods - especially the instrument bezels.
In short, both sets are highly recommended, and when combined with airscale's instrument decals sets (which the bezels are designed to fit), should produce some terrific results. You can see them in action in Peter's own thread on the Hobbycraft Sea Fury in the forums.
This product is available from the following LSP sponsors

This review was published on Saturday, September 29 2012; Last modified on Wednesday, May 18 2016