Pheon Decals | 1/32 Albatros DV/DVa Decals Volumes 3 & 4
Reviewed by James Fahey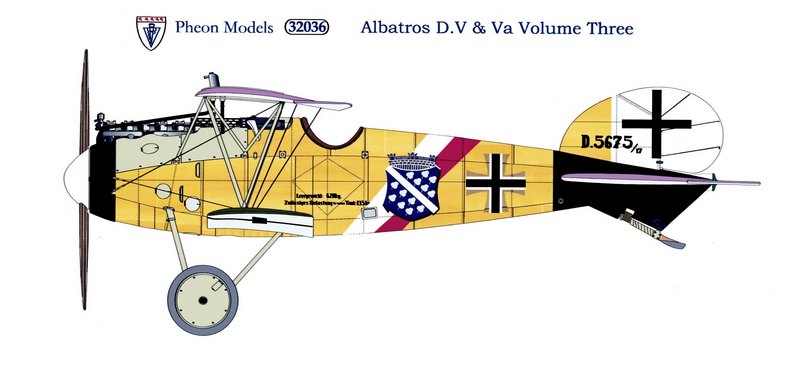 The release of two new Datafiles covering the Albatros DV/DVa has provided the historical images and inspiration for two more 1/32 decal sets from Pheon. These two sets are some of the best Pheon have produced in terms of the selection of interesting markings and I suspect will further increase the sale of Wingnut Wings Albatros kits. Some of the colours are noted as being conjectural, but this is a fairly normal situation for WWI modellers and Pheon set out the background to their choice of colours and quote references used in their research.
Each set features 10 different markings options. No national markings are provided as the Wingnut Wings decals are very well printed and accurate.
Albatros DV/DVA Volume 3 #32036 £12.75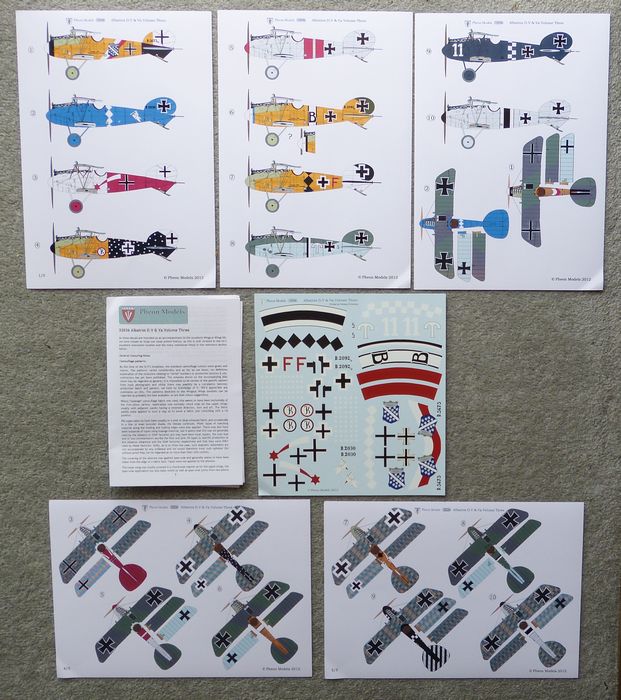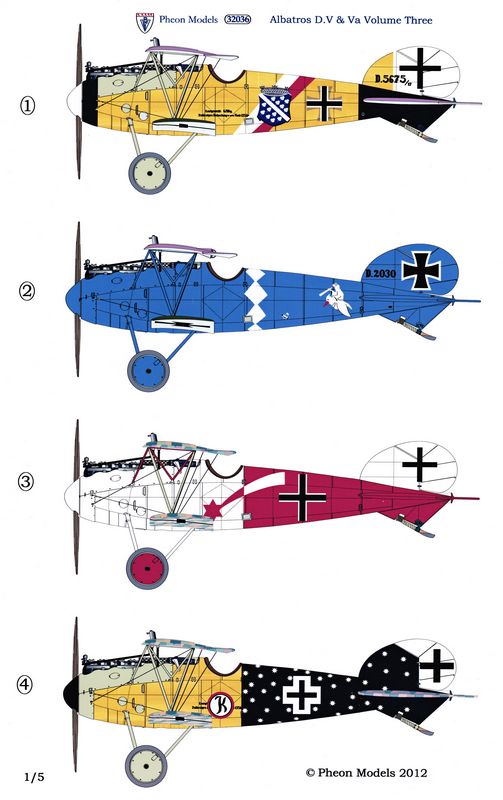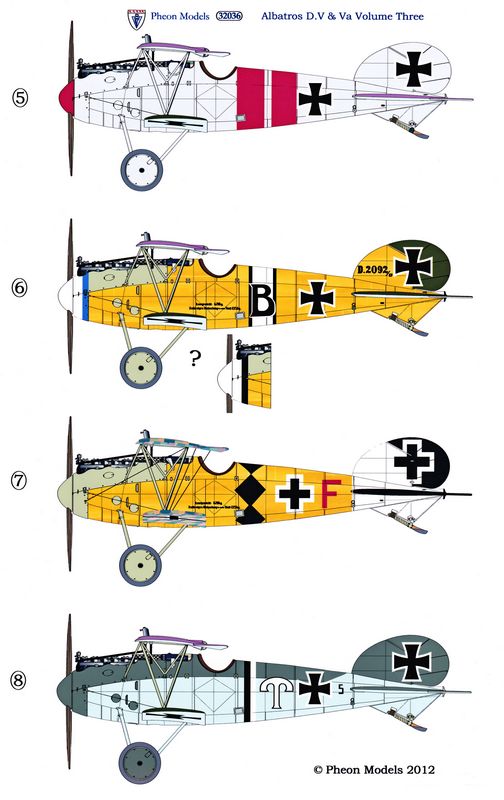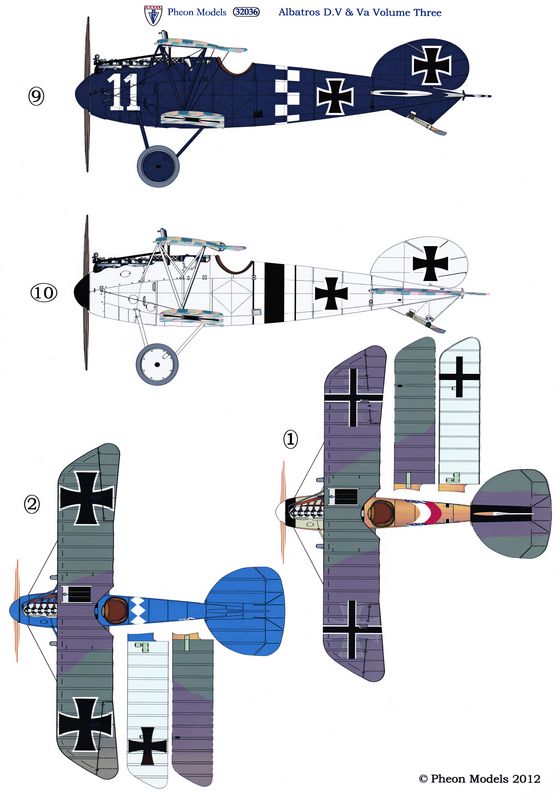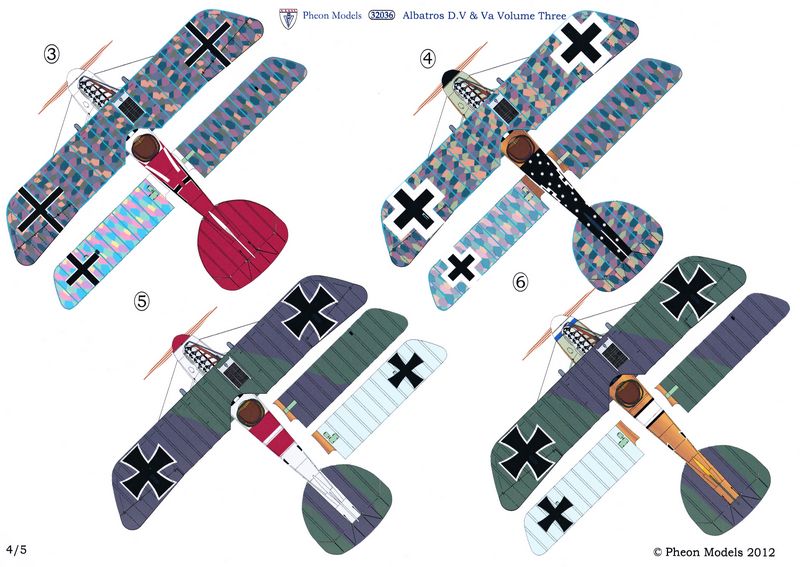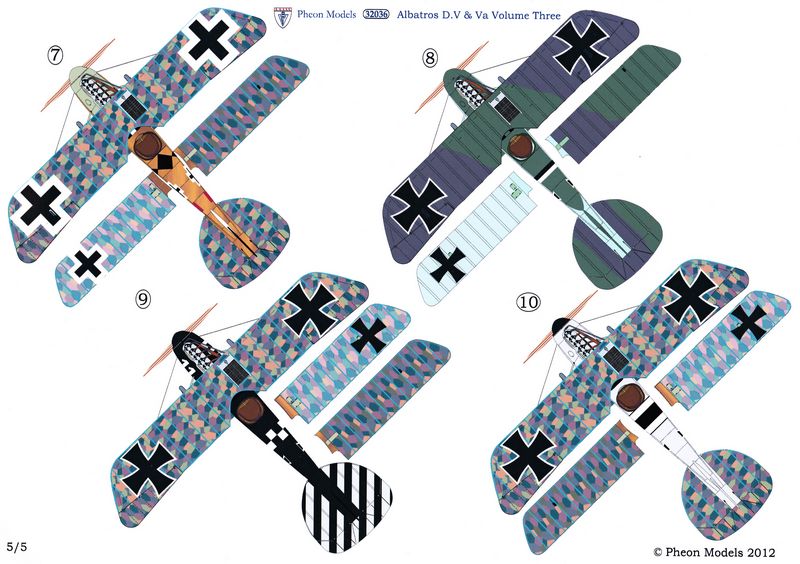 D.Va D5675/17, pilot unknown, Jasta 58 (coat of arms is of the city of Cassell
D.V 2030/17, Ltn Alfred Lenz, Jasta 21
D.Va pilot & unit unknown. Taken from the cover of issue 31 of the German magazine Das Propellerblatt
D.Va serial unknown, Vfw Karl Kallmunzer, Jasta 78b. Alternative markings are provided for the 'K' badge with either red or black surrounds.
D.V serial unknown, Ltn Robert Greim, Jasta 34b
D.V D2092/17 Ltn Walter Boning, Jasta 19
D.Va serial unknown, Ltn Alfred Fleischer, Jasta 17
D.V D2016/17, Ltn Karl Thom, Jasta 21s
D.Va Ltn Gerhard Schreiber, Jasta 37. Note the black stripes are not provided as decals. This is either a straightforward masking job or you use the decals from Wingnut Wings Albatros D.V kit or the stripe decals from Wingnut Wings 'Black Beauties' decal set #30017.
D.V Vzfw Max Kahlow Jasta 34b
Volume 4 #32037 £12.75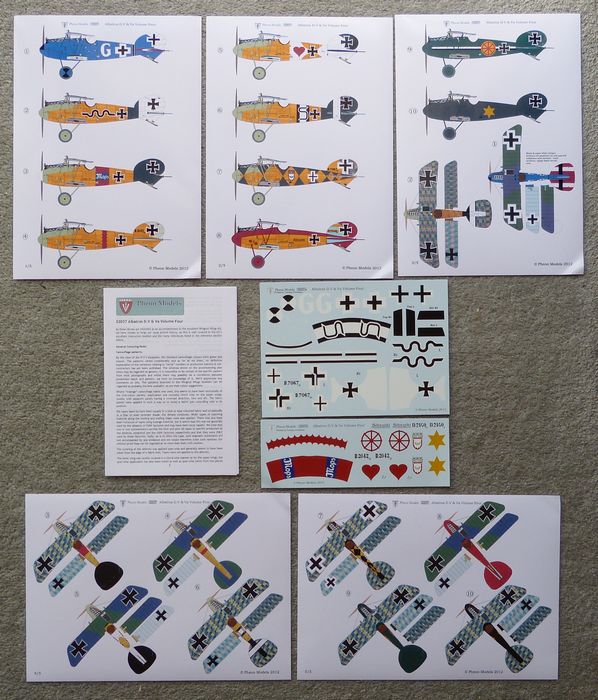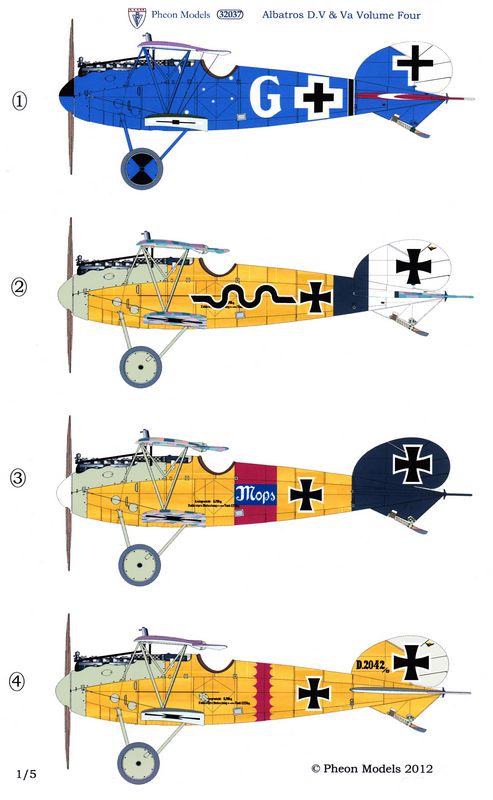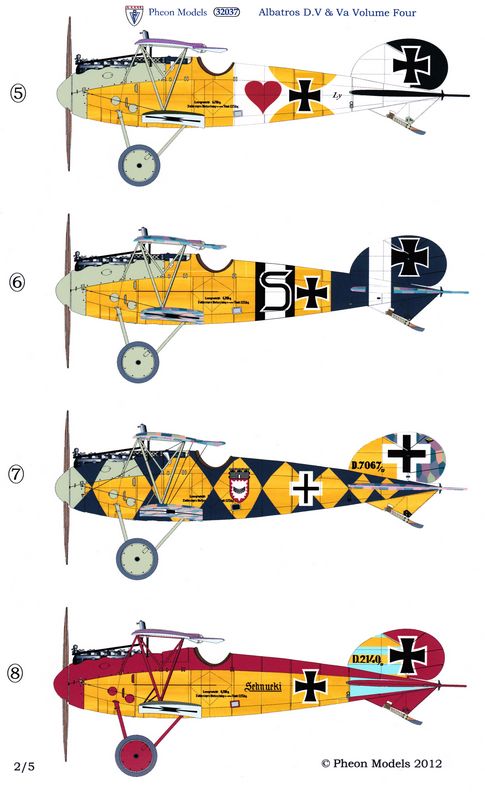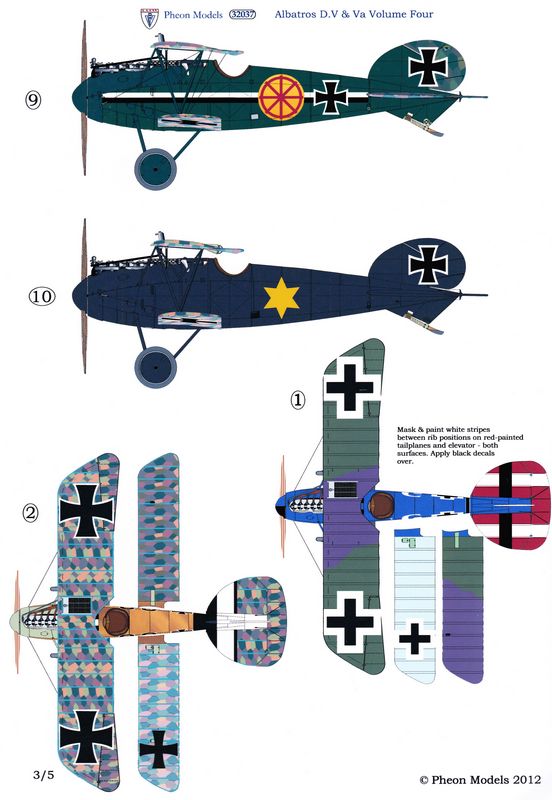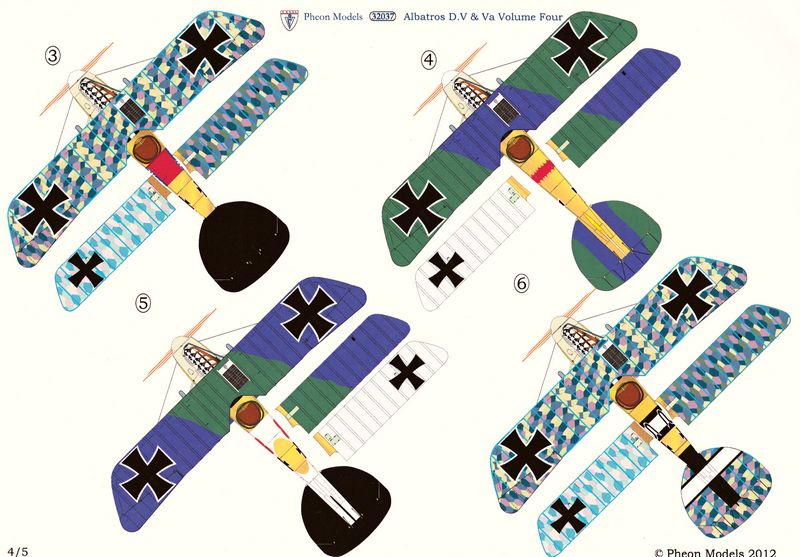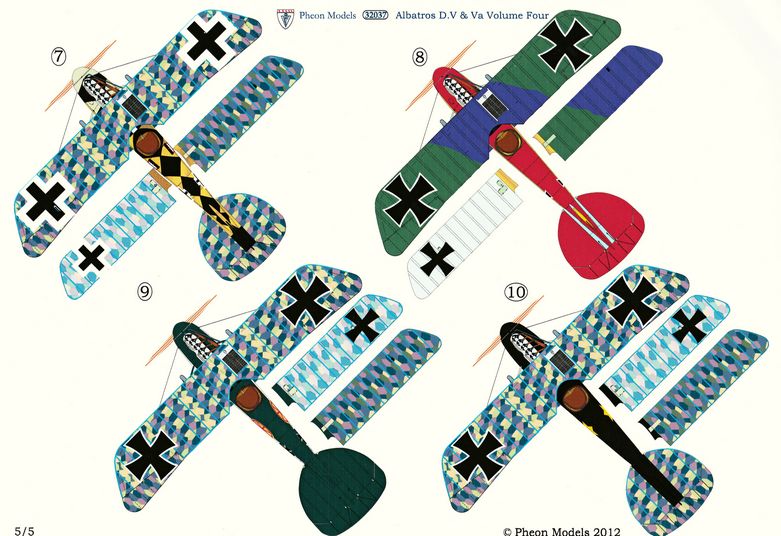 D.Va Uffz. George Gerik, Jasta 75
D.V D4432/17 Pilot unknown, Jasta 23b
D.V serial unknown, Ltn Julius Buckler, Jasta 17
D.V D2042/17 Vfw. Albert Hausmann, Jasta 15
D.V 4408/17 Vfw Georg Strasser, Jasta 17
D.V serial unknown Ltn Heinrich Seywald, Jasta 23b
D.Va serial unknown Ltn Hermann Leptien. Note the black diamonds are not provided as decals due to the complexity of the compound curves and different surfaces around the nose. This should be a reasonably straightforward masking job. Rowan added this option to the sheet at my suggestion and the instruction booklet notes "This one's for you James . . . you have to build it now!". Ball is in my court now ;)
D.V D2140/17 Oblt Guido Scheffer, FEA 6
D.Va Oblt. Hassi von Weddel, Jasta 14
D.V serial unknown Oberflugmeister Kurt Schonfelder, Jasta 7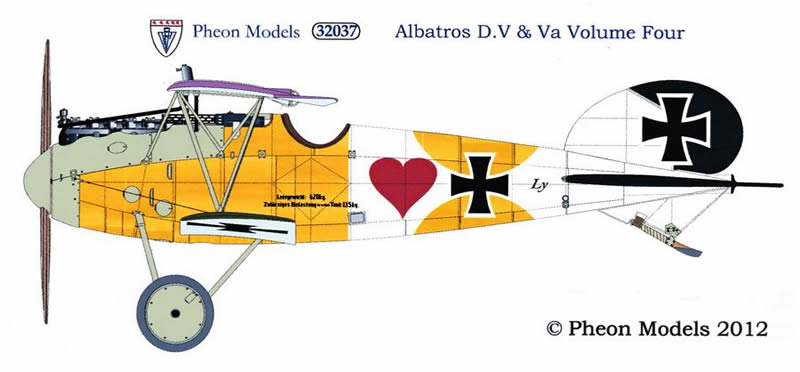 Positives
Lots of colourful, interesting options, 10 in each set. Mix of mauve/green and lozenge camouflage schemes, varnished ply vs painted fuselages and various cross styles.
Reputable manufacturer (Fantasy Printshop in the UK) and excellent decal quality. All coloured decals are backed with a white undercoat to ensure the colour is retained over a dark fuselage.
Well Researched.
Attractive high quality colour artwork and decal placement guides.
Negatives
There is nothing of any consequence on the negative side. The instruction booklets are somewhat abbreviated due to the decals being rushed out in time for release at Telford's Scale Model World 2012. Pheon have promised to provide a more complete booklet to modellers who purchased the set and left their address details with Pheon at the show.
Post & Packing Costs
£3.60 to the UK & Europe, £4.95 to the rest of the world.
Payment
Is by Paypal only.
Stockists
Available only direct from Pheon Models by email: pheon.models@hotmail.co.uk.
Conclusion
This is what after-market decals are all about and Pheon have really delivered. Very motivational (which has got to be a good thing!).
Pheon intend to duplicate the sets in 1/48 and 1/72 scales in the near future.
Thanks to Pheon Models for providing samples for this review.
This review was published on Saturday, December 15 2012; Last modified on Saturday, August 12 2017