Pheon Decals | Captured! #32040 Volume One
Reviewed by James Fahey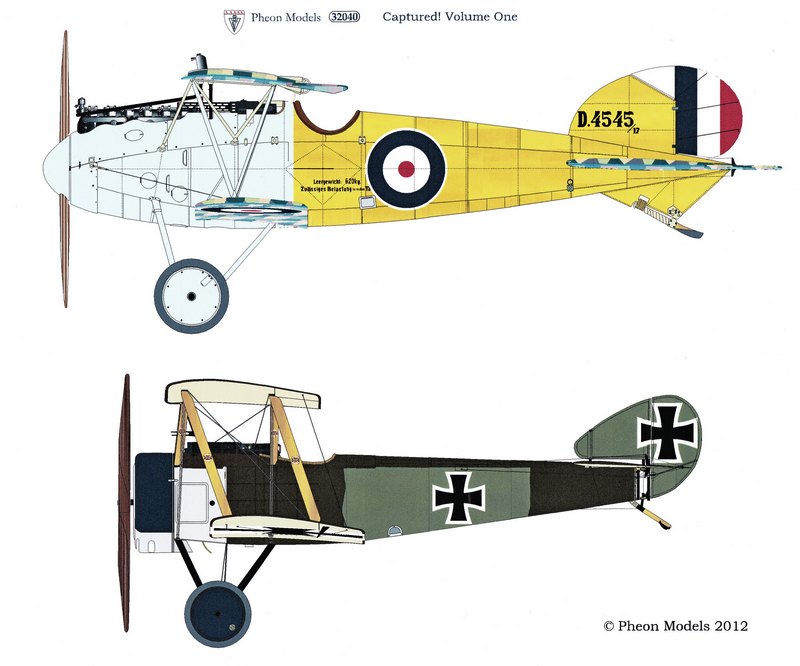 This set is a departure from Pheon's normal practice of providing maximum choice of a particular subject, and instead includes individual markings for only one or two specialty subjects. Pheon have always encouraged modellers to send in suggestions for decal subjects and this set is largely the result of 'gentle chivvying' from Canadian Gary Barling.
Captured aircraft is a niche subject that has had long appeal for modellers as favourite subjects get decked out in the opposition's insignia, making for quite an eye-catching contrast to the normal finishes.
This set is intended for the 1/32 scale Wingnut Wings kits of the Albatros D.V and Sopwith Pup.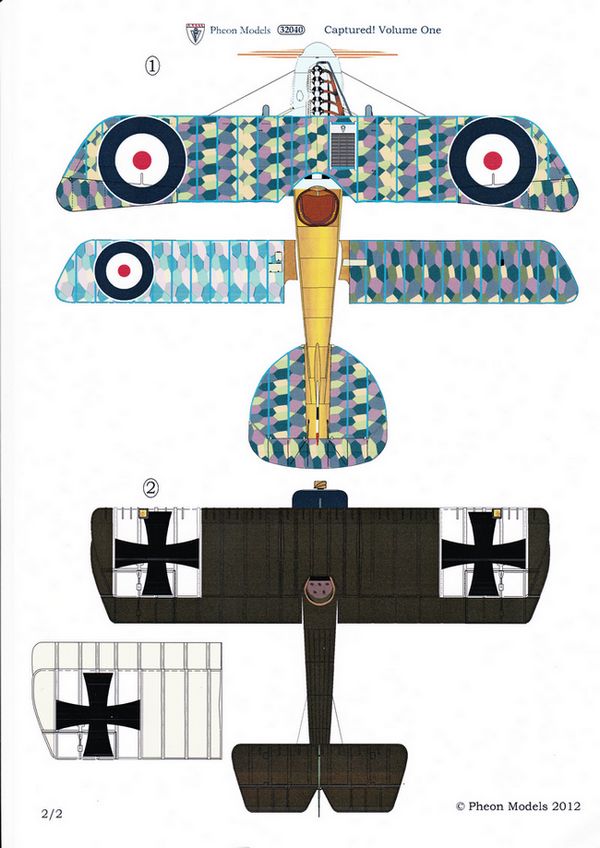 Albatros D.V 4545/17 came into British possession on 14[sup]th[/sup] November 1917 as a consequence of AA fire (which must have been relatively light as there is little damage evident). The best reference for this aircraft is four photographs published recently in Albatros Productions' Datafile 151 'Albatros D.V/D.Va at War Volume 1' by Colin Owers.
Wingnut Wings have published five photos on their website and these are well worth checking out, especially to see the extent of weathering, wear and tear, etc:
Although the aircraft is a D.V it has the reinforced interplane struts normally associated with the D.Va. It was fitted with a Wolff propeller. Pheon have got the distinctive font of the aircraft serial number exactly right. Cockades are printed with separate red centres to avoid any registration problems and the rudder stripes have cutouts for the rudder hinges.
Pheon discusses various interpretations for the fuselage colours in the instruction booklet, an issue common to WWI modelling.
The second subject of the set is Sopwith Pup B1721 of 54 Squadron, flown by Lt. 'Fred' Kantel. It was brought down relatively intact on 30th May 1917 while escorting FE2s on a bombing raid after having been in service for less than a month. The victory was claimed by Vzfw. Karl Holler of Jasta 6. Reference information is from Cross and Cockade International's Vol 43/1 Spring 2012. Again, the Pheon instruction booklet includes a discussion of colours and finishes. The underwing crosses have separate sections for the ailerons.
As usual, Pheon include full colour decal placement guides printed on glossy white card. The decals are printed by well-known UK firm Fantasy Printshop and have perfect register and minimal clear surround.
Availability: only direct from Pheon Models by email to pheon.models@hotmail.co.uk.
Payment is by Paypal.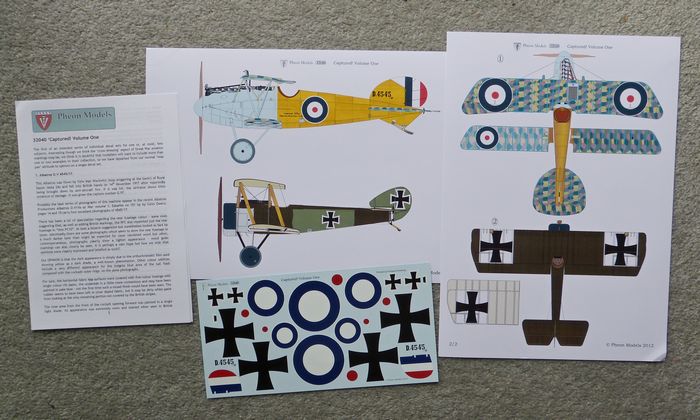 Conclusion
This release offers two distinctly different markings options for these two popular Wingnut Wings kits. As we have come to expect from Pheon this set is well researched and documented; a quality production overall. Incidentally the decal set is also available in 1/48 scale and 1/72 scale.
Thanks to Pheon Models for providing the decals for this review.
This review was published on Sunday, December 30 2012; Last modified on Wednesday, February 07 2018