Pheon Decals | #32041 Christiansen's Hansa Brandenburg W.29
Reviewed by James Fahey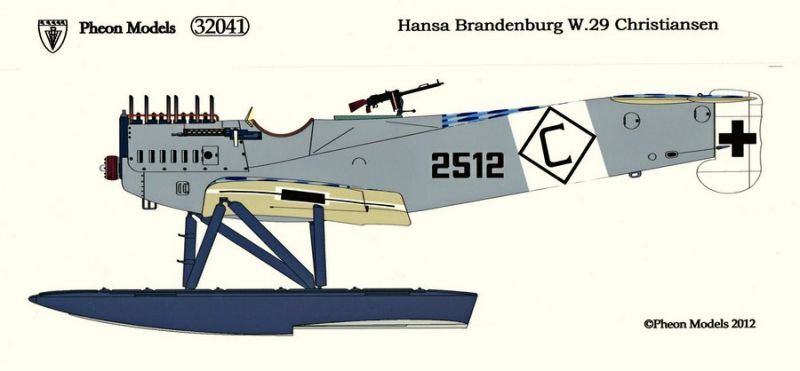 This set was produced in response to requests from modellers wanting to complete their Wingnut Wings W.29 in the markings of the most famous German naval ace, Friedrich Christiansen. Christiansen commanded the Naval Air Station at Zeebrugge, was awarded the prized Pour le Merite (the first of only three given to naval aviators and the only one to a seaplane pilot), was promoted to Kapitanleutnant in 1918 and finished the war with a total victory tally ranging from 13 to 21 (depending on sources). Under his leadership the Zeebrugge seaplane unit aggressively challenged the RNAS and Royal Navy over the English Channel.
After the war he captained the massive Dornier Do.X flying boat on its maiden flight across the Atlantic.
While his exploits during WWI brought him fame, Christiansen's activities during WWII are more controversial. His conduct as Military Governor of the Netherlands caused him to be convicted as a war criminal in 1948 and sentenced to 12 years imprisonment (of which he served approximately 4 years in prison).
This is a small decal sheet with individual markings for W.29 2512 and additional serial numbers in the Imperial Navy style sized for the W.29 so that any other W.29 serial can be produced.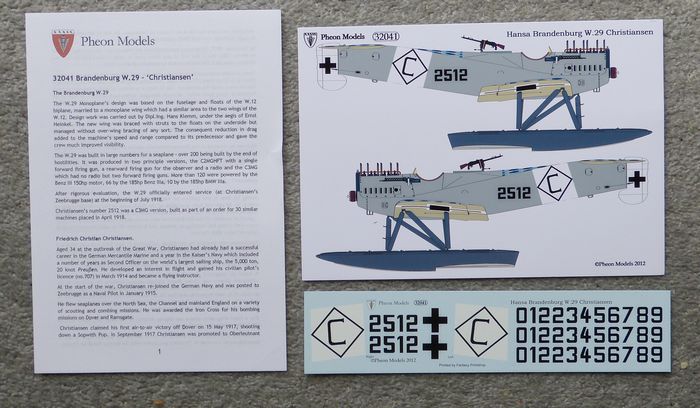 2512 was a C3MG version of the W.29 i.e. equipped with two forward firing guns and no radio, which is one the two main types of W.29 and also one of the kit options. National markings for the wings should be used from the kit. Although the decal instructions do not state which ones are correct for 2512, it appears to match Option C.
Sadly the kit is no longer available from Wingnut Wings, having sold out a few months ago.
As usual, Pheon include a full colour decal placement guide printed on glossy white card. On the review set, the colour of the floats has been printed as a dark blue whereas the Wingnut Wings instructions show them as black. The decals are printed by well-known UK firm Fantasy Printshop and have perfect register and minimal clear surround.
[b]Availability[/b]: only direct from Pheon Models by email to [email="pheon.models@hotmail.co.uk"]pheon.models@hotmail.co.uk[/email].
Payment is by Paypal.
Conclusion
This release allows modellers to build the most famous W.29 of all, omitted somewhat surprisingly from the Wingnut Wings kit. It is a modest set (reflected in the price), but up to Pheon's usual standards of excellence.
Thanks to Pheon Models for providing the decals for this review.
Postscript
Friedrich Christiansen's full dress naval uniform is on display at the Heritage Aviation Centre museum at Omaka, Blenheim, New Zealand.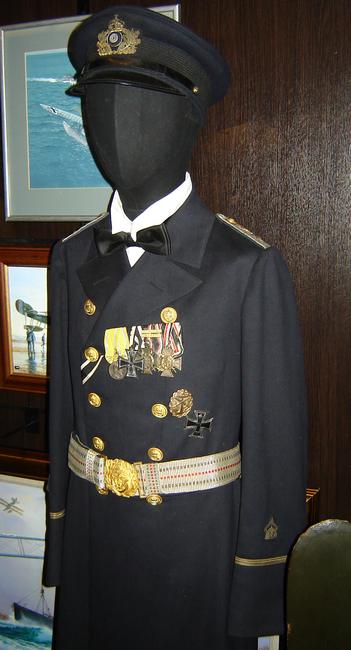 This review was published on Sunday, December 30 2012; Last modified on Wednesday, February 07 2018