Pheon Decals | #32028 Decals for the Wingnut Wings Gotha
Reviewed by James Fahey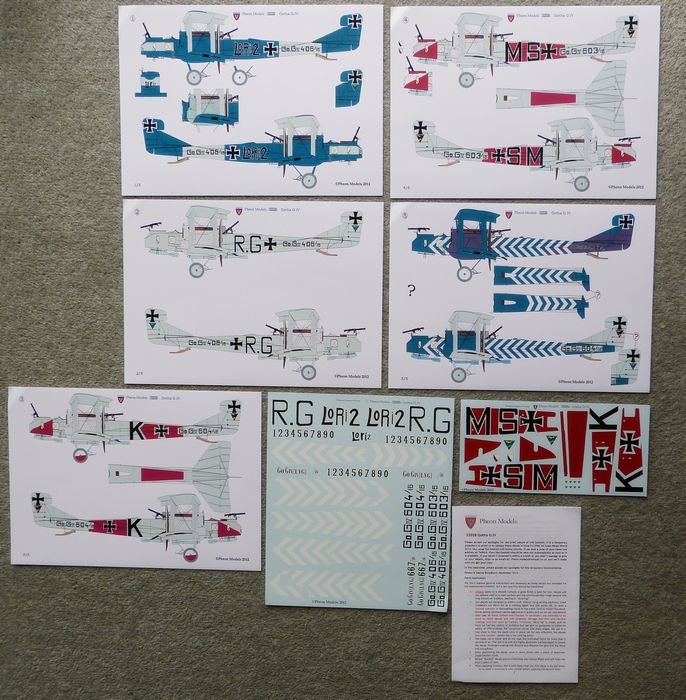 The Wingnut Wings Gotha G.IV kit is a very imposing model, everything about it is BIG. For those modellers who could not resist adding it to their stash, here is an after market decal set which gives some interesting and different options for finishing the model.
Pheon provide decals for five aircraft:
1. G.IV "Lori 2"[/b] Flown by Ltn. Kurt Kuppers and Oblt. Fritz Lorenz, Staffel 16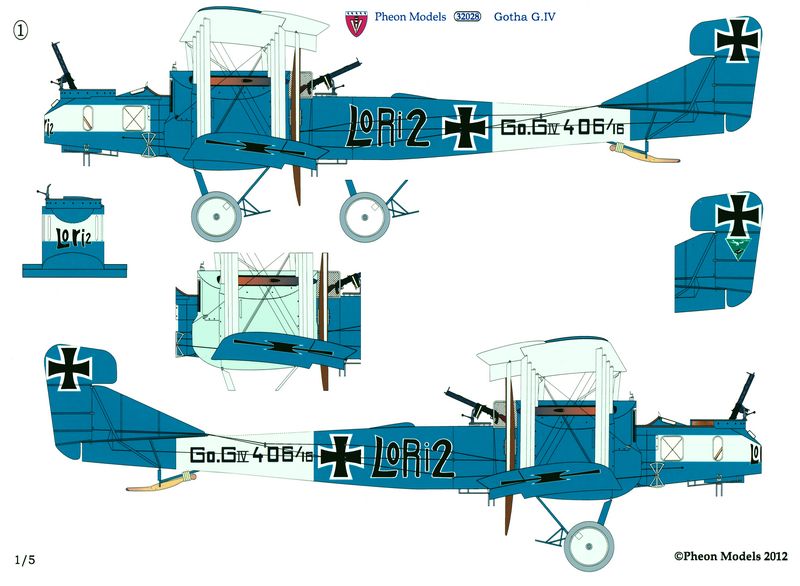 This aircraft will probably be familiar to modellers who have read about the German bombing raids on the UK. There is a well known photo of the aircraft, damaged after a bombing raid on their aerodrome by the British. A colour profile is included in the Albatros Datafile Special "Gotha!", but Pheon's interpretation of the markings differs, based on information from Richard Alexander of Wingnut Wings.
2. G.IV "R.G."[/b] 406/16 Pilot Ltn.Radke, aircraft commander Ltn. Adolph Genth, gunner Vzfw Gaede.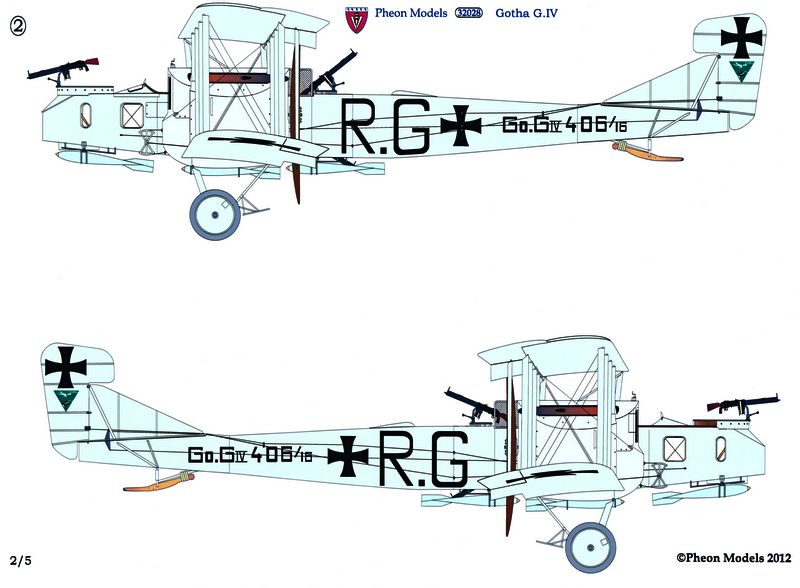 This aircraft appears on the cover of Neil Hansen's excellent book "First Blitz" (which is worth reading if you have an interest in the Gotha raids). 'RG' is an abbreviation for the names of the pilot (R for Radke) and commander/observer/frontgunner/navigator (G for Genth).
Adolf Genth's grandson, Thomas, has a wonderful website devoted to his father (who flew in the Luftwaffe in WWII) and his grandfather, Adolph who commandeered this aircraft. It is well worth a look.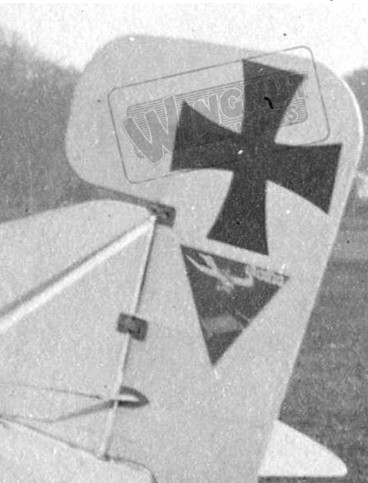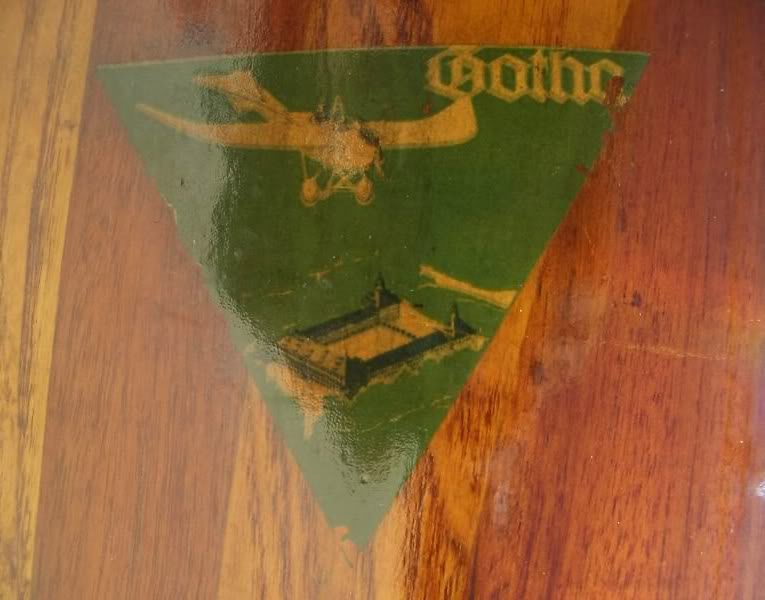 Pheon have provided the triangular Gotha trademark in [i]green[/i] and instead of a blob/island shape, shown it correctly as a castle, a nice bit of research, well done! The green version of the Gotha trademark is clearly visible in photographs of 'RG' on the Wingnut Wings website (see above).
3. G.IV 604/16 'K'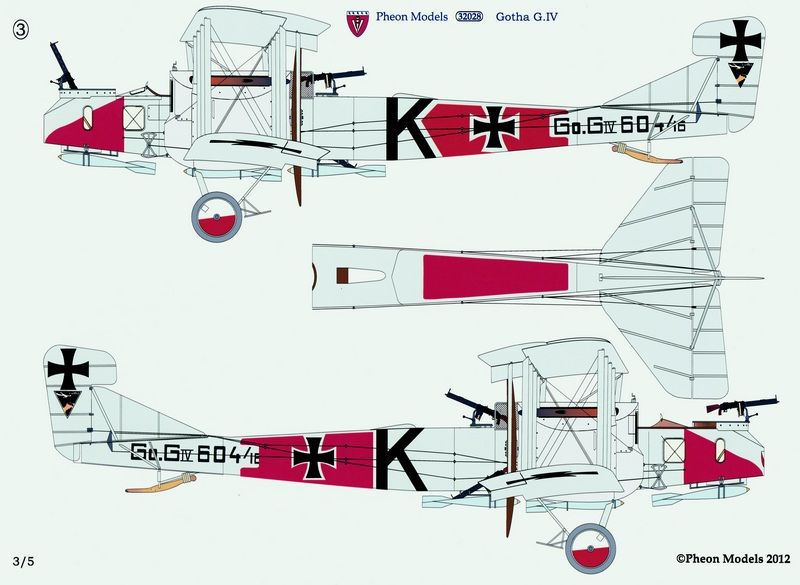 'K' is one of the three section leaders' aircraft which took part in the initial raids on London, all denoted by the red panels on the fuselages, similar to those worn by the swastika-marked machine from the WNW kit. The red painted sections of the decals have cut-outs in the carrier film for the control cable attachments to ease application of the decals.
4. G.IV 603/16 'MS'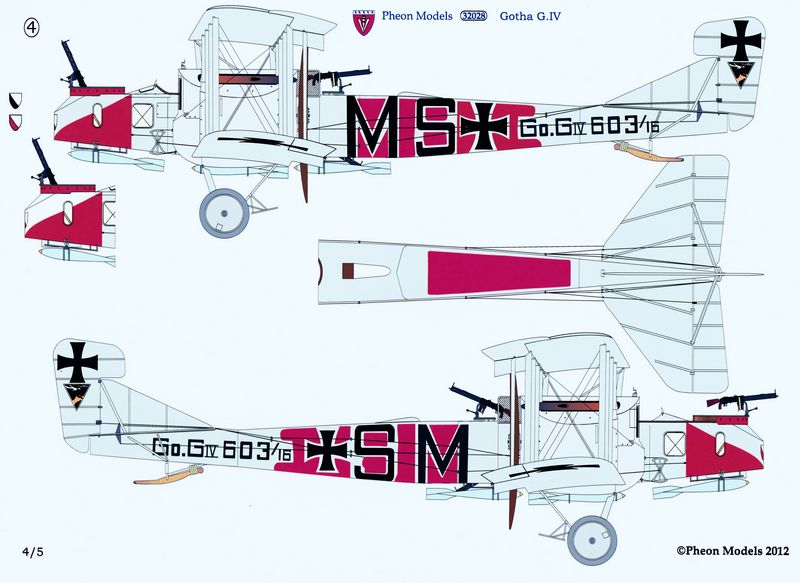 'MS' is the third section leader's machine from the 13th June 1917 raid on London. The shield marking on the nose is provided in red and black options.
5. G.IV serial unknown. 'Herringbone' markings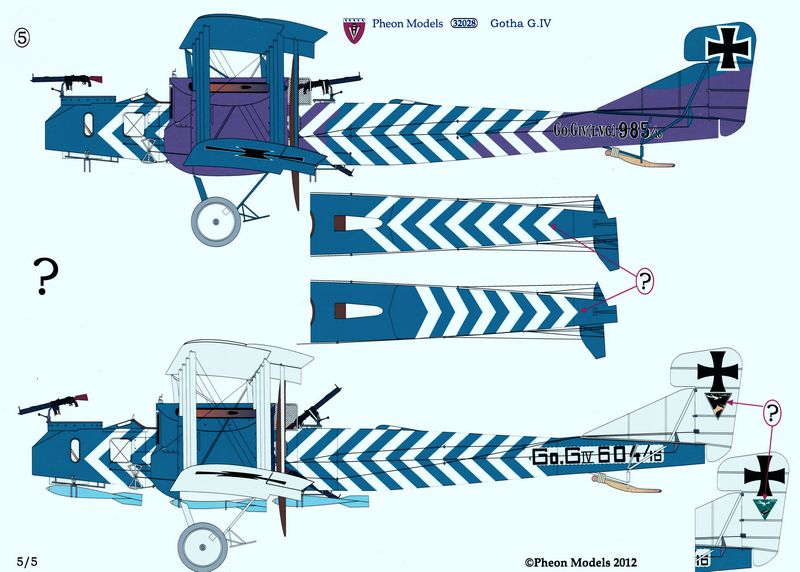 Even though the overall colours are not known with any certainty, this spectacularly marked Gotha will undoubtedly appeal to modellers. The only reference is a single indistinct and poor-quality photograph in the Albatros Datafile Special on page 21. Pheon have illustrated two possible finishes - one in LVG colours and the other in a similar scheme to Lori2, but they acknowledge that other possibilities exist.
Without photo evidence it is unclear how the herringbone markings would have extended over the top and bottom of the fuselage. Pheon offer two decal options for this on the top surface, and note that the gun tunnel would probably have made application of chevron markings impossible underneath.
Contents
Two sheets of decals, printed by Fantasy Printshop in the UK. There are five pages of colour decal placement guides printed on glossy white card.
The instruction booklets are somewhat abbreviated due to the decals being rushed out in time for release at Telford's Scale Model World 2012. Pheon have promised to provide a more complete booklet to modellers who purchased the set and left their address details with Pheon at the show.
The set comes robustly packed with stiffening card in a bubble envelope.
Availablility: only direct from Pheon Models by email: Pheon.Models@hotmail.co.uk
Payment: by Paypal.
Conclusion
Although not inexpensive, this set offers Gotha modellers some very distinctive options to set their model apart from OOB builds. Once again a well-researched offering from Pheon, highly recommended.
Thanks to Pheon Models for providing the decals for this review.
This review was published on Sunday, December 30 2012; Last modified on Wednesday, February 07 2018