Pheon Decals | Decals for the Wingnut Wings RE8
Reviewed by James Fahey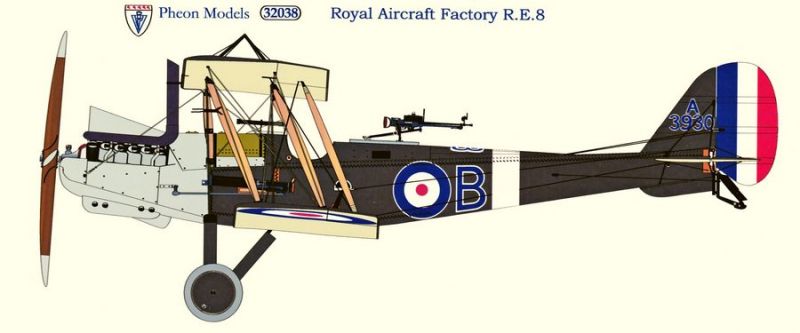 RFC/RAF topics are hard work for an after-market decal manufacturer, compared to other WWI combatants, due to the general lack of personalised markings. One PC10 coloured aircraft looks much like another, right? Within the historical constraints Pheon Models have produced some interesting and relatively colourful options with the release of this set.
#32038 has markings for 11 operational machines and one allocated to RFC HQ in France for ferrying the top brass around: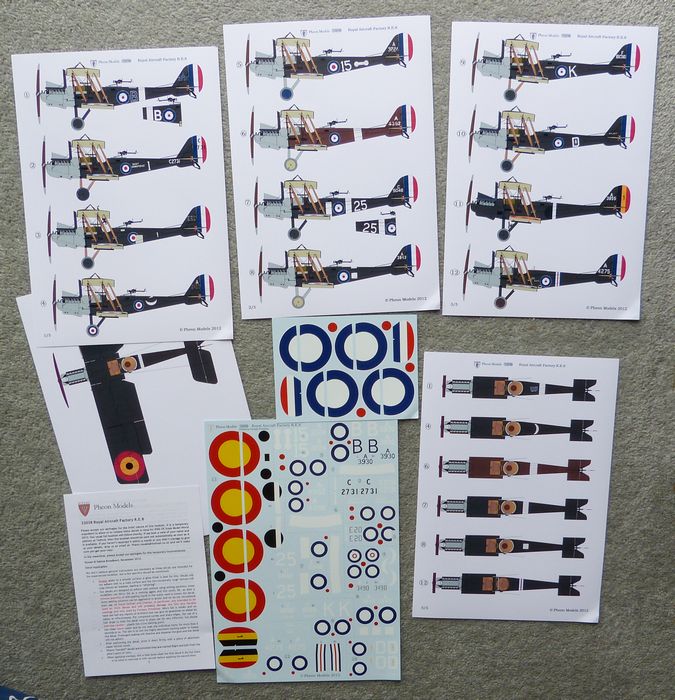 A3930, "B" 9 Sqn
The Vintage Aviator Ltd finished their RE8 that was built for the RAF Museum in these markings, with a white 'B'. in his book 'British Aviation Squadron Markings of WWI' Les Rogers had the B in blue with white edging. Pheon have provided both options.
C2731, "East Grinstead" 5 Sqn
Twin Lewis guns for the observer. East Grinstead is a small town in East Sussex
E20, 4 Sqn
Has an additional Lewis gun fitted on a modified Foster mount above the wing centre section
A3490, 53 Sqn
Has roundels painted on the wheel covers. A crashed RE8 from 59 Squadron features in the WNW instruction booklet.
A3224, '15' 21 Sqn With dumbbell markings
A4352, 30 Sqn, Mesopotamia 1918
The inclusion of a Middle East based aircraft allows modellers the license to finish the model in PC12 (chocolate brown) instead of the ubiquitous PC10 (yay!). Alternatively it may have the later AMDPT finish which had a more reddish brown colour
C5048, 16 Sqn
Pheon notes in its instruction booklet that a third '25' marking for the top fuselage decking was omitted in error. An additional decal is to be printed and distributed at no cost as soon as can be arranged.
A3843, 42 Sqn
This RE8 had the glazed centre section (provided in the kit for option B, but painted over)
F6016, "Marjorie" 3 Sqn Australian Flying Corp
http://www.adf-galle..._8_Serial_F6016
A4397, 3 Sqn Australian Flying Corp
The Vintage Aviator Ltd finished their first (non-flying) RE8 replica in these markings, which is on display at the Heritage Aviation Centre museum at Omaka, Blenheim, NZ. A.4397 took the record for British Forces as the hardest-working combat aircraft on the Western Front, accumulating 440 hours of service flying and completing 147 flights across the line. It was flown mainly by Captain R. G. Francis. The Kewpie Doll marking inside the aircraft identification letter D (for Doll) is nicely reproduced by Pheon. Further online links for this aircraft:
http://www.3squadron...ubpages/RE8.htm
http://www.adf-galle..._lines_440hrs_3

At the request of the Australian Government, A.4397 was shipped to Australia after the war, but unfortunately was destroyed in an accidental fire outside the Exhibition Building, Melbourne (where part of the AWM's collection had been temporarily displayed) in 1925.
A3855, Aviation Militaire Belge
The inclusion of a Begian aircraft certainly offers modellers a distinctive option with its black/yellow/red national markings.
A4275, RFC HQ Liaison machine
Some modifications to the kit will be necessary to represent this aircraft. It has a large windshield fitted for passenger, the Scarf ring and gun replaced by leather padding and additional foot step on lower longeron. Pheon speculates other internal modifications may also have been made such as a wicker seat for the top brass bloke.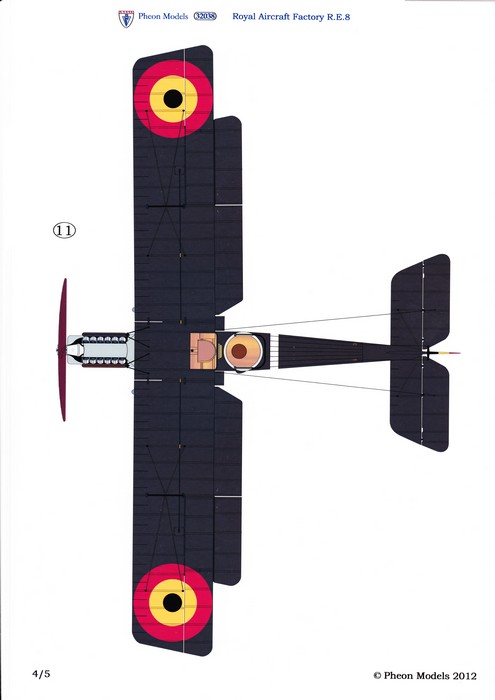 Centres for the roundels are printed separately to avoid register issues. Rudder stripes and wing roundels are included, presumably to ensure the blue on the fuselage roundels matches the wings (rather than using the kit's roundels for the wings).
As with other recent Pheon releases, the instruction booklet is somewhat abbreviated due to the decals being rushed out in time for release at Telford's Scale Model World 2012. Pheon have promised to provide a more complete booklet to modellers who purchased the set and left their address details with Pheon at the show.
There are five pages of artwork/decal placement guides printed on glossy A4 sized white card.
The decals are printed by Fantasy Printshop in the UK who have an excellent reputation for quality.
Positives
Eleven markings options to choose from, including some with significant history, some non-RFC/RAF markings and non-PC10 finishes
Excellent colour artwork/decal placement guides
Robust packing (stiffening card, bubble pack)
Thoroughly researched
Things that could be improved
Nothing of any significance. More complete instruction booklets will be produced soon.
Conclusion
Within the constraints of historical RFC/RAF marking practice, Pheon has produced a decal set with a wide selection of options, some with interesting and colourful markings. Modellers will now be able to complete their RE8 models in something different to the kit options.
Available only direct from Pheon Models by email to: pheon.models@hotmail.co.uk.
Post & packing: £3.60 to the UK & Europe, £4.95 to the rest of the world.
Payment by Paypal.
Thanks to Pheon Models for providing a set for this review.
This review was published on Tuesday, January 01 2013; Last modified on Wednesday, February 07 2018