Wingnut Wings | #32024: 1/32 Hannover Cl.II
Reviewed by Kevin Futter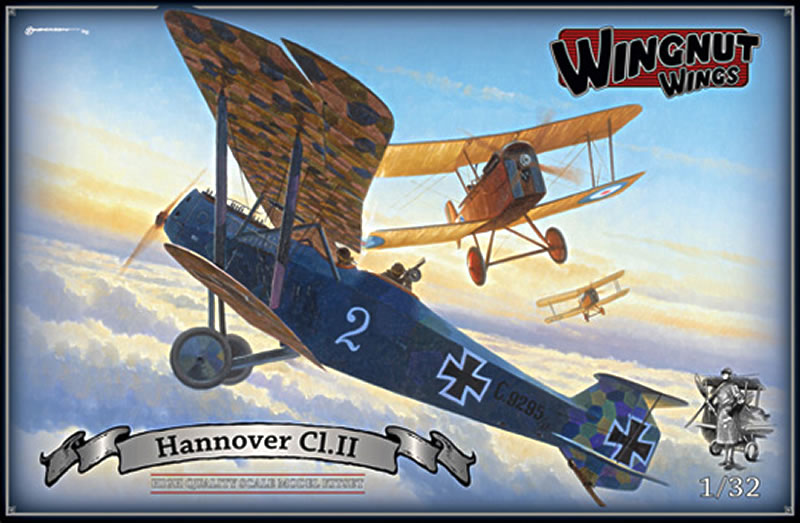 It's fair to say that New Zealand firm Wingnut Wings has taken the aircraft modelling world by storm in recent years, and most especially WW1 aircraft modellers. More than that though, Wingnut Wings has almost single-handedly reinvigorated the WW1 scale model aircraft genre, bringing new modellers to the fold, and enticing people to try a WW1 model build, perhaps even for the first time.
This is some achievement! And it's really only when you open the box on one of their kits that you begin to understand where all this excitement comes from. From the outset you're greeted by sumptuous box art adorning a sturdy box. No flimsy side-opening units here! But it's what's inside that really counts:
Ten sprues of mid-grey injection-moulded plastic, sealed in individual plastic bags
One clear sprue, sealed in its own plastic bag
One photo-etched fret
Two large decal sheets
One magnificent instruction booklet
Plastic Sprues
As you can see from the photos below, parts moulding is exceptional, with petite sprue gates, no flash and largely unobtrusive ejector pin marks. Some of the smaller parts may still be a challenge to remove and clean up however.
---
The wings have been moulded with an amazingly subtle surface texture, presumably to simulate a fabric effect: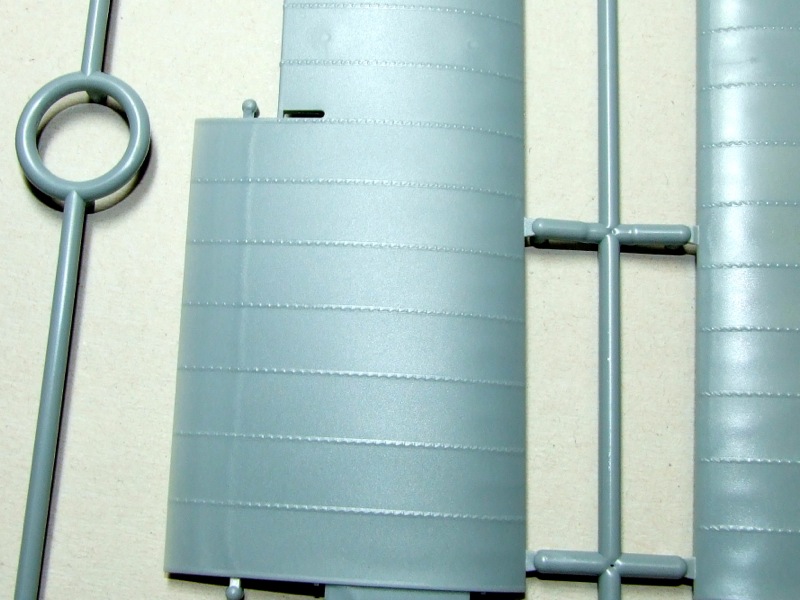 Photo-etched Fret
Inside the sealed bag containing the decals is a small photo-etched fret of detail parts, sealed in its own plastic bag: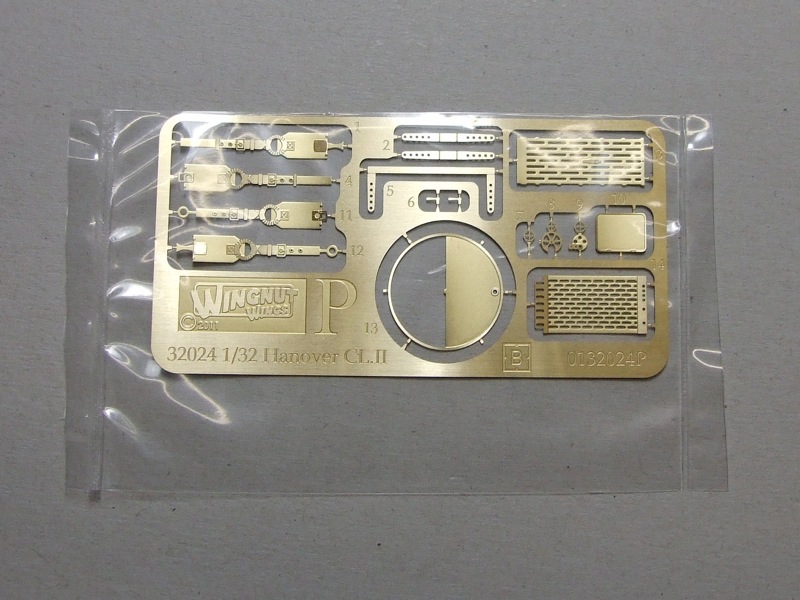 These are optional 'high detail' parts for the Spandau and Parabellum machine guns, as well as some pilot's safety belts. The metal used is quite pliable (I'm assuming either brass or copper, but perhaps some other alloy), which should help make the fiddly task of forming the perforated jackets into their required shapes somewhat easier. Parts G64 (Spandau) and G18 (Parabellum) on the plastic sprues are provided to assist in forming these cylinders, which is a thoughtful touch indeed.
Instruction Booklet
The instruction booklets supplied in Wingnut Wings kits have become legendary, and with good reason. The production values are equivalent to a glossy magazine, and to refer to them as mere instruction booklets does them a grave disservice.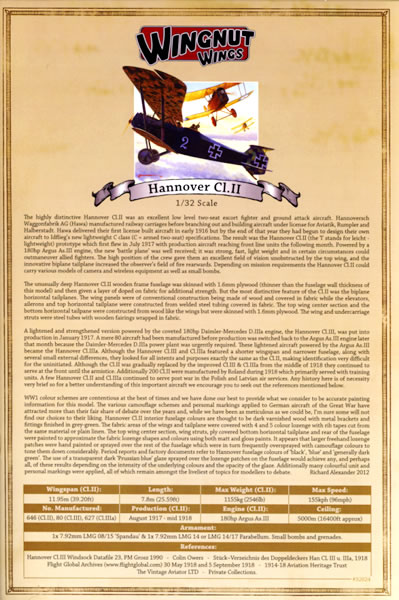 The cover features a potted history of the type, and a specifications table at the bottom. This material is also available on the Wingnut Wings webpage for the kit.
The content features colourful and highly-detailed annotated assembly drawings, complemented by captioned reference photographs and painting instructions.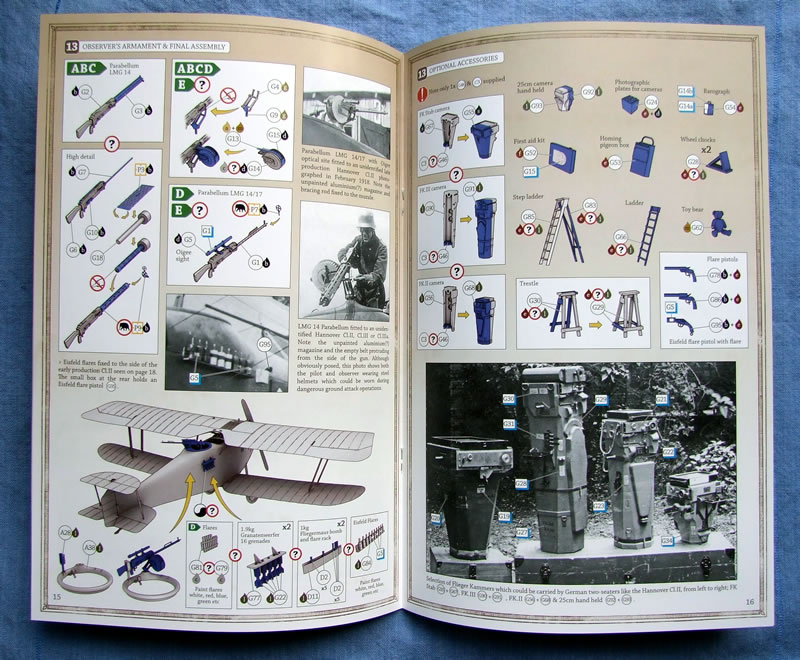 Decals and Markings
The kit includes 3 large decal sheets, two of which consist of lozenge patterns for the wings and tail planes. The third contains all the national markings and individual aircraft markings.
---
There's an extensive paint chart on the inside cover of the instruction booklet, with paint colours listed from the Tamiya, Humbrol and Mister Kit ranges. The painting and decalling guide begins on page 19, and details five different aircraft:
Hannover Cl.II 9295/17 'White 2', Ltn. Ruhr(?), FA A 286b, late 1917
Hannover Cl.II 9339/17, 'Red 5', FA 7, winter 1917-18
Hannover Cl.II 13189/17, FA 287b, early 1918
Hannover Cl.II 13274/17 'White 4', Schlasta 25, mid 1918
Hannover Cl.II (Rol) 690/18, FEA 8, late 1918
Conclusion
The Hannover Cl.II is everything we've come to expect from a Wingnut Wings kit: exceptional moulding quality, excellent detail, superb decals and industry-leading documentation. What more could you ask for? Highly recommended.
Review sample supplied by Wingnut Wings.
© Kevin Futter 2013
This review was published on Wednesday, January 30 2013; Last modified on Wednesday, May 18 2016