Contact Resine | CK32004: He 162 Super Detail Set
Reviewed by Mark Proulx
Contact Resine has just released a new 1/32nd scale mixed media detail set for the Revell Germany He 162 "Salamander". This is a detailed, out of the box look at their latest offering.
The set consists of 22 resin parts, a photo etch fret, instrument decals and detailed instructions. Contact Resine provides an entirely new cockpit, gun bay, wheels and flight controls. The set is shipped in a sturdy cardboard container to ensure parts are not broken during shipping.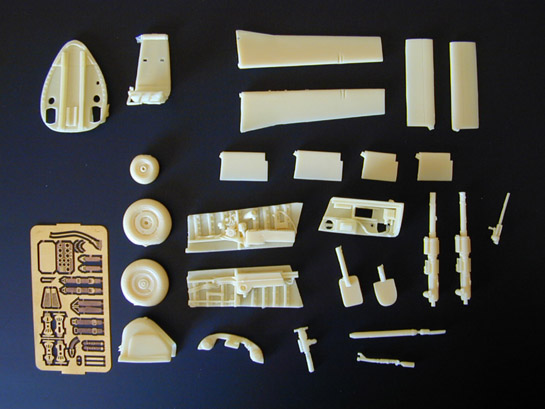 A comprehensive set of instructions is printed over three pages. They are well laid out with superb photo illustrations provided in color. The photos clearly indicate the proper construction sequence and placement for all the parts. Unfortunately, no painting details are provided and additional references should be consulted for that task.
The cockpit appears to be rather simple to construct and compares favorably to photos in German Aircraft Interiors Vol. 1 by Ken Merrick. However, the sidewall ribbing does appear to be slightly over scale. The rear cockpit bulkhead is nicely detailed and drops perfectly into place in the kit fuselage. Some sanding will need to performed to fit the sidewalls correctly as existing surface detail needs to be removed.
The seat is cast as a single unit with two separate cushions to be added by the modeler. Minor flash is visible around the seat structure and should be easy to clean up. Grab handles for the ejection set are to be fashioned from wire not provided.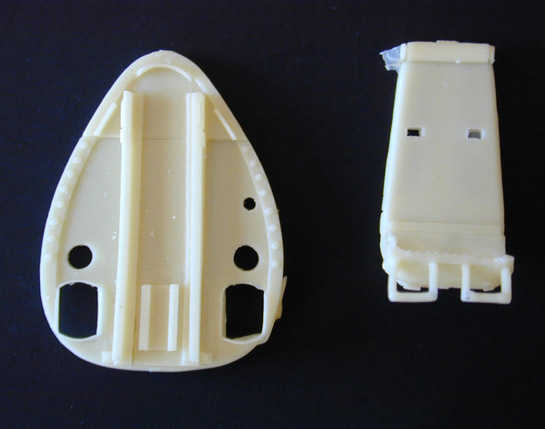 The seat harness is supplied as photo etch parts. It is comprised of nine pieces and the instructions clearly indicate the correct assembly. Other photo etch parts such as rudder pedals, assorted wiring and two-piece instrument panel are also included. Instrument dials are provided on a separate decal sheet not shown with this review.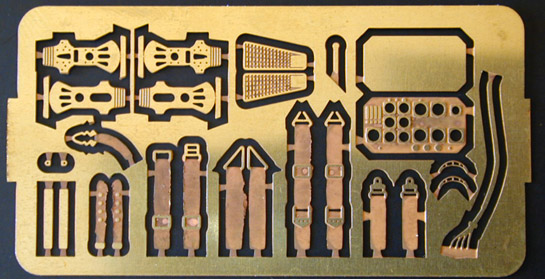 The Revell kit features an open weapons bay and Contact Resine provides replacement resin parts for this area as well. It appears to match reference pictures perfectly. Like the rear cockpit bulkhead, the single-piece weapons bay drops perfectly into place. No addition sanding or filling is required. Two 20mm MG 151/20 are included. Some minor flash is evident around the guns and needs to be removed.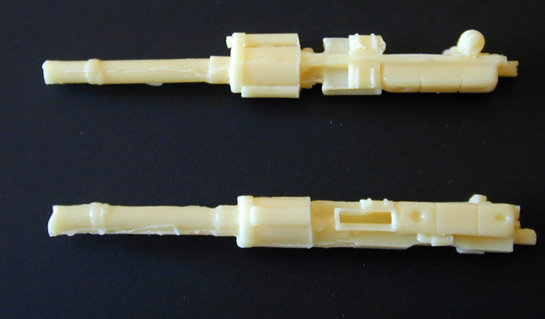 Two main and single nose wheels are included. Each is slightly flattened. Minor casting marks need to be removed from the flattened surfaces. Like other pieces in this set, the wheels look good compared to reference photos.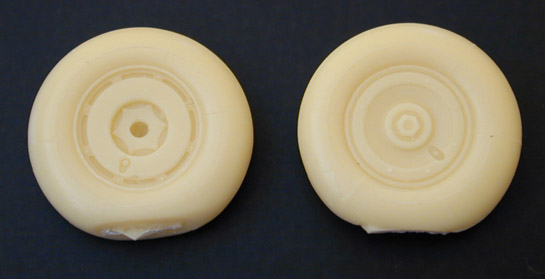 Contact Resine also provide a complete set of resin control surfaces. The modeler now has the option of displaying the finished kit with dropped flaps and elevators. Rudders are also provided as separate items. However, the kit ailerons can't be replaced. This will require some cutting of the kit to remove the existing flight controls. Some small air bubbles are evident in the flaps. However, they should be easy to repair with zap filing glue. Separate trim tabs are provided on the photo etch fret.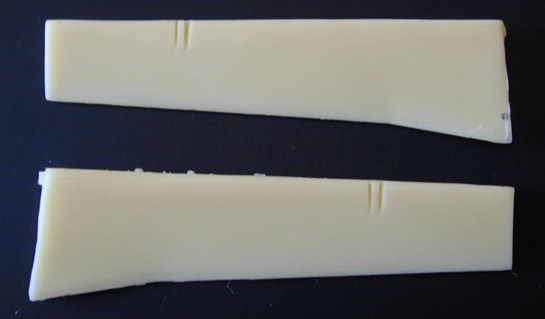 This new super detail set from Contact Resine will greatly enhance the look of your finished He 162 "Salamander". The resin cockpit details and detailed weapons bay are much better than the kit items. I recommend this set to anyone wanting to add addition details to the Revell kit as part of your next modeling project.
Review Sample Compliments of Design & Marketing Int'l.
© Mark Proulx 2005
This product is available from the following LSP sponsors
This review was published on Saturday, July 02 2011; Last modified on Sunday, June 10 2018