HpH Models | 1/32 Supermarine Walrus
Reviewed by Anthony Galbraith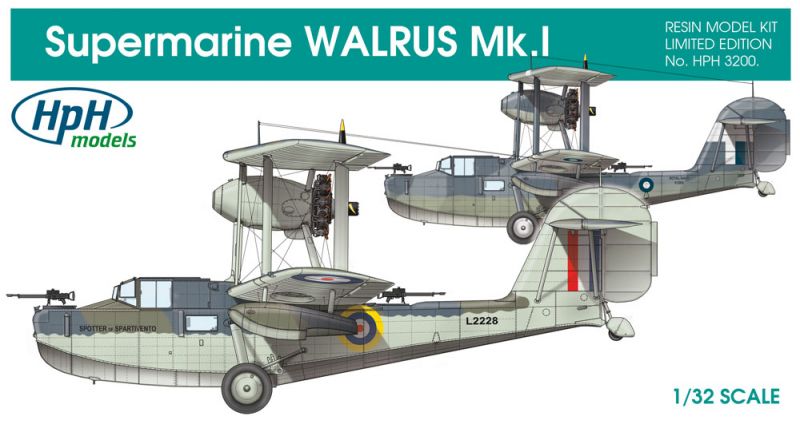 When I first heard about the announcement here on LSP that HpH Models were announcing their next kit in processing was the Supermarine Walrus Mk1 I could not believe my eyes! I followed along with every update until the day finally arrived that the courier delivered the box to my door.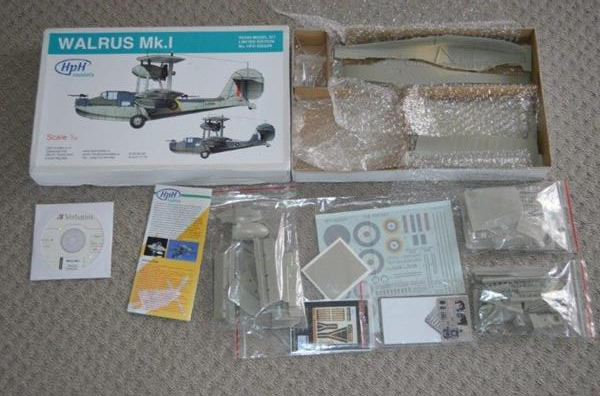 On first impression the kit is extremely impressive, you are presented with a large sturdy box that it absolutely packed full with resin, colour etch, fabric harness and canopy masks. The first thing I usually do is carefully go through the contents making sure nothing is missing or damaged. The folks at HpH clearly take a lot of time to ensure the quality of each kit as everything was there and in perfect condition, considering it had travelled half way around the world to New Zealand, nothing was damaged.
So what do you get? I was first puzzled that I could not find any instructions, but I noticed a CD included. The disc has over 40 pages in hi-res PDF format detailing the build with useful tips on assembly and numerous photos of the actual aircraft. In fact I immediately noticed the suggested set up for posing the engine nacelle at its 'correct' angle looks surprisingly simple for a potentially tricky area. The fuselage is surprisingly large and what is even more impressive is the beautiful surface detail. It is as good as anything that you will ever see from the likes of Wingnut Wings or Tamiya's new Spitfire or Mustang and I would not say that very often! Extremely fine rivet detail (barely visible) with doubler plates and structural detail is all faithfully reproduced. The fuselage halves are hollow cast with their amazing glass-fibre structure which makes for a very stable and easy to work with medium. Inside, all of the rib detail is present. The canopy is crystal clear cast resin with no blemishes at all.
---
Inside the fuselage is all the detail of the real aeroplane. Nothing appears missed, colour etch is supplied for various components like radio faces and instrument panels etc. Again the level of detail leaves nothing to chance and has to be seen to be believed. It almost seems a shame to close it up. However I do suspect that you will get to see a surprisingly large amount of that beautiful interior once assembled.
The wings and tail flying surfaces are warp and blemish free as expected. Although the wings appear to be designed to only be 'out' I suspect the way it has been engineered that it will be quite simple to fold them yourself.
---
A nice feature is the metal 'support' rods that appear to be in many of the finer items like undercarriage and wing struts etc. HGW supply a full set of specifically designed 'Walrus' seatbelts.
---
A large beautifully printed decal sheet is supplied with 2 marking options.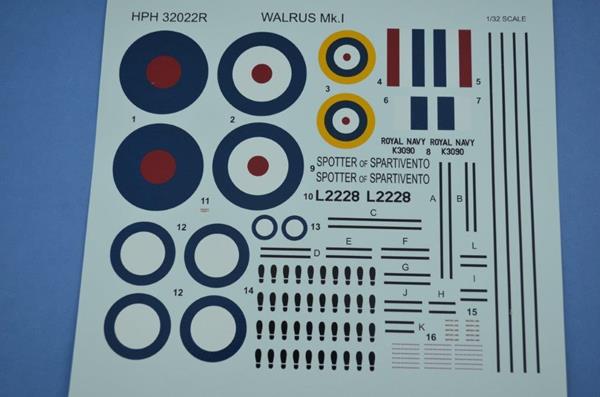 In conclusion: Would I recommend this kit? ABSOLUTELY! However you will need modelling experience working with multi-media products. At the price of 170 Euro I actually believe you get excellent value for money. You won't need to buy anything extra to build an absolute masterpiece with this kit. When you consider the latest Tamigawa kits on the market, it becomes clear that if you really desire to 'go to town' on them you will often find yourself spending more on aftermarket than the original kit purchase price. By the time you add resin detail/correction sets, decal sheets, photoetch etc etc, you will have spent as much on them as this kit provides straight out of the box.
If you like the Walrus, you will love this kit. I doubt you will ever see it produced by anyone else. I have no affiliation with HpH at all and this is the first kit of theirs I have ever brought. They are to be congratulated on this masterpiece and deserve our full support (like the other smaller manufacturers) if we want to see more of this type of model become available to us.
Now, that Catalina they are producing looks appealing...can I wait for a PBY-5 version as well???
© Anthony Galbraith 2013
This review was published on Wednesday, March 13 2013; Last modified on Wednesday, May 18 2016